James Wan Had the Best 'Foockin' Responses to 'Aquaman' Poster Critiques
It's "Aquaman" week, and director James Wan is here as DC's resident swim coach/lifeguard/snarky shark.
The first trailer will debut this Saturday during San Diego Comic-Con. The first poster just came out yesterday.
James Wan tweeted it out himself, and also fielded some questions from fans. Some of those questions earned some pretty classic replies, hinting to a really fun promotional circuit once this thing gets going. Just picture Jason Momoa and James Wan entertaining fans and re-trolling trolls one interview at a time.
Here's James Wan replying to fans with questions on Aquaman/Arthur Curry's leather pants, his underwater look, and the non-trident trident. (It's not meant to be a trident, it's a quindent, and the movie will explain how it once belonged to his mother, Nicole Kidman's Queen Atlanna).
Haha. When he's not busy replying to fans, he's busy tweaking the film:
"Aquaman" will open in theaters December 21.
Want more stuff like this? Like us on Facebook.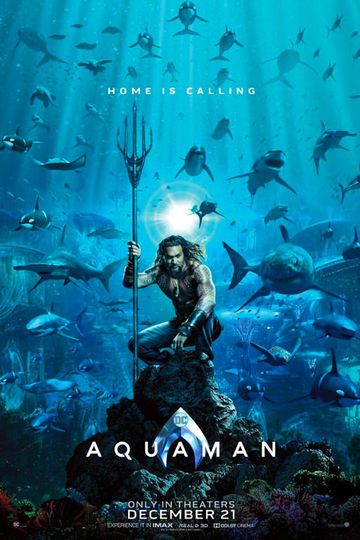 "Home Is Calling"
2 hr 23 min
Dec 21st, 2018
Once home to the most advanced civilization on Earth, Atlantis is now an underwater kingdom ruled by the power-hungry King Orm. With a vast army at his disposal,... Read the Plot