Jamie Lee Curtis Won the 'Warcraft' Premiere With Epic Cosplay
While the reviews for the video game-inspired flick "Warcraft" have been mixed at best, there was one thing everyone could agree on at the film's Los Angeles premiere on Monday night: Jamie Lee Curtis won the red carpet.
Instead of donning the typical Hollywood attire for the event, the actress opted for something much more awesome: full cosplay. Curtis walked the red carpet decked out as an orc shaman, alongside her son, Tom Guest, who cosplayed as an orc warrior. The mother and son painted their skin green for extra effect, and sported incredibly detailed costumes, which also included intricate headpieces and accompanying weapons.
#WarcraftMovie@Warcraft@warcraftmovie#itsnoteadybeinggreen Orc shaman and warrior pic.twitter.com/SG9WXdqaxH

— Jamie Lee Curtis (@jamieleecurtis) June 7, 2016

Curtis shared a few snaps from the event on her Twitter account, and you could tell she was having a blast walking the carpet in her elaborate get-up. She and her son also posed for photos with fellow cosplayers, and even gave a shout-out to "WoW"'s infamous Leeroy Jenkins, who the actress lamented was missing from the film.
Well we ran into @AliciaMarieBODY and our World Of Warcraft got WAY better! #ForTheHordepic.twitter.com/o2a44Outr7

— Jamie Lee Curtis (@jamieleecurtis) June 7, 2016
Only thing missing in the great @warcraftmovie was...... pic.twitter.com/ODp25CQeZB

— Jamie Lee Curtis (@jamieleecurtis) June 7, 2016

Despite that omission, Curtis declared the flick "great," and as a longtime lover of "World of Warcraft," we suppose her opinion is the one that will really matter to fellow fans of the online game. We're already hoping for a sequel to the movie, if only to see what the actress wears to the next premiere.
[via: Jamie Lee Curtis]
Photo credit: ​AFP/Getty Images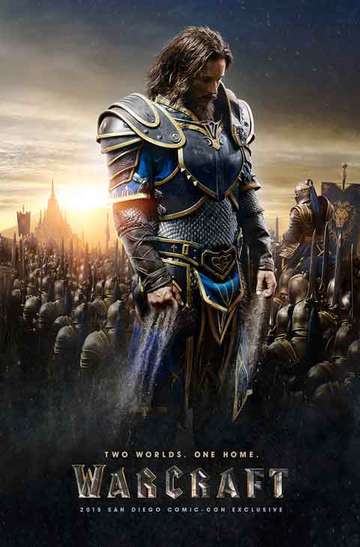 "Two worlds. One home."
Showtimes & Tickets
The peaceful realm of Azeroth stands on the brink of war as its civilization faces a fearsome race of invaders: orc warriors fleeing their dying home to colonize... Read the Plot