Jon Hamm & Gal Gadot Are Sexy Spies in Hilarious 'Keeping Up With the Joneses' Trailer
Yes, Don Draper and Wonder Woman do make a super hot couple.
Jon Hamm and Gal Gadot are two of the stars of "Keeping Up with the Joneses," a comedy coming to theaters this October. They share top billing with the equally amazingZach Galifianakis and Isla Fisher, and People shared a first look at all four stars in two new photos, just before the release of the first trailer.
Hamm and Gadot (above) play secret spies who move into a suburban neighborhood and befriend an ordinary couple, played by Galifianakis and Fisher. (Side note: Does Isla Fisher really qualify as an "ordinary" suburbanite?)

Here's the great first trailer:
Producer Walter Parkes praised the foursome to People, saying they're all funny in their own ways, and it helped that Hamm and Galifianakis have been good friends for many years. Anyone who has seen Jon Hamm on "Saturday Night Live" or "30 Rock" knows he has comedic chops, but Parkes said Israeli actress Gadot is one to watch as well:
"In some ways I find particularly for a non-originally U.S. speaker to be able to operate in comedies may be the hardest thing there is, and she was just so relaxed and precise and loose and never tried to play the joke but rather just play the reality of the scene and let the comedy come out organically. Just to literally have the verbal skills to be able to do that makes me think that there's nothing this gal couldn't do."
Was that a play on "gal" there? Either way, Gal Gadot won us over back when she grilled Jimmy Kimmel about her breasts, even before stealing scenes as Wonder Woman. Her solo film comes out next year, but "Keeping Up with the Joneses" will be released October 21.
Want more stuff like this? Like us on Facebook.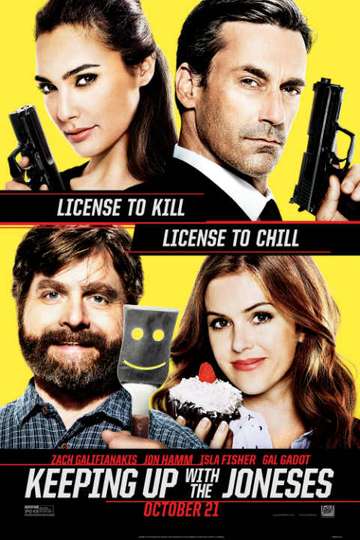 "They lived a normal life... Until the Joneses moved in."
1 hr 45 min
Oct 21st, 2016
An ordinary suburban couple finds it's not easy keeping up with the Joneses – their impossibly gorgeous and ultra-sophisticated new neighbors – especially... Read the Plot