Movie Review: 'The Tragedy of Macbeth,' Is a Visually Stunning Adaption of Shakespeare's Play, Anchored by Flawless Performances from Denzel Washington and Frances McDormand
Acclaimed filmmaker Joel Coen's solo directorial debut is a brilliant adaption of William Shakespeare's Macbeth, with stunning cinematography and Oscar-worthy performances from its two leads.
Opening in theaters on December 25th is the latest adaption of William Shakespeare's classic stage play 'Macbeth,' which is directed by Oscar-winner Joel Coen ('No Country for Old Men') entitled 'The Tragedy of Macbeth.' The film stars two-time Academy Award-winner Denzel Washington ('Glory' and 'Training Day') in the title role, and three-time Academy Award-winning actress Frances McDormand ('Fargo,' 'Three Billboards Outside Ebbing, Missouri' and 'Nomadland') as Lady Macbeth. In addition to Washington and McDormand, the cast also includes Corey Hawkins ('Straight Outta Compton'), Brendan Gleeson ('In Bruges'), and Stephen Root ('Office Space'). The result is a smart and sophisticated retelling of the Bard's classic play with stellar performances from Denzel Washington and Francis McDormand.
The film begins by introducing us to Macbeth (Washington), a Scottish lord who after battle meets three witches (all played by Kathryn Hunter). The witches predict that Macbeth will soon be King, and while skeptical, he begins to see their prophecy come true. He writes a letter to his wife Lady Macbeth (McDormand), telling her of the witches and the prophecy, and she encourages him to kill the King (Brendan Gleeson) in order for it all come true. Macbeth agrees and while the King is visiting their home, he hatches a plan to assassinate him. Once Macbeth is King, he becomes paranoid of losing the throne and commits a series of murders to try and cover up his assignation of the former King. Macbeth begins to see the ghosts of his victims, while Lady Macbeth suffers from the guilt of their crimes and goes mad. Distraught over his wife's death, and misunderstanding the witch's prophecy, Macbeth goes to war with England.
Joel and Ethan Coen are probably the greatest directing duo of all time. Their resume of films is truly incredible and includes such movies as 'Raising Arizona,' 'Fargo,' 'The Big Lebowski,' 'No Country for Old Men,' 'Burn After Reading,' 'True Grit,' 'Inside Llweyn Davis,' and 'Hail, Cesar!' But 'The Tragedy of Macbeth' marks the first film Joel Coen has made without his brother, and it is everything you would expect from the director. The film masterfully balances the strange and odd aspects that everyone loves about the Coen Brothers, while mixing it with the classic Shakespeare play. The film is shot in black-and-white, which seems to be in vogue this season after 'Belfast' and 'C'mon C'mon,' and is a brilliant choice that is appropriate to the source material. Coen uses a lot of quick cuts and interesting editing techniques to help the audience follow the source material's intricate twists and turns.
The director also blocks the actors excellently, just like in a play, so every movement has gravitas and meaning behind it. He also uses close-ups really well, choosing to focus the camera on an actor's face as they give a monologue directly to the audience. The production design is incredible, utilizing giant spaces with minimal setting, which doesn't take away from the gravity of the performances. The lighting in the film is also well-done, and Coen really plays with the contrast between darkness and light, which makes for some visually stunning sequences. Cinematographer Bruno Delbonnel, who also shot 'Inside Llweyn Davis' and 'The French Dispatch' really did an amazing job and deserves an Academy Award nomination. While I don't expect Coen to be nominated for Best Director, it's already a packed field, I do think the film is in the running for a Best Picture nomination, and I wouldn't be surprised if Coen is gifted with a Best Adapted Screenplay nom.
The supporting cast is strong and handles the material well, especially Stephen Root, who is quite funny as The Porter. Brendan Gleeson gives a very good and pivotal performance as King Duncan, and has some excellent scenes with Washington and McDormand. Corey Hawkins is an actor I've had my eye on since 'Straight Outta Compton,' where he played Dr. Dre. It was a brilliant performance and since then the actor has appeared in 'Kong: Skull Island,' Spike Lee's 'BlacKkKlansman,' and 'In the Heights.' In this film, not only does the young actor have to recite Shakespeare's words, but he also has to act opposite Denzel Washington, and he pulls off both with ease, giving an excellent performance as Macduff. I also want to mention actress Kathryn Hunter, who gives a wonderfully creepy and extremely physical performance as all three of the witches.
I also suspect that Oscar-winners Denzel Washington and Frances McDormand will probably both get nominated for Best Actor and Best Actress, respectively, again this year. They both give jaw-droppingly good performances and while watching the movie you really realize how truly gifted they both are. It's easy with Shakespeare to fall into the rhythm of his words and not really make them your own, or truly embody them, which is exactly what Washington and McDormand do. They both recite the dialogue perfectly, and you completely believe they are their characters, but at the same time, you never forget they are Denzel and Frances. It's really remarkable to watch. Washington infuses Macbeth with his trademark cool, something the character has never had before. It's in the dialogue and the way he walks, making the material fresh and new. McDormand is an absolute joy to watch, and the way she interprets particular lines is genius and comes from her own unique personality. The two also have an electrifying chemistry on screen together, and I hope that they will work together again someday.
However, the film is not without its faults. Shakespeare can be difficult for many to understand as the material is very dense, and while Coen did a great job interpreting the material cinematically, I could see it that it would be easy for some audience members to get lost. It may be a difficult watch for those not familiar with the original play, as it can be a confusing story, but for those who are familiar, it's easy to follow. In the end, 'The Tragedy of Macbeth' is a thrilling and vibrant retelling of Shakespeare's classic play, masterfully directed by Joel Coen and featuring transcendent performances from two of the greatest screen actors of all-time.

'The Tragedy of Macbeth' receives 4 out of 5 stars.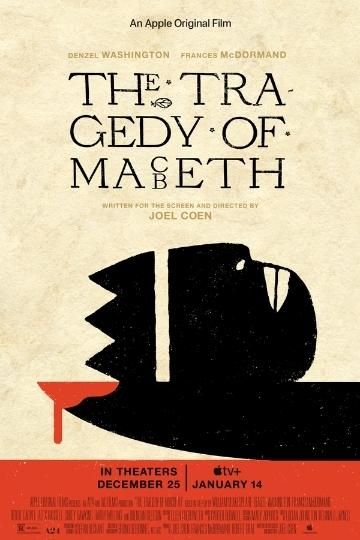 1 hr 45 min
Dec 25th, 2021