Sigourney Weaver Talks 'The Good House' and Reuniting with Kevin Kline
Moviefone speaks with Sigourney Weaver about 'The Good House.' "It's the story of an older woman from her point of view," the actress said about the film.
Opening in theaters on September 30th is 'The Good House,' which is based on the best-selling novel by Ann Leary and was co-written and co-directed by Maya Forbes and Wally Wolodarsky.
The new movie stars Sigourney Weaver ('Aliens,' 'Ghostbusters,' 'Avatar') as Hildy Good, a funny New England realtor and descendant of the Salem witches, who loves her wine and her secrets. Her compartmentalized life begins to unravel as she rekindles a romance with her old high-school flame, Frank Getchell (Kevin Kline).
The new relationship ignites long-buried emotions and family secrets, as Hildy is propelled toward a reckoning with the one person she's been avoiding for decades: herself!
In addition to Weaver and Kline, the cast also includes Morena Baccarin ('Deadpool'), Rob Delaney ('Deadpool 2'), Beverly D'Angelo ('National Lampoon's Vacation'), David Rasche ('United 93'), and Kathryn Erbe ('Law & Order: Criminal Intent').
Moviefone recently had the pleasure of speaking with the legendary Sigourney Weaver about her work on 'The Good House,' her unique character, the challenges of breaking the fourth wall, and reuniting with her 'Dave' and 'The Ice Storm' co-star Kevin Kline.
You can read our full interview with Sigourney Weaver about 'The Good House' below or click on the video player above to watch our video from the interview.
Moviefone: To begin with, can you talk about your first reaction to reading this screenplay, and what were some of the aspects of the character you were excited to explore on screen?
Sigourney Weaver: Well, for one thing, it was the story of an older woman from her point of view, who's very funny. How rare is that? Then it picks up on Hildy Good, who's a wonderful character, at the point in her life where everything is falling apart. Her husband has dumped her, her kids have sent her to rehab, she's losing her business, and so she's slipping, which I found very interesting. But she's a fighter, so she's going to fight back.
What I found most charming was that she talks to the audience. In between these scenes where you see her putting up this very accomplished front, she turns the audience and basically says, "Can you believe what's going on in my life now?" The counterpoint between this competent Hildy, and the one who's just fed up and telling you all about it, was what I just fell in love with about Hildy. She's wonderful company. I couldn't resist her.
MF: As an actress, what are the challenges of acting directly towards camera and breaking the fourth wall?
SW: I think (she does it) because it's an emotional thing. She just gets so frustrated, she just wants to tell you what's really going on from her point of view. I guess the most important thing for me was figuring out who I was really talking to, because I think the audience should feel like they're at a bar with Hildy, and she's letting her hair down and throwing back a few Pinot Noirs.
So, I had someone I felt I could let my hair down to, and every time I connected with the audience, I felt she dropped all the facade and you just saw Hildy. Which is very important because we get to know Hildy better and better, and we get to know her perhaps better than she knows herself. She's a very smart woman, but she's quite deluded about certain things, and that's what I found fascinating. That she can't see, even though she's really smart, and we all know people like that. They can't see what they're doing, but they think they can handle it.
MF: Finally, can you talk about the relationship between Hildy and Frank, and having the opportunity to work with Kevin Kline again?
SW: Well, that was just a joy. I love Kevin. I love his work, and he brings such authenticity to Frank. He's just a regular guy who doesn't care what anybody else thinks. I just love his performance. He's never done anything like this before. The love story, for us, because we know each other so well, those were the most effortless scenes because the relationship is so well written, and they just gravitate toward each other.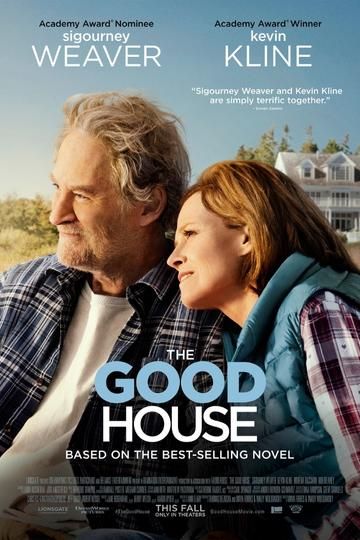 1 hr 43 min
Sep 30th, 2022