Paul Rudd Said His Mustache for Netflix's 'Mute' Scared an Elderly Couple
This is truly the season of the spectacularly problematic 'stache. First there was Henry Cavill's "Justice League" MustacheGate, then Kenneth Branagh's monster mustache in "Murder on the Orient Express."
Now Paul Rudd is throwing his stache in the ring as Cactus Bill in the new sci-fi noir movie "Mute," which starts streaming on Netflix this Friday, February 23.
Rudd was just on "The Tonight Show" talking about his facial hair. It was his own, not a fake. He said the inspiration was actually from the 1970 movie "M.A.S.H."
"You know Justin [Theroux] has a blonde wig. There's a similar thing with Elliot Gould and Donald Sutherland in M.A.S.H., so we kind of recreated their looks a little bit."
However, Rudd said a stache like that can be pretty unpopular with the general public:
"People don't like it. People really recoil when they see a pronounced mustache. [...] I remember one time having a mustache and going into an elevator. I was sweaty and I was running for this elevator, and there was an elderly couple who were really not psyched to see me. They thought I looked threatening or something. They walked off the elevator and I realized, and I'm not kidding, I had a T-shirt that said 'Mustache rides, 25 cents.' I didn't even realize it until they walked off. That is a true story. And they never offered me a quarter."
Hahaha. Give the poor man's stache a quarter!
Watch the now stache-less Paul Rudd tell his story:"Mute" was written and directed by Duncan Jones, and stars Alexander Skarsgård, Justin Theroux, Florence Kasumba, Noel Clarke, Gilbert Owuor, and Nikki Lamborn. It's been described as a "spiritual sequel" to Duncan Jones' "Moon" with Sam Rockwell, and you can look for some "Moon" Easter eggs in "Mute."
Watch for yourself this Friday, Feb. 23 on Netflix.
Want more stuff like this? Like us on Facebook.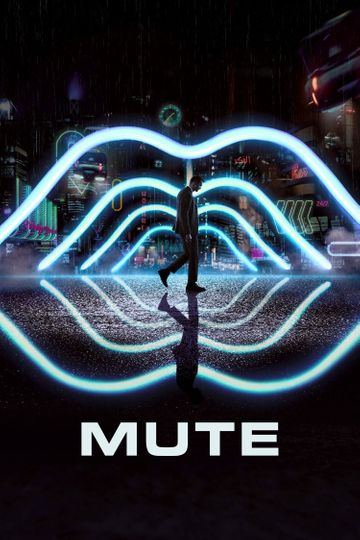 "He doesn't need words."
A mute man with a violent past is forced to take on the teeming underworld of a near-future Berlin as he searches for his missing girlfriend. Read the Plot