Reese Witherspoon Returning as Tracy Flick for 'Election' Sequel
Director Alexander Payne will once again direct Witherspoon in 'Tracy Flick Can't Win'
Back in 1999, co-writer/director Alexander Payne delivered 'Election', adapted from Tom Perrotta's novel and forming part of Reese Witherspoon's Big Year (she also appeared in 'Cruel Intentions' and 'Best Laid Plans').
And while it was far from the actor's first movie gig, it remains a milepost in her career. Though it didn't set the box office alight, 'Election' earned her awards attention, while Payne and regular collaborator Jim Taylor saw their adapted screenplay nominated for an Oscar.
Now, with a follow-up novel published by Perrotta this year, the time is right for a sequel.
The original film saw Witherspoon playing Tracy Flick, an ambitious, Type-A, overachieving high schooler who gets on the nerves of social-studies teacher Jim McAllister (Matthew Broderick) to begin with, but after she launches her campaign for student-body president and his personal life starts to fall apart, things spiral out of control.
With a cast that also featured Chris Klein, Colleen Camp, Matt Molloy and Holmes Osbourne, the movie has long since passed into cult classic status. So there will be plenty of eyes on the follow-up.
Perrotta's new tome, which hit shelves in June, picks up Tracy's story in the present day.
These days, Tracy Flick is a hardworking assistant principal at a public high school in suburban New Jersey. Still ambitious but feeling a little stuck and underappreciated in midlife, Tracy gets a jolt of good news when the longtime principal, Jack Weede, abruptly announces his retirement, creating a rare opportunity for Tracy to ascend to the top job.
Energized by the prospect of her long-overdue promotion, Tracy throws herself into her work with renewed zeal, determined to prove her worth to the students, faculty, and School Board, while also managing her personal life—a ten-year-old daughter, a needy doctor boyfriend, and a burgeoning meditation practice.
But nothing ever comes easily to Tracy Flick, no matter how diligent or qualified she happens to be. Her male colleagues' determination to honor Vito Falcone—a star quarterback of dubious character who had a brief, undistinguished career in the NFL—triggers memories for Tracy and leads her to reflect on the trajectory of her own life. As she considers the past, Tracy becomes aware of storm clouds brewing in the present. Is she really a shoo-in for the principal job? Is the Superintendent plotting against her? Why is the School Board President's wife trying so hard to be her friend? And why can't she ever get what she deserves?
Payne and Taylor are returning to write the script again, with Witherspoon playing Flick and producing. But unlike the original film, this one will skip theaters and instead debut on Paramount+.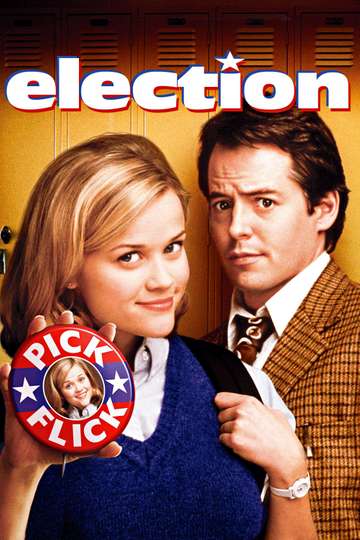 "Reading. Writing. Revenge."
1 hr 43 min
Apr 23rd, 1999