Sophie Turner: Jennifer Lawrence 'Punched Me in the Vagina' on 'X-Men' Set
Sophie Turner got a "c-nt punch" from "X-Men: Apocalypse" co-star Jennifer Lawrence -- and it was "awesome."
So far, "Game of Thrones" spoilers.
Turner, who plays Sansa Stark on GoT and Jean Grey in the new "X-Men" movie, had a nice long interview with JustJared, during which the subject of vag punching just naturally came up:
JustJared: Did you have fun on set with Jennifer Lawrence? It sounds like you two became close.
Sophie Turner: Jen and I had a few scenes together. She is definitely a big inspiration to work with and she is just how you'd want Jennifer Lawrence to be. She's exactly the same person that you see in interviews. And she was just amazing. She was really fun, really cool. Hilarious!

JJ: She seems like she'd be really fun.
ST: Yeah! She punched me in the vagina once. I didn't ask her to either. It just happened. Evan [Peters] and I were having a fake fight and I said something like, "I'll c-nt punch you" or "I'll punch you in the crotch" and then Jen thought that I said, "Please c-nt punch me Jen." So she punched me in the vagina and I was like, "Awesome." It was pretty funny.

JJ: Was that during an actual scene or in between takes?
ST: That was in between takes. She definitely wouldn't have done that when we were rolling!
You don't think Mystique would really punch Jean Grey in the crotch? She may have been going Method. Actually, Jennifer Lawrence must meet so many crazy fans she probably did think Sophie Turner asked for a c-nt punch -- she may even get that request all the time. But you know who really walked away the winner of that fake fight? Evan Peters, for witnessing the random punch in person.
Want more stuff like this? Like us on Facebook.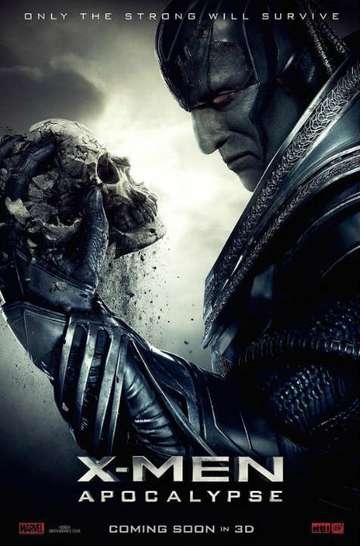 "Only the strong will survive."
2 hr 24 min
May 27th, 2016
After the re-emergence of the world's first mutant, world-destroyer Apocalypse, the X-Men must unite to defeat his extinction level plan. Read the Plot