Drea de Matteo Talks New Thriller 'One Way' Starring Machine Gun Kelly
Moviefone speaks with 'The Sopranos' actress about her new movie. "I've played this kind of character before and it's liberating for me," de Matteo said.
Opening in theaters, on digital and on demand September 2nd is the new action thriller 'One Way,' directed by Andrew Baird ('Zone 414').
The film stars musician turned actor Colson Baker, also known as Machine Gun Kelly, as Freddy, a thief on the run from a gangster named Vic (Drea de Matteo) with a bag full of her money.
Badly shot, and betrayed by his father (Kevin Bacon), Freddy takes a bus to get out of town and meets a mysterious girl named Rachel (Storm Reid) and a creepy passenger named Will (Travis Fimmel).
Actress Drea de Matteo has been in dozens of film and TV projects including 'Swordfish,' 'Deuces Wild,' 'Assault on Precinct 13,' 'Dark Places,' 'Joey,' 'Sons of Anarchy,' and 'Shades of Blue.'
But she is probably best known for her iconic role as Adriana La Cerva on the groundbreaking HBO series 'The Sopranos.'
Moviefone recently had the pleasure of speaking with Drea de Matteo about her work on 'One Way,' her strong character, her relationship with Freddy and his father, shooting the torture scenes, working with Colson Baker, and if she ever gets tired of talking about 'The Sopranos.'
You can read the full interview below or click on the video played above to watch our interview with Drea de Matteo about One Way.'
Moviefone: To begin with, how did you get involved with this project?
Drea de Matteo: Super simple. They sent me the script. I didn't even look at it. I saw the cast. I said, "Wow, Travis Fimmel." he's been in this show, 'Raised by Wolves,' that I'm obsessed with. I had never heard of him before. I was like, "I love this guy. This is my favorite show." I said, "I'll travel anywhere to stick a gun to his head. So, sign me up."
My agent was like, "You probably should read the script first." I was like, "I don't need to, I'm good. I'm going to go stick a gun to this guy's head." So that was it. I said yes, because of that. Then the rest followed.
MF: Vic is such a strong character, what was your approach to playing her?
DDM: Well, I'm not used to playing strong characters, so it was hard to leave my baggage at the door. had to give her a backstory where she might have been broken down to her knees on several occasions, in order for her to become as tough as she was.
I'm used to playing a victim. So, this is definitely different. I feel like I've been playing this kind of character for the last couple of projects and it's liberating for me to not have to be living in a swamp of tears all day.
MF: The film doesn't spend a lot of time explaining how Vic got to the position of power that she has, so what kind of backstory did you give the character to explain how she became the leader of this criminal organization?
DDM: Well, I'm going to go there then. I figured that I might have been molested when I was young. I'm here with this boy, played by Machine Gun Kelly, that I might have been having an affair with, when he was very young and I was older. Also, she was having an affair with Kevin Bacon's character, his father. So, there's a really crazy, dirty, tricky, little mess in there.
I had to give myself that I grew up in a very twisted environment. Where I had nothing, I came from nothing and I created something out of nothing. But I had to step on a lot of people to get there, and to survive. I think she's in survival mode and instead of being this over the top, angry boss, she's this slithering snake of a tiger, looking for her next meal without making any noise, because she's quiet. She's not a big presence vocally.
MF: Can you talk more about the love triangle that Vic finds herself in with Freddy and his father?
DDM: You don't know if I'm protecting Machine Gun Kelly, and I think that people are not going to know what my role is in his life. You know I'm his boss. You know that I am holding all the cards, and that the story can go any which way, depending on what switch I pull. But as far as the relationships go, I was tied into both of them.
MF: The movie initially unfolds with all the different characters separated, but they eventually come together for one scene. When you were shooting that scene with the other actors was it like, "Oh, wow, you're in this movie too?"
DDM: Kind of, in a funny way, because first of all, it's an indie film. You only have a certain amount of days to shoot. There's not a ton of money. There're no trailers. I think we all did this because everybody was sick of being kept indoors. It was right at the end of the lockdown. It was raining. There were tornado watches for Georgia, it was a mess out there. I remember Megan Fox was heating up Machine Gun's car. My assistant was heating up my car. So, our cars were our safe spaces. It was bizarre. I think Kevin Bacon came down in his own tour bus, because he's Kevin Bacon!
But yeah, it was like camp. Whenever you do a project like that or any kind, especially when it's not a big TV show production, it's different. I have my set of standards when I walk onto the set and I always have to let that go. I know I'm sitting in a car right now. I'm going to curl my hair in the car and I don't want hair and makeup. But yes, we all act like we know each other, but with Machine Gun Kelly, I wasn't going to go near him.
By the time I got to that bus, he'd been on that bus now for weeks. Basically, in the movie, he'd been in that bus for hours, in that state he's in which I'm not going to talk about, but he's in a state. You don't want to mess with that state as an actor, or as a character. So, I just let it be. I had to fill in all those spaces on my own, because you want to respect his process. It was a huge process to get to where he has to go. He's fantastic in it.
MF: How challenging were the torture scenes for you to do? Were they scary to shoot, or was it fun?
DDM: Well, I got to work with my buddy Rhys Coiro, who we've done a lot of work together. He was just doing it because Travis and I were doing it, I think, because he normally would be in a much bigger part. So, we tried to flesh that out a little, so we had a little bit more to do. We improvised most of it, those were just phone calls mostly.
Andrew just sat there and said, "Go again, do it again. Do it this way. Do it that way." I'm not good at improvising. I'm a TV actor. I'm very methodical. Even though I'm a primal animal lunatic when I have to do all my emotional stuff. But at the end of the day, I know how to stick to the words. So, when I don't have to stick to the words, I'm like, "Where do I go?"
He wanted us to improvise. So, I did the best I could, but we had Luis Da Silva Jr. I don't know if you know who he is? He's the kid with the face tattoos, and he was in the Nike commercial years ago. He brought it and he brought it hard. I was told to be collected, so my direction was to just stay calm, while everybody else is freaking out. So, I'm just sitting there working off of his calm, and it is what it is. But we went for that scene for sure. It was fun.
MF: Can you talk about working with director Andrew Baird and watching him execute his vision for this project?
DDM: It just seemed effortless. I came in on one of the last days. Not the last day, but we had the wrap party when I got there. So, it was towards the end. He'd been burnt at this point, being on this bus for days on end. So, he knew what he wanted and it was interesting to see.
MF: Finally, I really enjoyed your 'Sopranos' re-watch podcast series, 'Gangster Goddess Broad-Cast.' Will you be doing more episodes, and do you ever get tired of talking about 'The Sopranos?'
DDM: I never get tired of talking about 'The Sopranos.' However, we stopped the podcast. I stopped mid-season 2 of 'The Sopranos.' The world was opening up again and I just wasn't interested in sitting there, and doing that. But we went for a deep dive on that show, a really deep dive. It was a lot of work and I love talking about 'The Sopranos,' but on that level I needed a break.
But because of the podcast, we've done a lot of stuff. We've had a wine that was based from the Gangster Goddess podcast. Now we have our perfume, which is the smell of the Gangster Goddess. You can check that out on my Instagram, but that's as far as the podcast is going these days. So, if you want to smell like my armpits, come on down!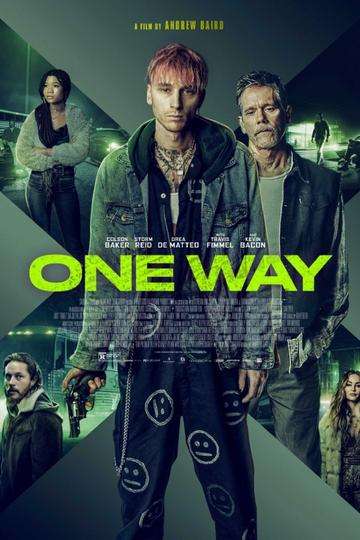 "No wrong turn goes unpunished."