Here's the Villain of 'Guardians of the Galaxy Vol. 2'
Marvel started filming"Guardians of the Galaxy Vol. 2" back in February, with a release set for May 2017. Elizabeth Debicki's name was added to the cast list, but with no details on her character. Now JoBlo has a new report confirming Vol. 2's villain will be Ayesha, a blonde goddess-like being, as they put it, and the description matches Debicki pretty well.
So much for Marvel ditching female villains 'cause they don't move toys off the shelf!
As JoBlo noted, ComicBook broke the Ayesha news back in March, but they confirmed from their own sources that she is the villain, and they've paired it with the Debicki casting. ComicBook added more details on the character, and her potential place in the overall story:
"Also known as Kismet or Paragon in the comics, Ayesha was the 'Her' to Adam Warlock's 'Him,' both of whom were genetic experiments created and imbued with cosmic power by a group called the Enclave.

It's hard to say how much of that will figure into the big screen version of the character, especially with no confirmation as yet that Warlock -- a figure who looms much larger in the Marvel Universe than does Ayesha -- will even be in the film."
The "Guardians" sequel brings back the usual suspects -- including writer/director James Gunn, Chris Pratt as Peter Quill/Star-Lord, Zoe Saldana as Gamora, Dave Bautista as Drax, Vin Diesel as the voice of Groot, Bradley Cooper as the voice of Rocket, and Michael Rooker as Yondu -- with additions like Debicki, Kurt Russell, Pom Klementieff, Chris Sullivan, and even Nathan Fillion.
Here's the basic plot synopsis: "Set to the all-new sonic backdrop of Awesome Mixtape #2, 'Guardians of the Galaxy Vol. 2' continues the team's adventures as they unravel the mystery of Peter Quill's true parentage."
"Vol. 2" will be released May 5th, 2017.
Want more stuff like this? Like us on Facebook.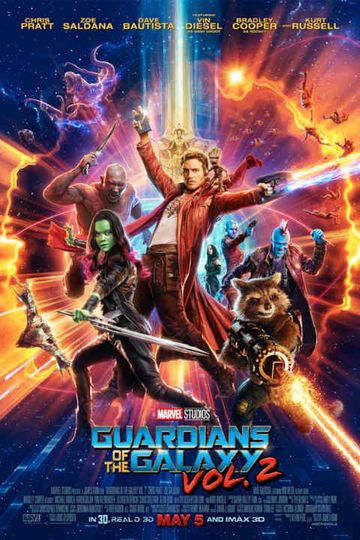 "Obviously."
The Guardians must fight to keep their newfound family together as they unravel the mysteries of Peter Quill's true parentage. Read the Plot