'X-Men: Apocalypse' Has Powerful $103.3M Opening Overseas
Mutant teens in '80s fashions are taking over the world. "X-Men: Apocalypse" just opened in 75 international markets, and it kicked some serious butt.
Here's the scoop from Deadline:
"Opening in 64% of the international marketplace, the latest installment in the X-Men franchise blasted off with $103.3M to best the debut of X-Men: Days Of Future Past in the same suite of 75 markets and at today's exchange rates. That film ultimately grossed $514M overseas and $748M worldwide. North America opens next weekend on XMA with Korea going May 25, China on June 3 and Japan on August 11."
So it still has some major markets to go, including here in the U.S. starting this Friday, May 27.
The same 75 markets X just marked gave "X-Men: Days of Future Past" a $100M opening, so it wasn't too far behind, but it's encouraging to see "Apocalypse" is on track to surpass its predecessor. "Apocalypse" also opened to No. 1 in 71 of those spots, was the biggest X-Men opening in 33 of them, and marked the biggest Fox debut weekend ever in six of them. Not bad at all!
X-Men opens at home opposite "Alice Through the Looking Glass," and neither film has particularly wowed critics. "Apocalypse" currently has a 52 percent rating on Rotten Tomatoes, with "Alice" at 45 percent. Then again, "The Angry Birds Movie" has a 43 percent rating and it just topped the U.S. box office, so certain films are just critic-proof. But the ones that tend to stay in the top 10 for weeks on end -- like "The Jungle Book," "Captain America: Civil War," and "Zootopia" -- are the ones that both critics and audiences love.
Are you planning to see "X-Men: Apocalypse" this weekend?
Want more stuff like this? Like us on Facebook.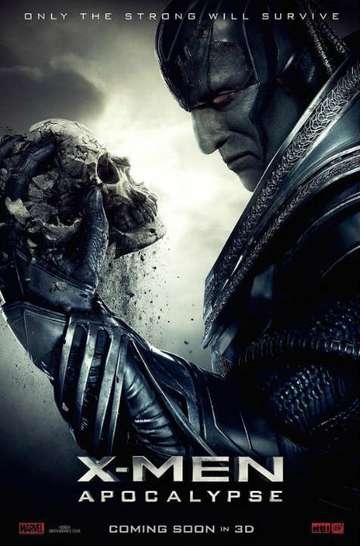 "Only the strong will survive."
2 hr 24 min
May 27th, 2016
After the re-emergence of the world's first mutant, world-destroyer Apocalypse, the X-Men must unite to defeat his extinction level plan. Read the Plot