 Looking at Robert Downey, Jr.'s resume, it's a little disappointing to note that from 2015 to 2019, all the movies the star has made were comfortably inside the Marvel Cinematic Universe. For those years, Downey, Jr. has simply been Iron Man. (In 2020, he'll star as Doctor Doolittle in a big budget remake so … so, yay?) While his role as the head of Stark Industries and a part-time Avenger has been satisfying, for sure, it also feels as though we've been robbed of one of our great actors. So, ahead of "Avengers: Endgame" and because we love him, we've rundown 11 of his best, non-MCU movies for your enjoyment. A couple of notes: we've decided to forgo his early teeny-bop era and also any movie that he did with James Toback. Those movies are great, but considering the current atmosphere and the revelations about the director, well, ick.
'Chaplin' (1992) Now, objectively, "Chaplin" isn't a great film -- it's overlong and, for a movie about one of the funniest people of all time, incredibly serious -- but RDJ's performance as the silent-era great is a marvel. Downey is tasked with bringing Chaplin to life throughout his life (including at the end, when he's plied with old-man make-up) and just the scope of his performance should be applauded. But it's also undeniably tender, a shock of truth through a movie that oftentimes feels manufactured simply for awards gratification (and he did get a Best Actor nomination but lost).
'Heart and Souls' (1993) The kind of movie they rarely make anymore: a high-concept, feel-good comedy full of great actors that is unafraid of sentimentality or goofiness. In the film, Downey plays a man who is saddled with four spirits (Tom Sizemore, Kyra Sedgwick, Charles Grodin and Alfre Woodard), who have been with him since birth. (It's a long story, but they died while he was being born. Just go with it.) As he grows, he grapples to understand what will ultimately set them free, which leads to much wackiness, including sequences where the spirits hijack his body that allow Downey to engage in some killer physical comedy. "Heart and Souls" is Downey, Jr. at his most guileless, purely charming and leading-man handsome.
'Natural Born Killers' (1994) If "Heart and Souls" is the sweetest Downey, Jr. ever was, "Natural Born Killers" is him at his nastiest and most acidic. As Wayne Gale, a tabloid news reporter covering the killing spree of a pair of ruthless psychopaths (Woody Harrelson and Juliette Lewis), Downey, Jr. preens and snarls and gets in your face. He also takes on a bizarre Australian accent that, while not authentic, certainly fits into the heightened, cartoon-y atmosphere of the rest of the movie. It's a performance so outrageous and over-the-top that it only works because it's housed inside the loony bin of "Natural Born Killers."
'Bowfinger' (1999) Downey Jr. isn't in "Bowfinger" that much (you can feel that he was already being placed in movie jail at this point, due to his off-screen behavior), but his sequence with Steve Martin in the restaurant is pure gold. Seriously, watch it again. It's one of the funniest bits in the movie. As Martin labors hard to convince Downey Jr.'s executive that Martin has lined up the hottest talent for his new movie, Downey, Jr. at first seems disbelieving and then, ultimately, intrigued. It's a brilliant bit of comedy, the hilarity coming through Downey, Jr.'s incredible facial expressions; a slideshow of emotions.
'Kiss Kiss Bang Bang' (2005) Leave it to the brilliant Shane Black to truly maximize Downey, Jr.'s talents before anybody else. (Black reunited with the star for "Iron Man 3," arguably the artistic highpoint of the entire Marvel Cinematic Universe.) "Kiss Kiss Bang Bang" is a hilarious, post-modern detective story, where RDJ plays a small town criminal who is mistaken for an actor and, in landing the role of a detective, ends up becoming one. (Val Kilmer is his fed-up partner.) This movie is close to a masterpiece, and Downey Jr.'s performance is one of the best of his career -- conveying tenderness, uncertainty, and determination. What a blast.
'Good Night, and Good Luck' (2005) You might not remember Downey, Jr. in George Clooney's handsomely produced civics lesson, but he's there, in glorious black-and-white. In "Good Night, and Good Luck," Downey, Jr. plays Joseph Wershba, a writer, editor, and correspondent for CBS News. He gets caught in the crossfire between Edward Murrow (David Strathairn) and Joseph McCarthy, surrounding the coverage of the anti-Communist senate investigations. It is, like most of the movie, rousing and patriotic, but Downey, Jr. also manages to shade the character in a way other actors would not or could not.
'A Scanner Darkly' (2006) Downey, Jr. remarked that he was giving such a big performance for Richard Linklater that the director had to remind him that after they were filming, they were going to turn it into a cartoon. Still, in "A Scanner Darkly" that kind of antic largeness helps his character, a burnt-out druggie who may or may not double as a government informant. Through incredible technology, Downey, Jr.'s performance was "painted over," but the soul remains: this is pure, unfiltered RDJ, down to the vocal tics and gesticulations. You can feel him working through his own past in the context of the film, which is even more sobering.
'Zodiac' (2007) Personally, I don't think Downey, Jr. has ever been better than he was in David Fincher's towering classic "Zodiac." Here, he plays Paul Avery, a San Francisco Chronicle reporter who becomes unglued after being targeted by the infamous (and, as of today, still unidentified) Zodiac Killer. The movie is an epic procedural, and Downey Jr. gets to follow the progression of Avery's life in a succinct and brilliant way. It's not gobs of make-up that shows you how he's changed, its subtle changes in his behavior and hair color, the way that he answers questions, how his clothes go from pristine to raggedy. By the time you last see him, sucking down oxygen at a dive bar as he watches his former coworker set out on his own quest, you get the impression that, true to the movie's tagline, there's more than one way to lose your life to a killer.
'Tropic Thunder' (2008) Think about this: Downey, Jr. secured an Oscar nomination (and some argued deserved to win) for a performance in a broad studio comedy by Ben Stiller, where he essentially dons blackface. That is incredibly ballsy and something that only RDJ could pull off. "Tropic Thunder" was a silly send-up of Hollywood war movies, and the pretensions of actors parodied and personified by RDJ's character, Kirk Lazarus. He's a white Australian (again!) who is portraying an African-American soldier and doesn't break character. How this was even approved is mind-boggling, but how well Downey Jr. pulls it off feels downright miraculous.
'The Soloist' (2009) It has been reported that following the critical and commercial underperformance of "The Soloist," Downey, Jr. remarked that it would be the last time he attempted something artistic. (So far, that's proven true.) But it's a shame because "The Soloist" is underrated and his performance is really terrific. In the movie, Downey Jr. plays a journalist (again!) who befriends a homeless music prodigy (Jamie Foxx), setting his life off on an unexpected course. Beautifully directed by the great Joe Wright, Downey, Jr. gives the performance some much-needed texture and grit, his own pain mirroring Foxx's. This is an underrated gem anchored by a finely tuned Downey, Jr.
'Sherlock Holmes' (2009) Why haven't there been more "Sherlock Holmes" movies? The second movie was underwhelming, but it made money, and this seems like a perfect counter-franchise to Downey, Jr.'s Marvel output. It could also be argued that his first appearance as Holmes is his most arresting mainstream appearance outside of the MCU. The stuffy sleuth of the past is now a bare-knuckle brawler, whose heightened intelligence is now visualized through flashy, Guy Ritchie-conceived visual motifs. RDJ gives Holmes a mischievous twinkle in his eye, and his raw physicality sets him apart from other, more cerebral interpretations of the character. Plus, his chemistry with Jude Law's Watson tows the line between chummy bromance and straight-up homoeroticism. Also, he's really, really funny. Bring on the sequels!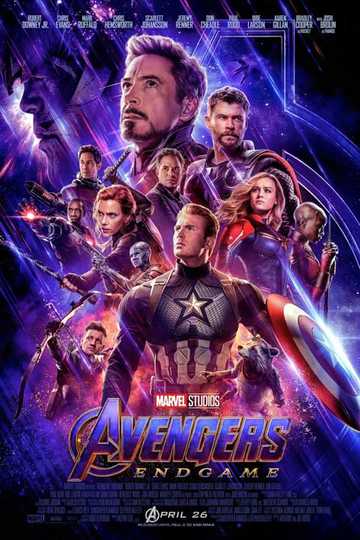 Avengers: Endgame
After the devastating events of Avengers: Infinity War, the universe is in ruins due to the efforts of the Mad Titan, Thanos. With the help of remaining allies, the Avengers must assemble once more in... Read More