22 Things You Didn't Know About 'Mannequin'
Nothing's gonna stop us now... from celebrating the 30th anniversary of "Mannequin."
Since its release three decades ago (on Feb. 13, 1987), Andrew McCarthy and Kim Cattrall's "Pygmalion" update about a window dresser who falls for a living department store dummy, has become a cult romantic comedy favorite. Still, there's a lot you may not know about this '80s time capsule, from how it was cast to its unlikely trip to the Oscars. 1. Like his protagonist, co-writer/director Michael Gottlieb got his start in the world of fashion, first as a photographer, then as a commercial director.
2. He claimed he got the idea for "Mannequin" in 1982 while walking past the window of New York's Bergdorf Goodman department store and thinking he might have seen the dummy moving. 3. "Mannequin" would become Gottlieb's first screenplay (co-written with Edward Rugoff) and his feature directing debut.
4. Of course, he might also have gotten the idea from the Greek myth of Pygmalion and Galatea, the story of a sculptor who falls for his creation. Or from the 1948 movie "One Touch of Venus," a musical comedy starring Ava Gardner that set the tale in a modern-day department store. G.W. Bailey, who played security guard Felix Maxwell in "Mannequin," cited the Gardner film as the 1987 comedy's inspiration. 5. Gottlieb is the younger brother of Carl Gottlieb, who co-wrote the screenplay to "Jaws" and played the reporter in the classic shark tale.
6. If "Mannequin" seems a little formulaic to you, that's no accident. It was the first movie produced by Hollywood market research guru Joseph Farrell, who perfected the system of focus groups and test audiences that studios often use to tweak films and make them more commercial. 7. Most notoriously, it was his research that led to the dramatically altered ending in "Fatal Attraction," setting up a bloody confrontation between Michael Douglas and Glenn Close instead of having her frame him for her own death.
8. "Mannequin" is the rare Hollywood romance where the lead actress is older than the lead actor. Kim Cattrall was 30 and fresh off "Big Trouble in Little China" when she played Emmy in "Mannequin." McCarthy was just 24. 9. Brat Packer Andrew McCarthy had just starred in "Pretty in Pink," but he wasn't considered a big box office draw before "Mannequin" went into production. Still, Farrell determined that he had strong appeal to the young girls he'd designated as the film's target market, so McCarthy won the lead role of Jonathan.
10. The comedy marked the second time McCarthy had co-starred with James Spader (who played Jonathan's nemesis, Richards). They'd appeared in "Pretty in Pink" a year earlier. Later in 1987, they'd reunite again in "Less Than Zero." 11. McCarthy and Spader weren't the only stars who had worked together before. Cattrall and Bailey had co-starred in "Police Academy."
12. To make the mannequins used in the movie, Cattrall sat for a Santa Monica sculptor for six weeks. The filmmakers used six different dummies, each with a different facial expression. 13. Designing Women," when he was cast as Jonathan's gay pal, Hollywood Montrose.
14. The filmmakers scouted department stores all over the country before settling on Philadelphia's John Wanamaker's, one of the oldest department stores in America, to play the role of Prince's department store. (It's still there today, but now it's a Macy's.) 15. The Golden Girls," when she was cast as store owner Claire Timkin. It was the first major movie role for the 63-year-old actress.
16. As it turned out, Carole Davis, who played Jonathan's ex-girlfriend, Roxie, had worked with the real Prince. She was a singer who had co-composed with Prince the song "Slow Love" for his 1987 "Sign o' The Times" album. 17. "Mannequin" cost $7.9 million to make. It earned back $43 million, making it the 27th biggest hit of 1987.
18. Despite scathing reviews, "Mannequin" did earn one Oscar nomination, for Best Song, for Starship's "Nothing's Gonna Stop Us Now." The tune became a Billboard No. 1 single by April 1987, but it ultimately lost the Academy Award to "(I've Had) The Time of My Life" from "Dirty Dancing."19. The song marked the first nomination for composer and power-ballad empress Diane Warren; she's been nominated eight times over the past three decades but has yet to win.
20. For all the film's success, "Mannequin" didn't do much for Cattrall's career. She auditioned for the role in 1987's "Sex and the City." 21. No one from the original film, except Taylor, returned for the 1991 sequel, "Mannequin: On the Move." This time, the dummy-come-to-life was yet another "Pretty in Pink" alum, Kristy Swanson.
22. In 2010, there was talk of a "Mannequin" remake; in keeping with the times, the updated romance would be about a man who falls in love with a hologram. So far, the reboot has yet to materialize.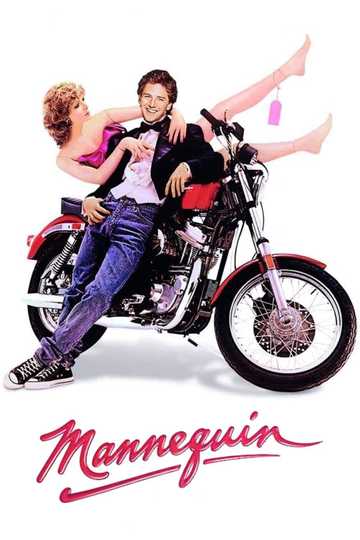 "Just because Jonathan's fallen in love with a piece of wood, it doesn't make him a dummy."
1 hr 29 min
Feb 13th, 1987
Jonathan Switcher, an unemployed artist, finds a job as an assistant window dresser for a department store. When Jonathan happens upon a beautiful mannequin he previously... Read the Plot