We had the best day ever chatting with the talented cast of "Beauty and the Beast" about their first Disney obsessions.
For Emma Watson, it was all about "Pocahontas." "I think I wanted a pet raccoon," she told Moviefone. "And she had really good hair. Pocahontas was just cool.She was so cool."
Legion," revealed why "Dumbo" first captured his heart. "I suppose the story of an elephant and a mouse and the friendship between them ... and when they start drinking a bucket of who-knows-what they just start trippin' balls." Now we know why he said yes to "Legion"!
Although Emma says she can barely remember the film, Dan sings the praises of the scene where giant pink elephants parade past our drunken heroes: "The pink elephant sequence in 'Dumbo' is one of the great sequences in cinema history," he insists.
Gugu Mbatha-Raw (who plays Plumette, the maid who becomes an enchanted feather duster) reveals, "I was obsessed with Minnie Mouse. When I was 3 or 4, I had a Minnie Mouse party. I had the outfit and the ears. Yeah, I'm kind of still a bit obsessed with Minnie Mouse." (Could her hairdo on the day of the L.A. junket even be an homage to Minnie?)
Six-time Tony winner Audra McDonald (Garderobe, the singing wardrobe) shares, "I had a Mickey Mouse record player. His ears were the top of the little box that opens and his gloved hand was the needle." Gugu's reaction? "That is so cool!"
Josh Gad, who plays LeFou, says he's very fond of the '70s animated "Robin Hood," and started serenading us with a little "Ooh-de-lally-ay." Another Gad favorite? The swinging '60s "Jungle Book." Costar Luke Evans (the evil but so handsome Gaston) chimed in that he loves another '60s favorite: "The Sword in the Stone," which also involves a big, dumb lug who's not the hero. Hmmmm.
Composer Alan Menken said his favorite growing up was "Davy Crockett" the Disney TV series that aired in 1955. And then he begins to sing some of the "King of the Wild Frontier" theme song. The man who gave us "Be Our Guest" said he was also very fond of a certain musical insect called Jiminy Cricket.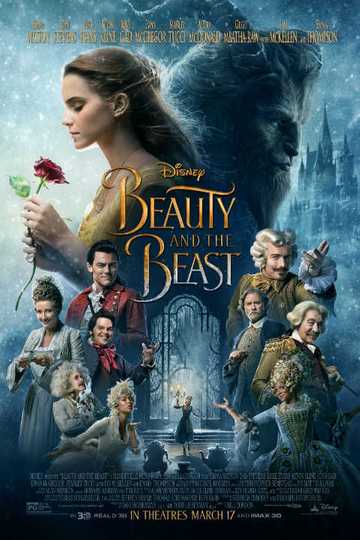 Beauty and the Beast
A live-action adaptation of Disney's version of the classic tale of a cursed prince and a beautiful young woman who helps him break the spell. Read More