 "Star Wars: The Last Jedi" is no longer a (complete) mystery.
If you think back to 2014, 2015, with "The Force Awakens," Disney and Lucasfilm were more forthcoming with footage, casting, and story details early on. They didn't lay out the entire plot of the movie, but they released first-look images and tidbits here and there by virtue of the fact that "Episode VII" marked the first of a new trilogy set in the galaxy far, far away. That's no longer the case. Now, we're in the thick of it after "Rogue One," announcements for the Han Solo prequel, and even more films in the works.
With eight months to go before the Mouse House unleashes the next chapter in the Skywalker Saga, Friday's panel at Star Wars Celebration Orlando offered the very first details, images, and footage. Here's what we learned.
1. More "Amazingly Fierce and Independent Women" Lucasfilm President Kathleen Kennedy praised "Last Jedi" director Rian Johnson for being "on his way to standing alongside many of the great filmmakers that I have had the opportunity to work with." (Ahem, Spielberg.)
When asked what Johnson brings to the franchise, she hailed his "uniqueness" and his writing abilities. "He writes amazingly fierce and independent women," she promised. "He's also got a great sense of humor."
2. Expect Some Great New Locations
Production returned to Skellig Island, where J.J. Abrams shot the final moments of "The Force Awakens" with Rey (Daisy Ridley) and Luke Skywalker (Mark Hamill). Kennedy also name-dropped the Dingle Islands. "We were up and down the West Coast of Ireland," Johnson recalled of all the enthusiastic fans they met. The movie also will feature what, according to the trailer, looks like white sand salt flats.
3. Carrie Fisher's Performance Will Not Disappoint "Carrie is remarkable in the movie," Kennedy said of the late Carrie Fisher, whose death in December 2016 has cast a solemn shadow over Celebration.
"The performance she ends up giving, you guys are gonna find that [to be] an amazing tribute to her talent." Johnson added that he "connected with [Fisher] first and foremost as a writer." He'd go to her house and read the script with Fisher on her bed, with their chats becoming "stream of consciousness, jam poetry, ad lib sessions."
4. Rey Will Train With Luke "I actually can tell you some things," Ridley said after the jovial roar of the crowd finally died down. "In 'The Last Jedi,' we go deeper into Rey's story," she said. "Rey has a certain expectation as to what she might be getting from Luke and what that might entail." Her last tease was, "[It's] difficult to meet your heroes because it might not be what you expect."
5. BB-8 Is the Buster Keaton of Star Wars Johnson said the best advice he got was, "You can't have enough BB-8 -- and we followed that advice [in 'The Last Jedi']." According to the filmmaker, the lovable android is "Buster Keaton of this movie." He added, "I'm excited for you to see what he does in this movie." The filmmaker also alluded to BB-8 getting a lot more comedy and action this time around. (Can't. Wait.)
6. Finn's Recovery When last we saw Finn, he suffered an injury during the climatic fight against Kylo Ren (Adam Driver). So when we meet him again, he'll be in recovery.
"He will be back in 'The Last Jedi' and he's not playing this time," John Boyega promised. He also teased a question later in the panel: "Is he gonna be a part of The Resistance or is he gonna keep running away from The First Order?" The movie will reportedly focus on Finn finding his place in a post-"TFA" world.
7. More Finn and Poe Bromance
Oscar Isaac (Poe Dameron) couldn't make it out for Celebration, but Boyega promised their characters' relationship will grow in the next movie. "Poe's my boy," he said. "There's always a new adventure for us to go on."
8. Plot Details (Ish)
Be prepared for things to get intense real fast. Though The Resistance was able to destroy Starkiller Base, The First Order was still able to destroy much of the Republic. According to Johnson, this has "thrown the galaxy into chaos" and the sinister regime will be pouncing on this by "making some big moves at the start of the film."
9. Rose Will Be Your New Favorite Character Kelly Marie Tran will portray a new character called Rose, "who has the biggest new part in the movie," Johnson said as the actress came out on stage.
She explained that Rose is a maintenance worker for the Resistance, but what Johnson wanted was someone to emulate Luke's journey in becoming "this unlikely hero." He explained Rose is "not a soldier, not looking to be a hero, and [she] gets pulled into a very big way into an adventure in this movie."
10. Luke's Role -- Is He a Good Guy or Bad Guy? When Mark Hamill arrived on stage, he didn't discuss much about Luke's presence in "The Last Jedi" and even downplayed it to some extent. So, Kennedy chimed in to say, "He is so significantly important to this next film."
11. This Teaser Poster Kicks Ass As part of a series of new images released on a slideshow throughout the panel was the first "Last Jedi" teaser poster, which features Rey imitating Luke Skywalker's lightsaber pose from the original one-sheet for "A New Hope." This time, however, instead of Darth Vader's floating head, there's Luke's face on one side of the saber bean and Kylo Ren's on the other. Make from that what you will.
#TheLastJedi poster has been revealed. #SWCOpic.twitter.com/fqnf1bQtPu

— Star Wars (@starwars) April 14, 2017
12. The Trailer Made Us Feel All Kinds of Ways
"Just breathe. Now reach out. What do you see?" Luke's voiceover says as the trailer begins.
The preview opens with an exasperated Rey stumbling out of a cave on the island where she found the Jedi-in-hiding. One might presume this cave operates similarly to the one from "Empire," where Luke experienced visions in the woods of Dagobah.
From there, we see quick shots of: Rey levitating the debris around her with The Force; General Leia with her back facing us while aboard a sleek new ship; what appears to be Kylo Ren's now-destroyed mask in a puddle of steaming glass; Rey training with her lightsaber at the edge of a cliff with Luke; new ships (with one clunker) racing towards what looks to be AT-ATs or AT-ACTs in the distance; Finn recovering, Poe and BB-8 running as their base erupts into chaos; the Millennium Falcon under attack; and Luke and R2-D2 watching what may be the burning of a Jedi temple first glimpsed in a trailer for "Force Awakens."
Watch it all again (and again) below."Star Wars: The Last Jedi" hits theaters December 15.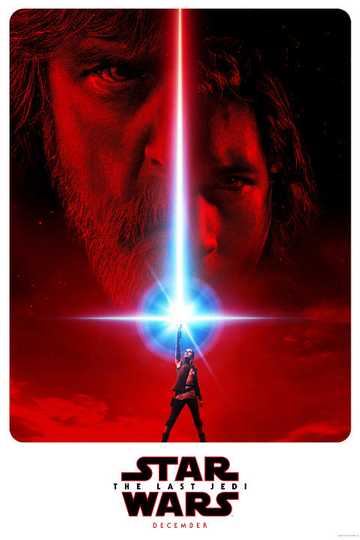 Star Wars: The Last Jedi
Rey develops her newly discovered abilities with the guidance of Luke Skywalker, who is unsettled by the strength of her powers. Meanwhile, the Resistance prepares to do battle with the First Order. Read More