23 Things You Never Knew About Woody Allen's 'Annie Hall'
Why do we still care about "Mary Tyler Moore' episode... He didn't trust it. It was a real leap for him. It was a big moment for Woody and he had to be scared. But I wasn't." 11. A few future stars had blink-and-you'll-miss-it roles. Charlie's Angels" star Shelley Hack was half of the cheerfully-shallow young couple Alvy stops on the sidewalk. And Sigourney Weaver made her screen debut as Alvy's movie-theater date at the end of the film.
12. Oh, and the man in the park that Alvy jokes is the winner of the Truman Capote lookalike contest? That's no lookalike; it really is the "Breakfast at Tiffany's" author. 13. There's also a two-scene appearance by a pre-fame Christopher Walken, as Annie's hilariously disturbed brother Duane. His name is misspelled "Wlaken" in the closing credits. 14.Entertainment Weekly published a wonderful interview with Russell Horton, who played the annoying professor in line at the movie theater (above), the one whose pontifications about Marshall McLuhan Alvy shuts down when he pulls the real McLuhan out of nowhere. Horton -- whom you may know better as the voice of the Trix rabbit in the cereal commercials -- recalls that Allen had originally wanted to make Federico Fellini or Luis Buñuel appear (Horton's character was spouting nonsense about Fellini, too), but the European art-film directors both declined to be in Allen's movie. The gag still worked with the Canadian media scholar, even though, after 17 or 18 takes, McLuhan still stumbled over his dialogue. "He had one line, and he kept blowing it," Horton recalled.
15. There's no instrumental score in "Annie Hall." All the music is pre-existing songs, overheard at parties, on car radios, or sung by Keaton as part of Annie's cabaret act. 16. Annie's costumes, consisting largely of oversized but elegant menswear from Keaton's own wardrobe, spawned a fashion trend, yet they almost didn't happen. Allen said that his costume designer, Ruth Morley, disapproved of Keaton's choices, but he recalled telling Morley, "She's a genius. Let's just leave her alone, let her wear what she wants." 17. Allen famously welcomes improvisation on his sets, and "Annie Hall" was no different. Much of the spontaneous clowning in the lobster-cooking scene (which was the first scene in the shoot) was truly spontaneous. So was the gag where Alvy sneezes away a fortune's worth of cocaine (pictured). Allen and editor Ralph Rosenblum had to lengthen the scene after test audiences laughed so long that they missed the next lines of dialogue.
18. Allen and Rosenblum rescued the sprawling film, whose rough cut ran nearly 2 1/2 hours, in the editing room, slashing most of the fantasy sequences and flashbacks and making the Annie-Alvy romance the backbone of the film. Even then, Allen didn't have an ending for the film; there was an awkward and glum scene of Annie and Alvy after their break-up, and then nothing. 19. It wasn't until Allen was riding in a taxi on the way to a test screening that he came up with an ending, jotting down some notes that evolved into the bittersweet, hopeful monologue that closes the film.
20. "Annie Hall" cost a reported $4 million to make. It earned $38 million in North American theaters, becoming the 11th biggest hit of 1977 and the fourth most lucrative of Allen's nearly 50 films. Adjusted for inflation, that would be $148 million today, making it the biggest-grossing hit of Allen's career. 21. "Annie Hall" was nominated for five Oscars: Best Picture, Best Director, Best Screenplay, Best Actor, and Best Actress. It won all but Best Actor.
22. Allen wasn't present to receive his two trophies; he chose not to attend the Academy Award ceremony because it conflicted with his long-standing Monday night gig playing Dixieland clarinet at Michael's Pub in New York. 23. Allen was still unhappy with having transformed his ambitious, psychological screenplay into what he felt was a conventional romantic comedy. Shortly after its Oscar sweep, he referred to "Annie Hall" as "a very middle-class picture that appealed to people because it reinforced middle-class values."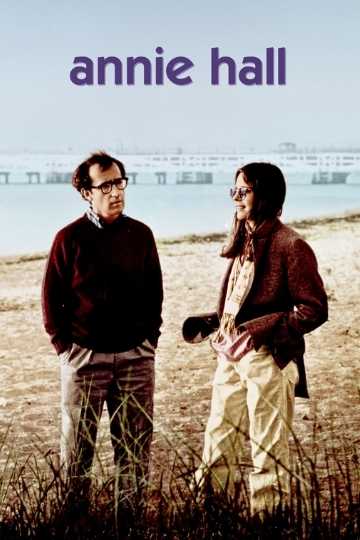 "A nervous romance."
1 hr 33 min
Apr 20th, 1977
New York comedian Alvy Singer falls in love with the ditsy Annie Hall. Read the Plot