Robert Pattinson Reacts to Donald Trump's Obsessive Robsten Tweets
Donald Trump was once so obsessed with convincing Robert Pattinson to dump his cheating "Twilight" co-star Kristen Stewart that Stewart later joked that Trump was in love with her boyfriend. Stewart referenced the current president's many Robsten tweets a couple of times earlier this year, but Pattinson just publicly responded to their existence for the first time.
While talking to Entertainment Weekly about his acclaimed new film "Good Time," Pattinson discussed his struggle to say the right things in interviews.
"There's an expectation for a certain energy. It's difficult because I feel like I'm wearing a lot of different hats at the same time. I'm editing a lot in my head as the interviews go on. I think that's why I get so anxious. And then I end up saying some dumb stuff. It's always dangerous if I'm trying to make a group of people laugh. That's when I say the dumbest stuff."
(That includes what he said in his recent talk on "Jimmy Kimmel Live.") EW later followed by asking about Trump's tweets from 2012-2013:
EW: Does it seem somewhat surreal that the current president of the United States once wrote a bunch of tweets about you?

Pattinson: [Laughs] I think there's so many different levels of it. Your identity exists on many different planes at the same time and they all can be quite different from each other. When he said that, it didn't really mean anything. But I guess now I'm sort of thinking, like, 'Well, I guess that is related to me.' But how does that fit in with all the other things going on in my life? And sometimes you think, 'Can I use this in my acting? Or should I be putting it away.' It's kind of interesting, I guess. I don't know — this could be why people get annoyed with me.
Yeah, he went in a very actory, cerebral direction with his response, whereas Kristen Stewart was much more direct. In January, in a talk with Variety, she said of Trump, "He was mad at me a couple years ago, really obsessed with me a couple years ago, which is f*cking crazy. I can't even understand it. I literally cannot even understand it. It's such far-out concept that I'm like, I don't want to believe that actually is happening. It's insane."
Then in February, when she hosted "Saturday Night Live," she read some of Trump's anti-KStew tweets aloud, including one when Trump gave Pattinson an open invitation to the Miss Universe pageant. Stewart quipped, "So, to be fair, I don't think Donald Trump hated me. I think he was in love with my boyfriend." At the very least, he was totally Team Edward.
Pattinson's new movie "Good Time" opens August 11.
Want more stuff like this? Like us on Facebook.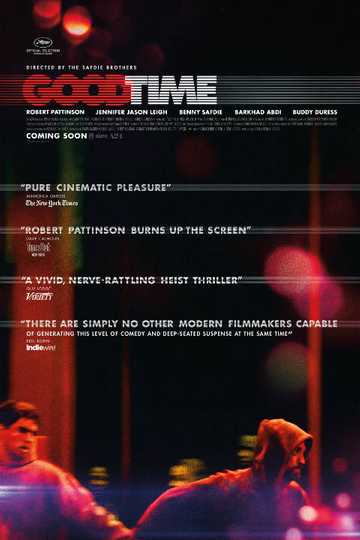 "Are you ready for a Good Time?"
1 hr 42 min
Nov 21st, 2017
After a botched bank robbery lands his younger brother in prison, Connie Nikas embarks on a twisted odyssey through New York City's underworld to get his brother... Read the Plot