 Meryl Streep may be out ... but Cher is in?
"Mamma Mia! Here We Go Again" opens in July, 10 years after "Mamma Mia!" celebrated Sophie's (Amanda Seyfried) wedding. In that movie, Sophie gathered her mother Donna's (Meryl Streep) three former beaus to try and decipher which one was her father. This time, Sophie is the one who is pregnant, and it looks from the first trailer like Donna is dead.
The Universal Pictures trailer shows Sophie (Amanda Seyfried) with her mom's best friends Tanya (Christine Baranski) and Rosie (Julie Walters). "Your mother was the bravest person we ever knew," Rosie says. "Let me tell you how she did it, all on her own..." The trailer then shows Lily James as young Donna in a series of flashbacks to her youth.
Meryl Streep is in the movie, but she was reportedly only available for a short period of time, which must be why they decided to go in this direction. At least Pierce Brosnan, Stellan Skarsgård,and Colin Firth are back as The Dads. Plus, now we have Cher as Sophie's "Grandma." (!!!)
Watch the trailer:Fans seemed to like the trailer, but not that Donna twist:
I am F U M I N G - please don't try and come for my soul and kill Donna off in mamma mia 2 unless you want me to go into mourning pic.twitter.com/eYndlXb9z6

— isobel (@isobeld_) December 21, 2017
So Mamma Mia 2 DOESN'T include Meryl Streep but DOES include Cher??? I'm upset and excited all at the same time, this is such an overwhelming experience

— Samantha (@samanthaeg_) December 21, 2017
No, I think it still has Meryl Streep in it. She just doesn't have as large a roll as she did in the first movie.

— Chris (@FantasyWriterC) December 21, 2017
What a great idea to make a sequel to Mamma Mia where Donna Sheridan is dead, said no one ever. https://t.co/ZWBZ7EaNYQ

— Mireia (@MimiLovesMeryl) December 21, 2017
Here's the official synopsis:
"Get ready to sing and dance, laugh and love all over again.

Ten years after Mamma Mia! The Movie grossed more than $600 million around the world, you are invited to return to the magical Greek island of Kalokairi in an all-new original musical based on the songs of ABBA. With the film's original cast returning and new additions including Lily James (Cinderella, Baby Driver), the musical comedy will open on July 20, 2018.

Mamma Mia! Here We Go Again is produced by Judy Craymer and Gary Goetzman, producers of the original film. Craymer is also the creator and producer of the worldwide smash-hit stage musical.

Ol Parker, writer of The Best Exotic Marigold Hotel, writes and directs the sequel from a story by Catherine Johnson, Richard Curtis and Parker. Benny Andersson and Björn Ulvaeus return to provide music and lyrics and serve as executive producers. Tom Hanks, Rita Wilson, Phyllida Lloyd, Richard Curtis and Nicky Kentish Barnes also serve as executive producers.

Reprising their roles from Mamma Mia! The Movie are Academy Award winner Meryl Streep as Donna, Julie Walters as Rosie and Christine Baranski as Tanya. Amanda Seyfried and Dominic Cooper reunite as Sophie and Sky, while Pierce Brosnan, Stellan Skarsgård and Oscar winner Colin Firth return to play Sophie's three possible dads: Sam, Bill and Harry.

As the film goes back and forth in time to show how relationships forged in the past resonate in the present, James will play the role of Young Donna. Filling the roles of Young Rosie and Young Tanya are Alexa Davies (A Brilliant Young Mind) and Jessica Keenan Wynn (Broadway's Beautiful). Young Sam will be played by Jeremy Irvine (War Horse), while Young Bill is Josh Dylan (Allied) and Young Harry is Hugh Skinner (Kill Your Friends)."
"Here We Go" again opens July 20th, 2018.
Want more stuff like this? Like us on Facebook.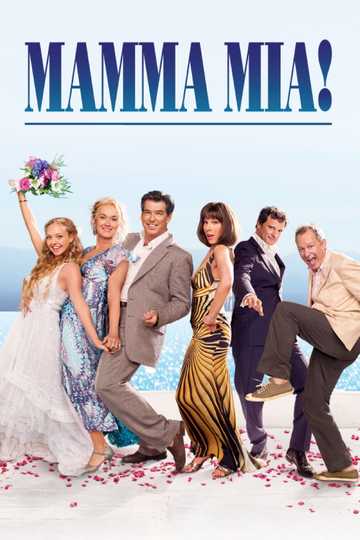 Mamma Mia!
An independent, single mother who owns a small hotel on a Greek island is about to marry off the spirited young daughter she's raised alone. But, the daughter has secretly invited three of her mother's... Read More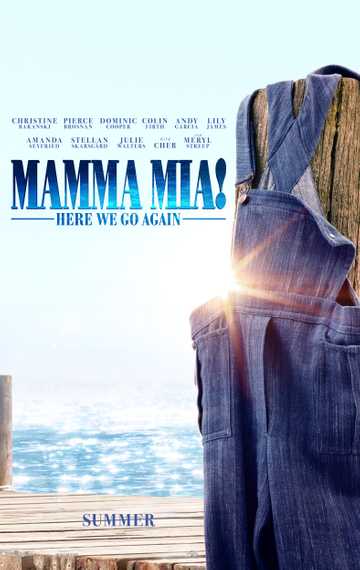 Mamma Mia! Here We Go Again
Five years after meeting her three fathers, Sophie Sheridan prepares to open her mother's hotel. In 1979, young Donna Sheridan meets the men who each could be Sophie's biological father. Read More