January 3rd, 2018
by Gina Carbone
See 'The Sisterhood of the Traveling Pants' Stars Gather for Adorable Pregnancy Photo
"Sisterhood of the Traveling *Maternity* Pants," assemble!
You probably saw America Ferrera's sweet New Year's announcement that she and husband Ryan Piers Williams are expecting their first child together. America is the last of the four original "Sisterhood of the Traveling Pants" stars to get pregnant, and they all gathered to celebrate her impending arrival.
Here's what costars Amber Tamblyn and America Ferrera posted:
Didn't think anything could beat kicking off the new year with the #TIMESUP initiative, but then... pic.twitter.com/WLbtL6f8qV

— Amber Tamblyn (@ambertamblyn) January 2, 2018
Starting the New Year off with blessings from my Sisterhood. We've got work to do for the next generation. Let's get to it. #TIMESUPpic.twitter.com/c5lrKL0g1f

— America Ferrera (@AmericaFerrera) January 3, 2018

Their movie came out in 2005, with a sequel in 2008, and they are still close friends, regularly getting together like this. That is beautiful.
The only celebrity couple I have any faith in anymore is the Sisterhood of the Traveling Pants. https://t.co/t2Rr0b3hNy

— Allie Hagan (@alliehagan) January 2, 2018
The way @AmericaFerrera@blakelively@ambertamblyn and @alexisbledel love and support each other and remain best friends makes my heart soar.

— Jessica Thornton (@jesstinybird) January 2, 2018
I'm not gonna lie I've never tried watching the sisterhood of the traveling pants but I just love their friendship so much and love how long it's lasted never really seen that with a cast before https://t.co/GsrM7IqceC

— jenny ???? (@fiImoscar) January 2, 2018
All the women from Sisterhood of the Traveling Pants are going to be moms and they were just together. 2018 is already shining. pic.twitter.com/87Xxoc1DgG

— Becca Davila (@beccaedav) January 2, 2018
Sisterhood of the traveling maternity pants. Let's do this. https://t.co/5lNgo0kRjI

— Bianca Lauren (@NYCgirl1990) January 2, 2018
Yeah, maybe just give a third "Sisterhood" film that maternity title and let's roll.
The "Sisterhood" stars are all in their 30s now, with thriving careers and growing families: Alexis Bledel, 36, has one child with husband Vincent Kartheiser; Blake Lively, 30, has two kids with Ryan Reynolds; Amber Tamblyn, 34, has one child with husband David Cross; and now America, 33, is pregnant with her first child.
Want more stuff like this? Like us on Facebook.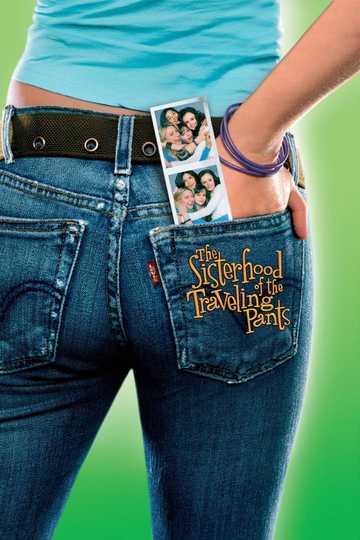 The Sisterhood of the Traveling Pants
Four best friends (Tibby, Lena, Carmen & Bridget) who buy a mysterious pair of pants that fits each of them, despite their differing sizes, and makes whoever wears them feel fabulous. When faced with... Read More The Sisterhood of the Traveling Pants 2
Four young women continue the journey toward adulthood that began with "The Sisterhood of the Traveling Pants." Now three years later, these lifelong friends embark on separate paths for their first year... Read More