 Move aside, "Disney on Ice" -- skating fans are calling for something a little less G-rated, thanks to Tessa Virtue and Scott Moir.
During the team figure skating event in the 2018 Winter Olympics in PyeongChang, South Korea, the veteran ice dancers helped snag a gold medal for Canada, in part with their moving performance to songs from the "Moulin Rouge" soundtrack during the Feb. 12 free skate. By the time they were done, even the film's director, Baz Luhrmann, was singing their praises. He gave them a special shout-out in a tweet ahead of the Olympics that celebrated how many skaters are using the musical's soundtrack. After team event, the filmmaker congratulated Virtue and Moir on their latest medal, adding, "Looking forward to cheering you on in the individual competition."
Moulin Rouge on ice! It's moving to see so many champions skating their way to @pyeongchang2018 to the music from #MoulinRouge, including @TeamCanada's @tessavirtue & @ScottMoir ⛸ #PyeongChang2018pic.twitter.com/SeM9tsS8ZY

— Baz Luhrmann (@bazluhrmann) February 3, 2018
Congratulations to @ScottMoir & @tessavirtue for leading @TeamCanada to the gold with Moulin Rouge... you are Christian and Satine on ice! Looking forward to cheering you on in the individual competition #PyeongChang2018https://t.co/feqMAlES31

— Baz Luhrmann (@bazluhrmann) February 12, 2018
Many fans were equally impressed and started calling for "Moulin Rouge" to be adapted for an ice show, ideally with Virtue and Moir in the lead roles.
So, sign me up for a remake of Moulin Rouge on ice starring Tessa and Scott. #olympics

— Laura Hurley (@lah9891) February 12, 2018
I think if I've learned anything from the 2018 Olympics, it's that #MoulinRouge on Ice needs to exist (for which I'd obviously buy monthly tickets) and that one's daily routine should involve listening to Obi-Wan sing. It's just like vitamins or exercise but better.

— Alexandria Rogers (@AlexandriaeR_) February 12, 2018
I could watch #VirtueMoir act out Moulin Rouge on ice on repeat for the rest of my life.

— callista (@hicallista) February 12, 2018
Moulin Rouge medley FTW!!! With my favorite song even! If Moulin Rouge on Ice happens cast those two. #Canada#OLYMPICSpic.twitter.com/ljMDe6UHTE

— Alea Ford (@AleaFord) February 12, 2018
ACT OUT THE ENTIRE SCREENPLAY OF MOULIN ROUGE ON ICE SO I KNOW IT'S REAL

— amrita ???? (@marigoldlight) February 12, 2018
does this mean moulin rouge on ice will be a thing? (because i'm totally okay with that)

— Ashley Chervinski (@ashleycherv) February 12, 2018
Ok so based on what I've seen over the past few nights I think it's safe to say the world is ready for "Moulin Rouge On Ice"

— Shalyah Evans (@ShalyahEvans) February 12, 2018
Other fans just couldn't get over how hot the routine was, not to mention their disbelief that the two skaters are not dating in real life.
OMG I just caught up on the Virtue/Moir Moulin Rouge ice dance.

Are they dating? IF NOT I DEMAND A THOUSAND ROMANCE NOVELS BASED ON THEM.

— S. Jae-Jones (JJ) (@sjaejones) February 12, 2018
Watching the Canadians skate to moulin rouge made me want to immigrate to Canada. They were making love on the ice. pic.twitter.com/ijEYeNu6ab

— Jamey Funny (@JameyFunny) February 12, 2018
Virtue and Moir are platonic in the same universe Mulder and Scully are. pic.twitter.com/h38T3412dn

— heather mason (@NerdHeather) February 12, 2018
what will we do when tessa virtue and scott moir retire and we have to do something else during the winter olympics besides talk about how obviously they are in love and how great their sex life is

— ✍️ (@koreklymenos) February 12, 2018
Are you telling me those moulin rouge canadian skaters arent madly in love with one another? because you are a LIAR.

— katherine speller. (@Kathriller) February 12, 2018
It's fair to wonder. Just look at their "Moulin Rouge" performance from the 2018 Canadian nationals. It really plays up the romance, and there is a lift that Virtue understandably described as "suggestive" -- one they ultimately toned down ahead of PyeongChang, as the Toronto Star reported.
Even with the lift modified, Virtue and Moir left fans wanting more "Moulin Rouge." Fortunately, the duo are skating their routine again -- not to mention their short program -- during the individual event, which begins the morning of Feb. 19 (Feb. 18 in North America).
The skaters previously won the ice dance event in Vancouver in 2010 and then took silver during the 2014 Sochi Olympics. PyeongChang is likely to be their final Olympics, and therefore the individual event will probably be their last chance to add to their gold medal collection. Once they're done competing, maybe then they will make fans' "Moulin Rouge on Ice" dreams come true.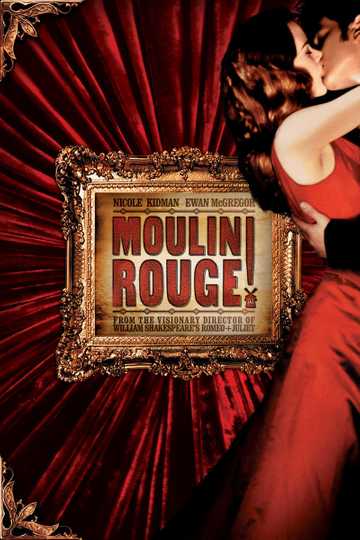 Moulin Rouge!
A celebration of love and creative inspiration takes place in the infamous, gaudy and glamorous Parisian nightclub, at the cusp of the 20th century. A young poet, who is plunged into the heady world of... Read More