Johnny Depp Accused of Trying to Attack Crew Member on 'Toxic' Film Set
Because Johnny Depp needed another problem.
Page Six has a story out claiming "multiple sources" told them Johnny Depp attacked a location manager on the set of his movie "LAbyrinth." The only person to go on-the-record for the story was the film's director Brad Furman, who defended Depp (and his own film) and called what happened a nonevent being exaggerated.
"LAbyrinth" stars Johnny Depp in the role of real LAPD detective Russell Poole, who failed to solve the murders of Tupac Shakur and The Notorious B.I.G. A reporter (played by Forest Whitaker) later teams up with Poole to find out the truth.
An unnamed insider told Page Six it was a "toxic" set, and the spat in question started when Depp took over directing scene where he cast two of his friends as a cop and a homeless man. A source said the scene turned into "way more than it should have been" and also seemed to go longer than planned. A street in downtown L.A. was closed off for filming, and when the permit ran out, Depp still wanted to keep filming. That's when the location manager became the proverbial messenger who gets shot.
The producers reportedly kept asking for time to be extended on the closed street, but the location manager ultimately told director Brad Furman the scene had to wrap. "Brad interjected, 'Tell that to Johnny Depp!'" So the location manager was reportedly left to tell Depp.
Here's what happened next, via Page Six:
"This is the last shot," a source said, when an irate Depp — who'd been "smoking and drinking all day on set" — got in the staffer's face. "He was 6 inches away, yelling, 'Who are you? You have no right!' " sources said.

When the well-liked worker told Depp, "I'm just doing my job," a source said Depp tried to punch him in the ribs. But the weak blow didn't make an impact, and Depp yelled, "I'll give you $100,000 to punch me right now!" The stunned staffer stood still, and Depp was finally pulled away.
Page Six reached out to Depp but his rep had no comment. Here's director Brad Furman trying to shut it down as a nothingburger:
"Johnny Depp is a consummate professional, great collaborator and a supporter of other artists. He always treats the crew and people around him with the utmost respect. Movies can be stressful, and nonevents often become exaggerated. We all love stories — there isn't one here."
Well, maybe not to him, but someone -- "multiple" someones, according to Page Six -- spoke out about what happened. It's not like they give live reports from every film set every day, and L.A. is brimming with film sets filled with big stars like Johnny Depp.
Depp is already embroiled in drama with money battles with his managers, and he's being sued by former bodyguards. And some fans still wish he had not been cast as Gellert Grindelwald in the "Fantastic Beasts" franchise.
But he's also Johnny Depp, hugely popular movie star with very loyal fans. Maybe whatever happened wasn't a big deal, but on-set antics are tolerated less and less these days, even from megastars (remember Christian Bale's taped rant?), so maybe it'll serve as another wake-up call for everyone in the public eye to just behave.
Want more stuff like this? Like us on Facebook.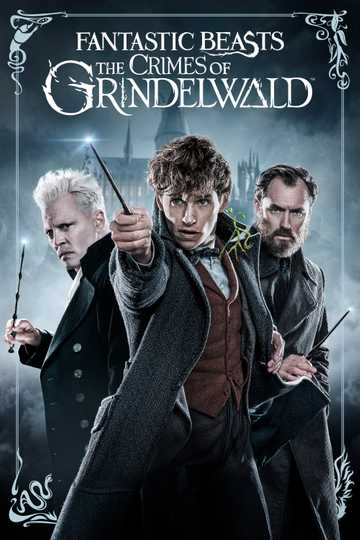 "Fate of one. Future of all."
2 hr 14 min
Nov 16th, 2018
Gellert Grindelwald has escaped imprisonment and has begun gathering followers to his cause—elevating wizards above all non-magical beings. The only one capable... Read the Plot