 Just six months after Rian Johnson set "Star Wars" mythology on fire with "The Last Jedi," Ron Howard and Lucasfilm are offering fans a heaping portion of cinematic comfort food with "Solo," a prequel that explores the early days of Han Solo, the most lovable rogue in the galaxy.
Whether you think the film's predecessor offered a bold, promising new direction for the franchise, or a heretical take on a beloved franchise, check out seven reasons to ante up for Howard's upcoming film.
1. Han Solo, Revealed Unlike the Skywalker family, whose generations have served as the backbone of the "Star Wars" saga, Han Solo's story is primarily defined by mystery and legend, and filled in with a handful of provocative anecdotes. "Solo" sheds light on a few of the stories that were previously believed to be rumors -- where was he raised? How did he develop the skills to outsmart some of the galaxy's most fiendish villains? -- and otherwise examines the formative moments that transformed a hungry young kid into the scoundrel who stole our hearts.
2. It's Basically "Han and Chewie Begins"
Of the little known about Solo, there's even less for Chewbacca. Though, to be fair, the language barrier is an understandable problem for most.
But screenwriters Jonathan and Lawrence Kasdan show us exactly when, where, and how Han met the moody Wookiee, leading to one of the great partnerships in movie history. (Maybe more importantly, we also learn how Han manages to actually understand most of what Chewie says, a key detail that connects them differently than with other characters.)
3. 12 Parsecs, If You Round Down Of Han Solo lore, there's probably no story more famous than his claim that he made the Kessel Run in record time. Equipped with the Millennium Falcon, audiences will get to see precisely what the Kessel Run is, and how Han managed to turn a desperate fight for survival into an unprecedented act of piloting.
4. A Card Player, Gambler, Scoundrel -- You'll Like Him From the release of the very first set photos, Lando has been a magnetic presence in "Solo," an inescapable vortex of intrigue and sex appeal who threatens to steal the title character's movie out from under him.
Fresh off of the release of his provocative new music video for "This Is America," Donald Glover continues his domination of music, television and the movies, oozing with the same devilish charm that Billy Dee Williams brought to the character back in "Empire Strikes Back."
5. "Hello, What Have We Here?" As irresistible as the marquee names are in the cast of "Solo" -- including Glover, Alden Ehrenreich, Woody Harrelson, Emilia Clarke, Paul Bettany and others -- the one who makes the biggest impression is probably the one people know the least well: Phoebe Waller-Bridge, an English actor, writer, and director. She donned a green spandex suit to play L3, Lando's delightfully disobedient navigation droid.
Even without conventional expressions, she showcases a personality that the film desperately needs, especially once Han and his crew finds themselves in the kind of dire circumstances that might otherwise turn this raucous adventure into a dirge.
6. "The Asteroid Field"
John Powell composed the score for "Solo," crafting a new collection of themes that give emotional dimension to Han Solo's early adventures. But Powell quotes one of the most famous -- and personal favorite -- pieces of music in the history of the franchise, "The Asteroid Field," during a key set piece in the film.
As Han and his crew flee from the clutches of the Empire and try to escape mounting dangers surrounding them, the blaring horns of that wonderful moment from "Empire Strikes Back" connects past and present in a way that amplifies the dramatic energy of the moment and foreshadows the dangers Han is yet to face.
7. Ruling The Galaxy As Father And Son The screenplay for "Solo" arrives with an impressive pedigree: It was co-written by Jonathan Kasdan and his father, Lawrence, who was responsible for some of Han's best moments in "Empire Strikes Back." Together, the duo creates a rousing origin story that also feels like a classic Western, a heist movie, and of course, a high-tech sci-fi thriller -- all of which is seeded with scores of minutiae and detail from "Star Wars" lore whose purpose and meaning was quite possibly originally decided upon by Kasdan himself.
Even if you're a little skeptical about how "necessary" this film is in the bigger picture of the franchise, they've found a way with "Solo" to appeal to whatever genre you might separately love most by combining those seemingly disparate elements with stuff straight from the canon. In doing so, they hope to create something fun, fast-paced and spectacular.
"Solo" hits theaters May 25.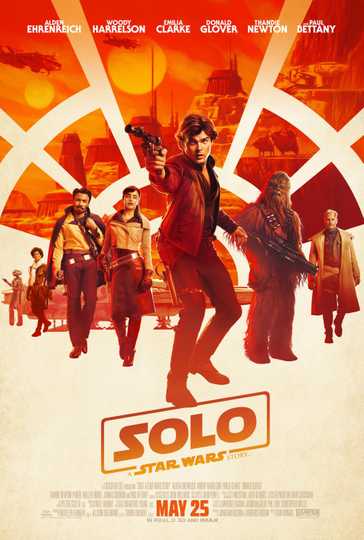 Solo: A Star Wars Story
Through a series of daring escapades deep within a dark and dangerous criminal underworld, Han Solo meets his mighty future copilot Chewbacca and encounters the notorious gambler Lando Calrissian. Read More