 Shocker: Marvel has done it again!
"Ant-Man and the Wasp" is on the smaller side of the Marvel Cinematic Universe, both literally and figuratively. It's not an "Avengers" movie, it's the sequel to one of the light, fun standalones. The film previewed over the weekend for lucky critics and fans, and they emphasized the "fun" factor, with some critics saying it's an improvement on "Ant-Man."
Obviously we all know to stay to the end of a Marvel movie these days, for post-credits teases on what's ahead. "Ant-Man 2" starts after "Captain America: Civil War," and the movie explains its connection to the "Avengers: Infinity War" timeline. Since the next two movies after "Ant-Man and the Wasp" are "Captain Marvel" and "Avengers 4," fans are looking for major hints.
Also Marvel Studios boss Kevin Feige said "Ant-Man and the Wasp" connects directly to "Avengers 4."
#AntManAndTheWasp⁠ "connects directly to Avengers 4," according to Kevin Feige:

"These characters are going to be very important going forward."

(via @MarvelStudios) pic.twitter.com/xHsH4IEqjf

— Marvel Facts & News (@MarveIFacts) June 23, 2018
So MCU fans can't just skip this one. (But they also shouldn't pirate it; don't piss off Evangeline Lilly!)
Some of the early reactions teased the post-credits scene(s), along with the humor, action, and a great Michael Peña gag:
Ant-Man and The Wasp has two post-credits scenes you can't afford to miss.

— Brandon Davis (@BrandonDavisBD) June 23, 2018
Dug the heck out of #AntManAndTheWasp. Clever and charming with lots of heart. It's a bit exposition heavy, but otherwise a damn delight. One gag had me laughing so hard I was in tears and the post-credits scene is easily one of Marvel's best.

— Haleigh Foutch (@HaleighFoutch) June 23, 2018
A tiny take: #AntManAndTheWasp was a total blast. Romantic, energetic and a lot of fun. @MrPeytonReed left unchained and left to his own devices is glorious and totally bonkers and brilliant. pic.twitter.com/QZ8okR76eG

— Drew Taylor (@DrewTailored) June 23, 2018
What a year for Marvel! Absolutely loved #AntManAndTheWasp. Stellar ensemble and the humor is spot on. (Laughed myself to tears during one sequence!) The tech is used to great effect yet again. Unique, highly entertaining ride I can't wait to go on again.

— Perri Nemiroff (@PNemiroff) June 23, 2018
ANT-MAN AND THE WASP is for sure an upgrade from the first film (I didn't love the first Ant-Man). Lilly's Wasp has at least the same, or probably more, action scenes than Rudd's Ant-Man.

Also: Michael Peña has a scene halfway through that brings the house down.

— Mike Ryan (@mikeryan) June 23, 2018
#AntManAndTheWasp is a freaking blast! Absolutely hysterical and the effects a incredible!!! Definitely see it in 3D! Also, my fav Stan Lee cameo ever! pic.twitter.com/C0oadNWz6M

— Jenna Busch (@JennaBusch) June 23, 2018
In a surprise to no one @MrPeytonReed's #AntManAndTheWasp is a ton of fun and had the crowd laughing beginning to end. @MarvelStudios has yet another winner. @Kevfeige makes it look so easy when we all know what he's done is next to impossible. pic.twitter.com/coixY7LG40

— Steven Weintraub (@colliderfrosty) June 23, 2018

"Ant-Man and the Wasp" opens in the U.S on July 6.
Want more stuff like this? Like us on Facebook.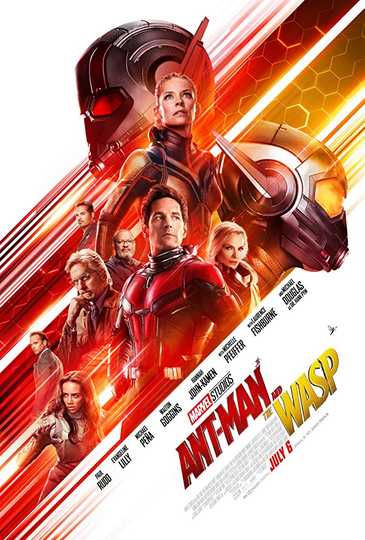 Ant-Man and the Wasp
Just when his time under house arrest is about to end, Scott Lang once again puts his freedom at risk to help Hope van Dyne and Dr. Hank Pym dive into the quantum realm and try to accomplish, against time... Read More