Academy Award Nominated Actor Andy Garcia Talks 'Big Gold Brick'
Garcia also discusses Frances Ford Coppola's recently released director's cut of 'The Godfather Part III' entitled, 'Mario Puzo's The Godfather, Coda: The Death of Michael Corleone.'
Opening in theaters, on digital, and On Demand beginning February 25th is the new movie 'Big Gold Brick,' which marks writer and director Brian Petsos' feature film debut.
The movie stars Academy Award nominee Andy Garcia ('The Godfather Part III') as the eccentric Floyd Deveraux, who is involved in a car accident with fledgling writer Samuel Liston (Emory Cohen). Floyd soon takes Samuel under his wing as his biographer, and introduces him to his wife and children, before his deepest secrets are revealed.
In addition to Garcia and Cohen, the cast also includes Megan Fox ('Jonah Hex'), Lucy Hale ('Borrego'), and Oscar Isaac ('Dune').
Acting legend Andy Garcia has been making movies for almost forty years! He's appeared in such classic films as 'The Untouchables,' 'Black Rain,' 'Internal Affairs,' 'When a Man Loves a Woman,' 'Things to Do in Denver When You're Dead,' 'Night Falls on Manhattan,' and 'Smokin' Aces.'
He was nominated for Best Supporting Actor at the Academy Awards for playing Vincent Mancini in Francis Ford Coppola's 'The Godfather Part III,' but may be best known for his role as Terry Benedict in Steven Soderbergh's 'Ocean's Eleven,' 'Ocean's Twelve,' and 'Ocean's Thirteen.'
Moviefone recently had the pleasure of speaking to Andy Garcia about his work on 'Big Gold Brick,' as well as his thoughts on Frances Ford Coppola's recently released director's cut of 'The Godfather Part III.'
The iconic actor discussed his new film, his unusual character, working with Oscar Isaac, the difference between performing in a comedy or a drama, and his reaction to 'Mario Puzo's The Godfather, Coda: The Death of Michael Corleone.'
You can read the full transcript of our interview with Andy Garcia about 'Big Gold Brick' below, or watch our interviews with Garcia, Lucy Hale, Emory Cohen and writer/director Brian Petsos by clicking on the video player above.
Moviefone: To begin with, how would you describe this movie to our audience?
Andy Garcia: It's a very unique movie and encompasses many different genres, twists and turns in a way that's unique to Brian (Petsos), the writer and director. This is his absurdity and sense of humor. What I can tell you, is that I play a gentleman who has an encounter, an accident with someone on the street, and hits him with his car. That relationship happens because of that, what ensues after that, as I begin to try to take him to heal and I bring him home to my house to get him well, because I feel responsible.
But that relationship quickly turns into other needs that I have, I would say. In that process, the relationship begins to formulate and take different turns. It's very hard to explain the nature of what it is because immediately you'll start anticipating things that, certainly, I don't want you to anticipate.
MF: I thought Floyd was a perfect role for you as an actor. Did you recognize that when you first read the screenplay, and what was your approach to playing this character?
AG: Thank you. I mean, I'd recognize something because, obviously, I got all the way through the script and said, "What the hell did I just read?" I called Oscar Isaac, who had sent it to me, who was a producer on it and was going to play a part in it. He had worked with Brian Petsos on several shorts they did together.
So, I was aware of their relationship and the shorts. I said, "Oscar, this is really a bizarre script, and I'm trying to figure out what it's all about and who this guy is." I think, we started talking and I said, "Is it this? Is it that?" He would say something like, "Oh, I don't know. I don't know how you see that, but maybe." Then finally I said something like, "I think it's like that." He said, "Yeah, that's it." I went, "Oh, okay. I'll do it."
MF: You have a wonderful scene in the movie with Oscar Isaac, what was it like acting opposite him?
AG: Well, we've worked together before. We did a movie a while back ago called, 'For Greater Glory: The True Story of Cristiada.' Listen, Oscar's an actor I admire, tremendously. He's A wonderful actor. We've only had wonderful times working together in the past. We had a desire to work together and to work together, yet again. So, whenever I'm with him, we have a good time, and it was a joy. His character is so inspired, and the juxtaposition of putting Floyd in this man's world there and how Floyd deals with it, also gives insight into how comfortable Floyd is in the most unique and dangerous situations.
MF: Can you talk about working with Emory Cohen on Floyd and Samuel's unusual relationship?
AG: Well, Emery was great. He came on the first scene we did, where already I could tell that he was locked into a very specific character that he was committed to, and a state of mind and a state of angst. Also, the physical choices with the hair and all that. My job is to support that idea and engage in that idea, and have Floyd have to deal with it. I said, "Okay, I got this guy I just hit with a car," and then he brings him home and then he goes, "Oh, you're a writer." Then the movie begins. Anyway, it's a movie that encompasses so many different genres.
MF: As an actor, is there a difference for you between doing comedy and drama?
AG: Well, I mean, it's an art form. The sense of comedy and understanding how it works, and the timing of it all, and the choices you can make, depending on the tone of the comedy, have many different styles. But they always have to, I feel, be rooted in a real sense of truth, which it makes it even more poignant when you laugh. So, with Brian, that came from Second City and an improv background. I studied with a lot of people earlier out in my career and did a lot of improvisational theater.
So, we had a nice way of language, that if I would say, "Let me try something" and then I would just do it. Then, he would engage and laugh, and that's part of the creative process, I think, it's important, whether it's a comedy or drama. Because you just want to take all the raw material you can to the cutting room and let the movie then tell you, even if the director goes, "I want it to be this." The movie over here is going, "No, no, no, no. You got to go over here, because that's the take you should use." Then you go, "Yeah. Okay."
MF: Finally, I was curious if you've had an opportunity to see 'Mario Puzo's The Godfather, Coda: The Death of Michael Corleone,' which is Frances Ford Coppola's director's cut of 'The Godfather Part III' that was recently released. What were your thoughts on his new version of the film?
AG: I thought it was beautiful. I loved the movie the first time. I love it again the second time. I was aware of the sort of narrative structures and choices he made, to take out and restructure, which I thought was great. To me, that was a great privilege, obviously, to be a part of that world and to share that time with Francis.
So, like I said, I really enjoyed it, but more importantly to me, if this is what Francis wants to do, and that's what he perceives, he's the man. So, I want him to be happy and content. You know what I mean? And finish the ideas that he originally wanted to do. That's what's most important thing as a filmmaker, to leave that legacy the way he wanted to leave it.
Because he explained a lot, why the first version came out and sense of time and all that stuff. So, I think it's great. There's the 50th anniversary of 'The Godfather' happening this week at Paramount. They're naming a street after Francis. Unfortunately, I'm leaving town and I'm going to miss it, but I'll be there in spirit, for sure. He's a very special man and a very special director.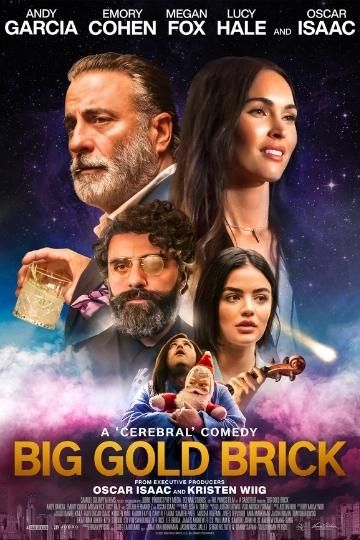 2 hr 12 min
Feb 25th, 2022