'King Knight' star Angela Sarafyan and writer/director Richard Bates, Jr. talk about their indie comedy
Sarafyan and Bates talk about "serious" comedy, indie filmmaking, and working with Ray Wise.
'King Knight' tells the story of Thorn (Matthew Gray Gubler) and Willow (Angela Sarafyan), the married high priest and priestess of an eclectic coven of witches in California. When Willow discovers a devastating secret from Thorn's past, Thorn embarks on a quest to find his true self. The indie comedy was written and directed by Richard Bates, Jr. and he joined Angela Sarafyan to talk to us about the movie.
First up, Angela Sarafyan talks about playing comedy.
Moviefone: Could you describe Willow?
Angela Sarafyan: 'King Knight.' It's a very different script. Very different than anything else I've ever done. And Willow is this wonderful witch who is married to another wonderful witch. And they have a harmonious relationship. And they love each other. But at some point in the story, she finds out that her husband, who she loves, happens to have a different past than the one that's revealed to her. Which changes the course of their entire relationship. And things have real consequences because of that.
MF: That whole sequence where Willow is getting the truth out of Thorn about his past is so funny because you're playing it so straight. And Willow's so horrified. Is it hard to keep from breaking in that scene?
Sarafyan: I took it very seriously. I took it like it was the ultimate betrayal. It's so absurd. That's what I love about this movie, the stuff that they say is so absurd, but you have to be so serious about it. So, I'm really glad that you thought it was funny. I was worried about that scene.

MF: The movie may be poking fun at these characters, but it's not really looking down on them. Did that come across in the script as you're reading it?
Sarafyan: Yeah. It did. And also I think Ricky [director Richard Bates, Jr.] being there, knowing exactly what he wanted, was a great barometer. In terms of going, "This is what we want to do. We're taking it so seriously." He had said in an interview that he had told us to act like this is 'Sophie's Choice.' And he would say that this is a very, very serious movie. We're taking this very, very seriously. And we were. But I'd start laughing every time.
Matthew [Gray Gubler] sometimes did things that... I'd ruin takes. Because I would laugh.. Or, Josh Fadem and Johnny Pemberton. They're so funny. And Andy Milonakis. There was a scene in the beginning, where he's talking about his difficulty with his wife. She's just too beautiful. He wants her to gain like 30 pounds or something. So, he can feel better about himself. And it was so touching. It's both moving and so funny. I don't know. I had the best time.
MF: But you've done comedy before. Like 'The Good Guys' with Bradley Whitford, I think? I feel like we need to see more of Angela Sarafyan doing comedy.
Sarafyan: Oh, yeah. I love it so much. I love comedies. I love being a part of them. And recently I realized with everything that's been going on in the world, having humor's a good thing. We've got to have some humor to be able to make it through all this stuff. It's impossible. But working on thishas been such a thrill. I would love to be able to do more comedies and be in this world for a little bit. That would be fun.
MF: You've done indie productions. You've done major, multi-million dollar shoots. For you as an actor, and with your craft, what's the difference on those two extremes?
Sarafyan: Well, it's funny. You brought up The Good Guys. Which was with Bradley Whitford and Colin Hanks and this movie. So, for example, the comedy in that. The way that it was working, it was like a big production. It was a big production, for Fox. And it was a completely different character. So, everything that we were doing was based on this high comedy, slapstick style of acting. As opposed to this, where everything was so straight. It's fun to look at all the different ways you could play with comedy. And with drama as well. I think even the best films out there, even if they have millions and millions of dollars, they all feel like indie movies to me. Because I think that if you have that real connection between crew, cast, director, producers, that it feels very intimate. And that's hopefully what you want.
---
Writer/director Richard Bates, Jr. talks writing the movie, and working with Ray Wise.
Moviefone: What inspired this story, and where did the idea come from?
Richard Bates, Jr.: Well, it's usually a combination of things, but after I finished my last movie, with everything going on in the world, things seemed so ominous. And I knew I didn't want to write something dark again. I just wanted to write a movie to make myself happy that would hopefully make other people happy. So it started like that. And then I'd been pitched a director-for-hire thing, which I usually try not to do. And it was about witches, and it was good, but the witches were bad. And I realized, "Well, if I were to do a witch movie, they would be the protagonists." I like witches. So that's when I started writing this thing myself.
And there are all kinds of parallels. I'm sure each one of my movies, in some ways, starts off as me writing a self-help book for myself in some weird fucking way. But my wife and I were talking about starting a family, and we're figuring all that out, and it's really important to me to be the best man I possibly could. And I had an awesome dad, so I want to be a good dad. So all those things became a part of it. And the themes started to come together, and I realized, "Okay, this is a great opportunity to show people that..." In a farcical way, all my movies take place in a heightened version of reality. This is even probably more farcical than most, but to show people, we're all, as different as we might seem, we are all searching for the same answers, the same questions.
So I started writing from a very less cynical place than I approached the other movies. I tried to strip it of all cynicism, honestly. And then, once I was done with the first version, I had my friends who are witches read it just to make sure that it felt like it was funny, but not inconsiderate, because I love witches, so I wanted to strike that balance without preaching, doing the thing that I hate. I also didn't want to treat them with reverence, like holier than thou. Because that's an immediate turnoff for someone that's maybe not going to be open to that in the beginning. So it was just to treat them as human beings, like they are, the same way I treat any humans in a comedy of this nature. And then hopefully let them win you over by the end.
MF: Was there anything that you got from some of your friends that showed up in the movie?
Bates: There's nothing too specific. There were little notes here and there just for, "Oh, well we would do this," but then the practices in Wicca, you can interpret a lot of these rituals in your own way. So there's not this kind of, "Oh no, that has to be done like that." So the coven in King Knight are eclectic Wiccans, which means they're Wiccans, but they pull from all different spiritual paths and all that stuff. So I had been researching this in some way, shape, or form for a long time, because I've always loved witches. Half my library of books are things on Wicca or witchcraft. And in college, I remember one of the first things I did was make a documentary on this Wiccan store in the East Village or Lower East Side. I don't think it's there anymore, but just they were wonderful. The nicest people I've ever met. And I grew up in the South, where the very idea of witchcraft is fucking evil. So I wanted to show people that they're anything but evil.

MF: You've got a lot of cast members that you've worked with before. When you were writing this, were you writing Thorn, for instance, with Matthew Gray Gubler in mind?
Bates: So I really try not to write with any actors in mind, because a long time ago I did that. And then I started changing the characters because I was like, "Oh, I don't think the actor could do that." And then it wasn't true to the characters. I'd find myself slipping up and trying to figure out. So I try not to think about that at all. And then as soon as I'm done, it's the only thing I think about, because it's my favorite part of any movie is the actors, by far.
So the cool thing with this was, when I finished it, I realized very quickly, there's no way I was going to get this movie financed. So I used my own money, and then I ended up taking out a loan to finish it, but it gave me the control to actually cast. When you're a director, you have control over a lot of things, but not everything. So in this case, there's not a person in the movie who I didn't want in the movie.
So there's just awesome trust. And everyone was a like-minded, wonderful weirdo. And I didn't have to micromanage. I could give blanket direction, which was so exciting. So for instance, on day one, I would just say, "Okay, I don't care how ridiculous the line of dialogue is to you, or preposterous a scenario reads in your mind. You are not acting in a comedy. You're acting in 'Sophie's Choice.'" And everyone got it and stuck to it. And then I could say, "Okay, we transitioned from act one to two." It's like, "Okay, now I want you to imagine that Nickelodeon remade the movie 'Holy Mountain.'" And they get these things, these references.
No one did this movie to get rich. So everyone was there for the right reason. So it was funny. It was like being a kid again. It was like making a movie in your parents' backyard with a Hi8 camera. It was just awesome.
MF: This is your fourth time out with Ray Wise. I could only ask, how cool is it that you keep getting to do stuff with Ray Wise?
Bates: It's the coolest thing ever. If you asked me when I moved to Los Angeles, if I would ever... And 'Twin Peaks' is my favorite show ever. If I would ever even meet him, I would say, "Not a chance." So it's insane. He's amazing. And he's a really good guy, too. And he's so supportive. He's always, "I got your back, Rick," Here's a funny Ray story you'll love. With this, I called him, and I was like, "Ray, who on earth is going to want to see you as Merlin the wizard?" And Ray pauses. And he's completely serious. He goes, "You know something, Rick? I'd like to see that myself." And then he's that. He's amazing. He's a hero. He's one of those times where you meet a hero, and he's even cooler than you thought he would be.
MF: Your actors play it so straight. Are they delivering a lot of what's on the page, or are you giving them a little room to improv? I know that can be difficult on a tight budget.
Bates: I try not to let them improvise lines, but there are all kinds of actions and things that they do in the moment that make everything a million times better, that I would've never thought of in five seconds. So at the very beginning, before we shoot, I usually go through every line of dialogue an actor has with them and have them say it out loud. And if something doesn't quite work with their cadence or feels a little unnatural to them, I'll tweak it just to feel right. And I find that usually when I give them that respect, they give me the respect of not wanting to change things that really matter to me, too. So by the time we're on set, we just go for it. And Angela's such a great dramatic actress, she just went for it. It's awesome. And she's the coolest. She's so nice. She just fit right in.
MF: That scene where Willow and Thorn are talking after what Willow's discovered is terrific.
Bates: That's my favorite scene in the movie.
MF: What was it like thinking of the elements that were going to make Willow more and more horrified?
Bates: Are you talking about references like Nautica?
MF: Yes, that really sets Willow off.
Bates: Your parents dress you when you're a kid. All these things. You have an identity, but you're not able to cultivate it, certainly visually as much as, say, you can when you're an adult and all these other things. So I took things from my childhood, for sure. I poked fun at myself. I got some yearbook's superlative. Lord knows, they thought I was going to... To be a filmmaker where I grew up is to make 'The Rock.' That's what a filming. So the idea that I'm actually living my dream, making these movies that I really love, it's crazy to them. "You're doing what? What the hell? I thought you were going to be a director. I thought you were going to go to Hollywood and be a director of movies." And I was like, "Well, I am. I'm happy." I don't know. And all these things were running through my head when I was at my high school reunion a few years ago. So I don't know.
I got a tidbit for you. A fun thing. Do you remember when Matthew gets in the car and he didn't know it was a shared ride all the way to Las Vegas?
MF: Yes.
Bates: So the actress in the car with him is the office manager at my psychiatrist's office. And so a year ago, she was watching 'Criminal Minds' on her laptop when I was there. And I told her, "Oh, my friend's on that show." And I found out she was this huge Matthew fan. So then I just called her at work. And I said, "Allie, you want to be in a movie with Matthew Gray Gubler?" And she was like, "Shut up. You're kidding me." I was like, "No, I'm serious. Come over to my house, and you'll be in a movie." And she did it and it was amazing. And she's taking a thousand photos with him. And then I went to see my psychiatrist the next month. And he was like, "You can't put Allie in any more of your movies. I need her at the office."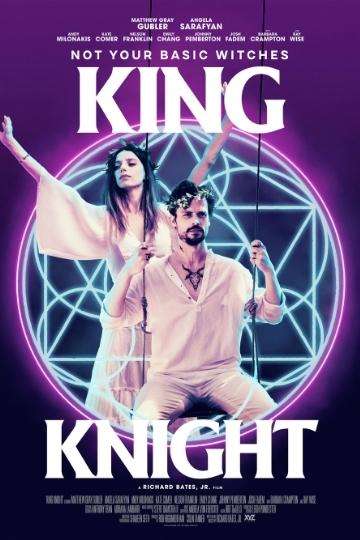 "Every shoe is a dancing shoe if you want it to be..."
1 hr 18 min
Feb 17th, 2022