'Avengers 4' Will Be in Post-Production Through Winter: 'We Hope to Be Done by March'
Don't go thinking "Avengers 4" is anywhere near done.
The highly anticipated film was originally called "Avengers: Infinity War - Part 2." The two movies were filmed back-to-back, with about a month break after "Avengers 3" before "Avengers 4" officially started filming in August 2017.
Over a year later, the filmmakers are working on "Avengers 4" additional photography (reshoots) and starting post-production, which will go right down to the wire.
Because this film is massive in every way.
"Avengers 4" is scheduled for release in the U.S. on May 3, 2019, but it will arrive in some parts of the world in late April.
Directors Anthony Russo and Joe Russo just talked to Deadline about their new Netflix film "Dhaka" with Marvel star Chris Hemsworth (Thor). Toward the end of the interview, the Russos talked about their busy schedules, including post-production on "Avengers 4."  
Anthony Russo: "We've worked on the edit all summer and we're excited to finally get these missing pieces in the film and then we expect to be in post through the fall and winter. We hope to be done by March. It was so gratifying that in a movie with this scope and scale and that wide of an audience, that we were able to end with a gut punch and yet the audience stayed with us and found value and kept coming back..."
Deadline asked for the most surprising reaction they received to "Avengers 3," aka "Avengers: Infinity War."
Joe Russo: "It was probably when a 10-year old boy at a Q&A was crying as he asked us why we killed Spider-Man."
What was the best reaction?
Joe Russo: "The best reaction was probably that 10-year old kid crying and asking us why we killed Spider-Man. From the time we came to Marvel, our goal was to surprise the audience and not give them the same thing but rather to challenge them. That was our view on Captain America: Winter Soldier, and Civil War was also very controversial internally with the powers that be in turning Iron Man into the antagonist and severing the relationship between Cap and Tony Stark. Every Marvel film we've created had this controversy, like are we pushing this rabid audience too far? Are we making movies that could perhaps be too emotionally complex for the genre? That the audience has shown up wanting more is a testament to the hard work everybody has put in over those last 10 years of films."
Marvel Studios boss Kevin Feige has said the title of "Avengers 4" will be shared later this year, after the "Captain Marvel" teasers start showing up. It has been speculated that we might even get the first teaser for "Avengers 4" in November.
The next two MCU films on the docket are "Captain Marvel" on March 8, and "Avengers 4" on May 3. Then that 10-year-old boy should be happy to hear that Spider-Man will return -- somehow -- for "Spider-Man: Far From Home" in July.
In the meantime, the Russos did retweet this beauty, so maybe you should too:
Want more stuff like this? Like us on Facebook.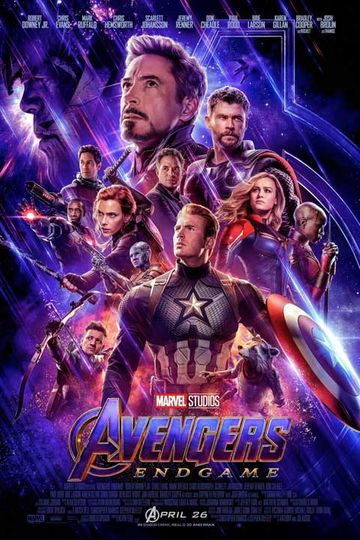 "Avenge the fallen."
After the devastating events of Avengers: Infinity War, the universe is in ruins due to the efforts of the Mad Titan, Thanos. With the help of remaining allies,... Read the Plot