Review: Director Kenneth Branagh's 'Belfast' Is His Most Personal Film, and Might Be His Best
Drawing on inspiration from his own life, writer and director Kenneth Branagh has truly made his greatest movie yet, which is a beautiful and touching film about growing up, contrasted with the backdrop of the looming Northern Ireland Conflict.
Opening in theaters on November 12th is 'Belfast', the new film from director Kenneth Branagh, which won the People's Choice Award at the 2021 Toronto International Film Festival and is already gaining early Oscar buzz. Written by Branagh and loosely based on his own childhood, the film features an excellent cast of actors that includes Caitriona Balfe ('Ford v. Ferrari'), Jamie Dornan ('Fifty Shades of Grey'), Ciarán Hinds ('Justice League'), Academy Award winner Judi Dench ('Skyfall'), and nine-year old actor, Jude Hill.
The film is a love letter to Branagh's childhood home of Belfast, Ireland, and tells the story of nine-year old Buddy (Hill), and his working-class family in 1969 that includes his brother, mother (Balfe) and father (Dornan), and grandmother (Dench) and grandfather (Hinds). Buddy lives a happy and normal life, playing with his friends, living with the locals, and adoring the girl that sits in front of him in class. Buddy's father must travel to England for work, and is gone weeks at a time, which begins to put stress on his mother, who is desperately trying to get them out of financial trouble. Buddy is also very close to his grandparents, particularly his grandfather, who is hiding health issues of his own.
But unbeknownst to Buddy, his entire world is about to change as the Northern Conflict between Protestants and Catholics begins waging wars in the streets of his small town. With Buddy's father away, his mother does her best to keep the violence from affecting her children, but this becomes impossible to do as the conflict grows. As Protestants themselves, Buddy's family tries to stay neutral, having much sympathy for their Catholic neighbors and appalled by the horror in the streets. But when Buddy's father is approached by the leader of the anti-Catholic movement, Billy Clanton (Colin Morgan), he is forced to choose a side and do what's best for his family. With a solid job offer in England, that will also provide a house with a yard for his family, Buddy's father tries to convince his wife that they have no choice but to leave their friends and home behind for a safer life for their children. Now, with the prospect of leaving Belfast, his grandparents, and the girl he "loves" for good, Buddy will learn the only way possible what it truly means to grow-up.
Drawing on inspiration from his own life, writer and director Kenneth Branagh has truly made his greatest movie yet, which is a beautiful and touching film about growing up, contrasted with the backdrop of the looming Northern Ireland Conflict. While most know Branagh as an accomplished actor, he is also quite the accomplished filmmaker and has been directing his own movies since he practically began in Hollywood over thirty-years ago. Branagh's early work as a filmmaker includes such acclaimed films as 'Henry V,' 'Dead Again,' 'Much Ado About Nothing,' 'Mary Shelly's Frankenstein,' and 'Hamlet.' But, for the better part of the last decade, Branagh has directed big studio movies like 'Thor,' 'Jack Ryan: Shadow Recruit,' 'Cinderella,' 'Murder on the Orient Express,' and 'Artemis Fowl.' One might wonder why Branagh directed so many studio films over such a relatively short period of time. And after seeing 'Belfast,' I think I have the answer.
At the Los Angeles premiere of the film, which is where I saw it, Branagh spoke and mentioned that he has been trying to make this movie for over thirty-years, and suddenly, it all made sense to me. Why else would the director of 'Henry V' and 'Hamlet' decide to make 'Thor' or 'Cinderella?' It was so he could eventually get 'Belfast' financed and made, and it was well worth the wait. Choosing to shoot the film in black and white gives the movie a feeling of timelessness, which I'm sure was the intended effect. There is some color in the film, wisely used when Buddy is watching American television or movies, which gives them the feeling of being from another world. The only use of color I object to was in the opening title sequence, which shows Belfast today and then cuts to the black and white of 1969. I felt that this opening sequence did not fit the tone of the rest of the movie, and puts you a bit off to begin with, but I understand the effect that Branagh was going for, contrasting Belfast now and then.
The cast was absolutely incredible, led by a beautiful performance from Jude Hill. I am a voting member of the Hollywood Critics Association, and I have my own strict rules when it comes to voting for awards. I do not vote for children, ever! I know how hard and how long it takes to become an actor and prefer to vote for actors who have been working hard for decades, instead of a phenom kid who knocks it out of the park first time at bat. That being said, I may have to amend my personal rules this award season, as I was completely won over by Hill's performance. He is so natural in this role and gives off so much deep emotion that it is almost startling. He is completely captivating and, to a degree, really carries the movie on his back.
I also have to say how impressed I was with Jamie Dornan. Except for a handful of small roles, I've only ever seen Dornan in the 'Fifty Shades' movies, and am afraid to say, basically wrote him off as an actor. Boy, was I wrong! Jamie Dornan is a very gifted actor and has a range I was completely unaware of. He plays his character as a decent man, just trying to do what is best for his family, and basically stuck between "a rock and a hard place." But he also shows great emotion in scenes with his wife and his father, yet has very silly, loveable scenes, like when he sings at a party at the end of the film.
For her part, Judi Dench is, well, Judi Dench! She is wonderful in the role as Buddy's grandmother, even if her Irish accent is not as good as the rest of the cast. She has some fantastic scenes where she is in the background, but she is so captivating just listening to the other actors, that you can't take your eyes off her.
But for me, the two Oscar worthy performances in this film come from Caitriona Balfe and Ciarán Hinds, respectively. As Buddy's mom, Balfe gives an amazing performance, channelling all the worry of a young mother in her situation, at the same time exuding a young innocence that makes the character fun. The actress also displays a range of emotions in the film that is quite impressive. Hinds should also be in the Oscar race for playing Buddy's grandfather, in some ways the heart of the film. The actor, who has worked somewhat under the radar for several decades, finally has a role that truly lets him shine, tapping into both his emotional and humorous sides. And he more than holds his own in his scenes with the legendary Dench.
Finally, I want to mention the music, which was provided by Irish musician Van Morrison. I'm not sure if he recorded anything new for the film, but his library of classic songs is featured throughout the movie. It makes a lot of sense to use Morrison as the soundtrack for this film, and in a lot of places it really works. But there are some scenes, the opening sequence for example, where I felt a score would have been better used and allowed the emotion of the scene to resonate better.
In the end, 'Belfast' is an absolute triumph for Kenneth Branagh as a filmmaker and is the "cherry on top" for an already brilliant career. I expect that Belfast will be nominated for Best Picture, and that Branagh will receive a directing nomination as well, and both would be well deserved. It is a heart-warming, and at times humorous movie with brilliant performances, and a veteran director finally regaining his stride.
Belfast receives 9 out of 10 stars.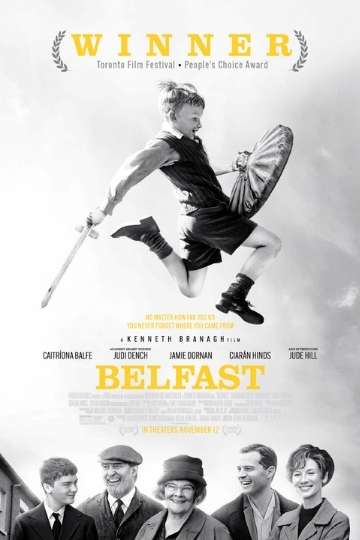 "No matter how far you go, you never forget where you came from."
1 hr 38 min
Nov 12th, 2021
Showtimes & Tickets