'Bleed for This' Trailer Gives Miles Teller a Knockout Comeback Story
Will Miles Teller box his way to a 2017 Oscar nomination? The "Bleed for This" trailer just premiered -- exclusively on People, Entertainment Weekly, and Sports Illustrated -- showing Teller as former world boxing champion Vinny "Paz" Pazienza in an inspiring comeback story based on real events.
The trailer starts with Vinny working out like a demon to make his 140 pound weight -- flashing some impressive sixpack abs in the process. The Rhode Island fighter, nicknamed "The Pazmanian Devil," was later seriously injured in a car accident, and it looked like he might not walk again. But he defied the odds, healing enough to not only fight again, but to win another championship.
Check out the trailer:
Here's the official synopsis from Open Road Films:
"BLEED FOR THIS is the incredible true story of one of the most inspiring and unlikely comebacks in sports history. Miles Teller (Whiplash, Divergent) stars as Vinny "The Pazmanian Devil" Pazienza, a local Providence boxer who shot to stardom after winning 2 world title fights. After a near-fatal car accident leaves Vinny with a severed spine, doctors tell him he may never walk again. With the help of renowned trainer Kevin Rooney (Aaron Eckhart), Vinny becomes a legend when he not only walks again, but miraculously returns to the ring to reclaim his title belt only a year after the accident."
"Bleed for This," directed by Ben Younger and executive produced by Martin Scorsese, is scheduled to open for limited release November 4, with a wide release on November 23. That's just in time for the holidays ... and Oscars season?
Want more stuff like this? Like us on Facebook.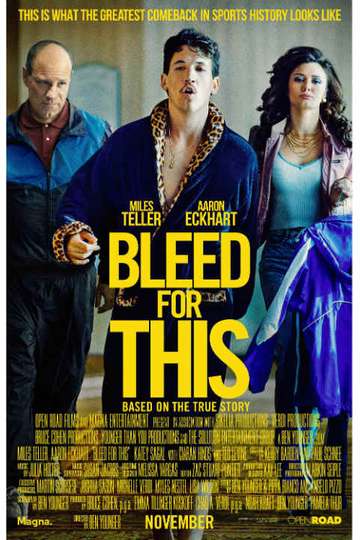 "This is what the greatest comeback in sports history looks like"
The inspirational story of World Champion Boxer Vinny Pazienza, who after a near fatal car crash, which left him not knowing if he'd ever walk again, made one of... Read the Plot