Box Office: 'Guardians Vol. 2' Blasts Off With $145 Million Opening Weekend
"Guardians of the Galaxy Vol. 2" is dominating domestic moviegoing with about $145 million at 4,347 North American locations for its opening weekend, according to estimates.
The Disney-Marvel tentpole is kicking off the summer box office solidly — although the figure is coming in slightly lower than recent forecasts, which had pegged the launch above $150 million. Disney has been projecting the figure in the $140 million to $150 million range.
"Vol. 2" accounted for about 85% of Friday's total box office with $56.3 million (including Thursday's previews).
It's the second biggest launch weekend for a 2017 movie after "Beauty and the Beast," which opened with $174.8 million on March 17-19, and the fifth largest opening for a Disney-Marvel film after "The Avengers," "Avengers: Age of Ultron," "Captain America: Civil War," and "Iron Man 3."
Should estimates hold, "Guardians of the Galaxy Vol. 2" will finish the weekend about 50% above the opening of 2014's original "Guardians of the Galaxy," which debuted with $94 million in its first weekend.
James Gunn directed and scripted the movie, which stars Chris Pratt, Zoe Saldana, Dave Bautista, Vin Diesel, and Bradley Cooper as the titular guardians. The film also features expanded roles for Karen Gillan and Michael Rooker, as well as prominent new characters played by Kurt Russell and Pom Klementieff. Gunn is already attached to write and direct the third "Guardians" movie.
"Guardians 2" came into its opening domestic weekend with well over $100 million in the bank from international ticket sales. It made more than $106 million in its first weekend at 58% of overseas territories. This weekend the movie earned an estimated $124 million abroad after opening in several more major foreign markets including Korea, Russia and China. That raises the global weekend total to about $269 million and the movie's total global take so far to $428 million.
The latest addition to the Marvel Cinematic Universe entered theaters with high expectations. When the original was released in 2014, it was a relatively unknown property that managed to smash records for the month of August when it opened to more than $94 million domestically (still modest by Disney/Marvel standards). But word-of-mouth kept building, and by the end of its theatrical run, it had raked in $333 million domestically and $440 million overseas.
"Guardians 2" was struck with the double-edged sword of familiarity — the original spawned a fondness and a fandom for the characters and their world (that led to a much larger opening for the second installment), but a sequel is hard-pressed to recreate or recapture the same type of surprise and enthusiasm that struck audiences in 2014.
There isn't much of note at the box office this weekend apart from "Guardians." Universal's "Fate of the Furious" cruised into second with $8.5 million at 3,595 theaters. The film now has over $207 million at the domestic box office.
"The Boss Baby," from Fox, took third with $6.2 million from 3,284 locations. Pantelion's "How to be a Latin Lover," which seduced its way past "The Circle" last weekend to post strong numbers and a second place finish, slides into fourth with $5.3 million from only 1,203 spots. And Disney's other box office animal "Beauty and the Beast," rounds out the top five with $5 million at 2,680 locations — the movie is now in its eighth weekend of release.
In limited launch, the Orchard's "The Dinner" made $669,000 from 509 locations. The new release is a thriller toplined by Richard Gere and Laura Linney, adapted from the Dutch novel of same name by Herman Koch about two couples with family issues. "3 Generations" got a six-theater limited release from the Weinstein Company, and made $20,000. The drama about identity and acceptance stars Naomi Watts, Susan Sarandon, and Elle Fanning as a transgender teen.
Get used to seeing "Guardians 2" on top. The big-budget superhero flick should coast past Warner Bros.' "King Arthur: Legend of the Sword" next weekend, and possibly the following frame as well when it will face the long-awaited reboot from Fox, "Alien: Covenant."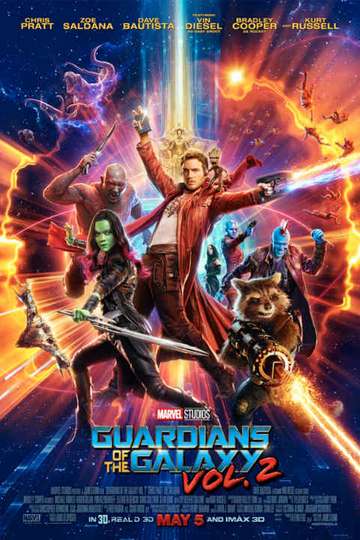 "Obviously."
Showtimes & Tickets
The Guardians must fight to keep their newfound family together as they unravel the mysteries of Peter Quill's true parentage. Read the Plot