Armie Hammer Isn't Sure They Should Make a 'Call Me By Your Name' Sequel
The wheels are in motion for a possible "Call Me by Your Name" sequel, but star Armie Hammer has hesitations.
While discussing the prospect during a recent Vulture interview, the actor shared that there have been "really loose conversations" about a followup. He then expressed his concerns -- namely, that any sequel won't be able to "match up with the first."
The 2017 romantic drama starring Hammer and Timothée Chalamet did certainly set a high bar. Among its accolades was an Academy Award for Best Adapted Screenplay. Hammer described the project to Vulure as "a perfect storm" (a good one) and suggested they should perhaps "leave that alone."
"If we do make a second one, I think we're setting ourselves up for disappointment," Hammer said.
That doesn't mean he's unwilling to reprise his role, though. Director Luca Guadagnino already has an idea for the story, and Hammer indicated an "incredible script" could sway him.
"If we end up with an incredible script, and Timmy's in, and Luca's in, I'd be an asshole to say no," he said.
We don't know yet what story a "Call Me by Your Name" followup would tell, especially considering the André Aciman novel it's based on doesn't have a sequel. The author is, however, writing one, as he tweeted in December. Prior to that, Guadagnino told USA Today that he and Aciman were "conceiving the story" and it would take place five or six years after the events of "Call Me by Your Name."
We'll see if a sequel does indeed happen -- and whether or not it can allay Hammer's doubts.
[via: Vulture]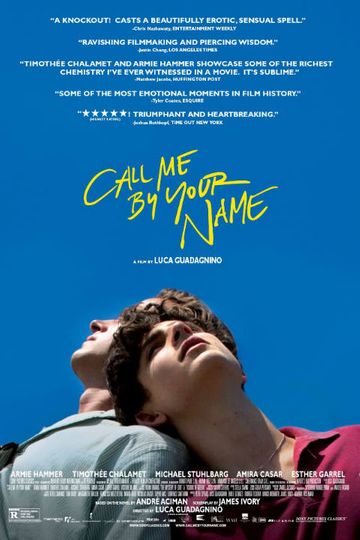 "Is it better to speak or die?"
2 hr 12 min
Jan 19th, 2018
In 1980s Italy, a relationship begins between seventeen-year-old teenage Elio and the older adult man hired as his father's research assistant. Read the Plot