'Cursed Child': See New Photo of Harry, Ron, Draco in Part 2
"Harry Potter and the Cursed Child" -- the new "Potter" sequel play that's already earned rave reviews in its preview debut earlier this week -- continued its rollout in London's West End on Thursday, with the premiere of the play's second part. In celebration, the production has shared yet another photo, this time reuniting grown-up pals Harry and Ron with their Hogwarts nemesis, Draco Malfoy.
The first public preview of Part Two of #HarryPotterPlay#CursedChild is about to begin. #KeepTheSecretspic.twitter.com/7i00Aw1n2C

— Harry Potter Play (@HPPlayLDN) June 9, 2016

The image comes directly from the "Cursed Child" social media team, and debuted on Twitter on Thursday afternoon (or late evening, if you're working on London time). And while it doesn't tell fans very much (after all, J.K. Rowling and co. have implored the lucky theatergoers who've seen it so far to #keepthesecrets -- and they've obeyed), it does offer a bit of a puzzle to unpack: Just why are Ron (Paul Thornley) and Harry (Jamie Parker) hanging out with Draco (Alex Price)? Could this unlikely trio be forming an alliance against whatever new threat has entered the Potterverse?
Whatever the reason for their union in this image, it's certainly an enticing photo opp, and should make fans even more eager to see the play (or read its soon-to-be-published script) for themselves. Not that we needed another excuse to get excited about the continuing adventures of Harry, Ron, Hermione, Ginny, and the rest of our favorite wizarding world folk, anyway.
"Harry Potter and the Cursed Child" continues its preview performances this month ahead of its official opening on July 30.
[via: Harry Potter Play]
Photo credit: Harry Potter Play/Twitter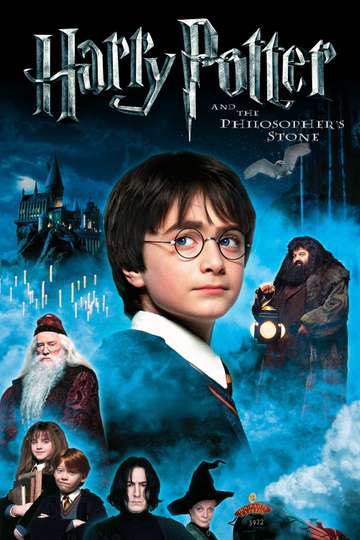 "Let the magic begin."
2 hr 32 min
Nov 14th, 2001
Showtimes & Tickets
Harry Potter has lived under the stairs at his aunt and uncle's house his whole life. But on his 11th birthday, he learns he's a powerful wizard—with a place waiting... Read the Plot