David Dastmalchian, Chris Messina, and Sophie Thatcher Join Stephen King Adaptation 'The Boogeyman'
Rob Savage, the director of 'Host', has just started shooting in New Orleans
As he starts the cameras rolling, director Rob Savage has announced the cast for his next movie. The man behind horror hit 'Host' will do his best to scare Chris Messina, Sophie Thatcher, Vivien Lyra Blair, David Dastmalchian, Marin Ireland and Madison Hu for 'The Boogeyman'.
It'll mark a new adaptation of the Stephen King story, which originally appeared in a March 1973 issue of Cavalier magazine before it was collected in his 1978 collection "Night Shift." One of the titles King has made available to filmmakers under the one-dollar rights agreement, it has been turned into a short and at least one other movie before.
The tale follows a 16-year-old and her younger sister, still reeling from the death of their mother, who are targeted by a supernatural boogeyman after their father, a psychologist, has an encounter with a desperate patient in their house.
We don't yet know who will be playing which role, but Messina should be familiar from movies including 'Argo' and 'Birds of Prey'. Thatcher has been burning up the small screen via work on 'Yellowjackets' and 'The Book of Boba Fett', while Blair is probably best known for Netflix's 'Bird Box' opposite Sandra Bullock. Ireland was seen in 'Hell or High Water' and Martin Scorsese's 'The Irishman', while Dastmalchian should be no stranger to genre fans given his work in last year's 'Dune', the first two 'Ant-Man' movies and 'The Dark Knight'. Hu, finally, was seen in sci-fi movie 'Voyagers'.
This movie has had to hack its way through the development thorns for a while before it ended up in Savage's hands. The script's passed through the likes of 'Malignant's Akela Cooper and 'A Quiet Place' duo Scott Beck and Bryan Woods. The current draft is by 'Black Swan's Mark Heyman. And on board to produce is prolific filmmaker Shawn Levy, who is supporting the movie via his 21 Laps company.
Savage is a great choice to direct this, as his previous work has been inventing and, more importantly, chilling. He broke out with 2020's pandemic -set thriller 'Host', which saw a Zoom call go spectacularly, lethally wrong for its participants. It won plenty of acclaim and marked him as a director to watch.
He's since followed that up with another low-fi horror, 'DASHCAM', which has been playing to great impact at film festivals and will arrive in theaters via Momentum Pictures this summer. Produced by the Blumhouse team, the movie, stars Annie Hardy, Angela Enahoro and Amar Chadha-Patel in the story of a musician on her livestream as her night takes a dangerous turn when she agrees to help a frail elderly woman out of town.
'The Boogeyman', which arrives via Disney's 21st Century Studios, will premiere on Hulu next year.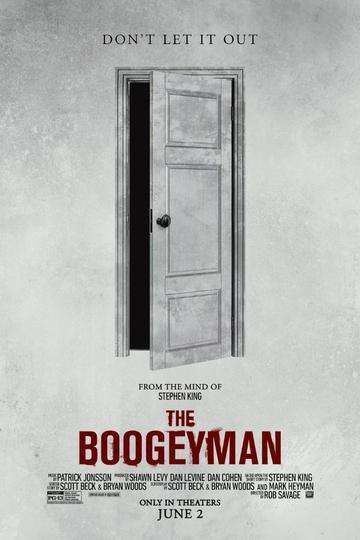 "Don't let it out."
Still reeling from the tragic death of their mother, a teenage girl and her younger sister find themselves plagued by a sadistic presence in their house and struggle... Read the Plot