'Despicable Me 3' Cast Reveals the Most Despicable Things They've Done
"Despicable Me 3" (opening everywhere this week) features your favorite former super-villain Gru (Steve Carell, once again) being drawn back into a life of crime following his dismissal from the Anti-Villain League and his introduction to his long lost twin brother Dru (also Carell), who reveals to Gru that villainy is part of the family business. (Kristen Wiig returns as a similarly dismissed Anti-Villain League agent, Gru's wife, and the young girls' adoptive mother.)
All this made us wonder: What is the most despicable thing that Carell, Wiig, and Miranda Cosgrove (as Margo, Gru's oldest daughter) have ever done?
Find out the answer in our video interview above, and watch as Wiig, Carell and Cosgrove explain the one thing from the '80s that they'd bring back today, below. (Gru's nemesis in the movie is Trey Parker as Balthazar Bratt, a sitcom star from the '80s who uses old school technology to commit crimes.) Get out your Rubik's Cube; it's a good time. "Despicable Me 3" is opens everywhere Friday.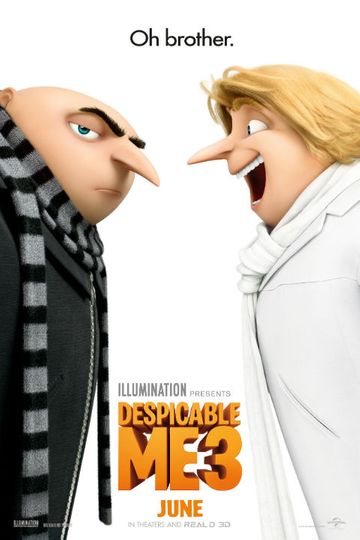 "Oh brother."
1 hr 36 min
Jun 30th, 2017
Gru and his wife Lucy must stop former '80s child star Balthazar Bratt from achieving world domination. Read the Plot