Disney's First Official 'Beauty and the Beast' Poster Is Here
We're getting closer! Disney's live-action "Beauty and the Beast," starring Emma Watson as Belle and Dan Stevens as The Beast, comes out next March. The first teaser trailer, showing just a glimpse of Belle and that iconic rose, came out in May. It's now July, and the first poster has arrived.
First, it was teased by Josh Gad, who plays Lefou:
Keep your eyes peeled tomorrow morning for a #Beautyful post.

— Josh Gad (@joshgad) July 7, 2016
He followed that today with a look at the poster:
As promised, here it is! The first official #BeautyAndTheBeast Poster. pic.twitter.com/Tr9otkaZG5

— Josh Gad (@joshgad) July 7, 2016
And here it is from the official account, with retweets from several cast members:
Next March, you are invited to #BeOurGuest. pic.twitter.com/ss5ScbBAKn

— Beauty and the Beast (@beourguest) July 7, 2016

Well, if they're going to present such a lovely invitation, guess we'll just have to mark March 17, 2017 on our Disney calendars and count the days until it arrives!
"Beauty and the Beast" co-stars Luke Evans as Gaston; Kevin Kline as Maurice, Belle's father; Ewan McGregor as Lumiere; Stanley Tucci as Maestro Cadenza, the harpsichord; Gugu Mbatha-Raw as Plumette, the feather duster; Audra McDonald as Madame Garderobe, the wardrobe; Ian McKellen as Cogsworth; and Emma Thompson as Mrs. Potts.
We're still on standby for a full trailer, beyond that initial tease; in the meantime, keep rewatching the 1991 animated movie and prepare to compare it to the new version.
Want more stuff like this? Like us on Facebook.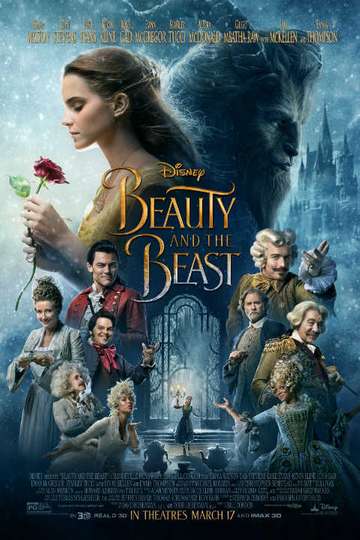 "Be our guest."
Showtimes & Tickets
A live-action adaptation of Disney's version of the classic tale of a cursed prince and a beautiful young woman who helps him break the spell. Read the Plot