Watch Disney's First 'Beauty and the Beast' Teaser Trailer With Emma Watson
It's a tale as old as time, and this first teaser for Disney's live-action "Beauty and the Beast" is as true as it can be to the 1991 animated classic.
The new movie, starring Emma Watson as Belle and Dan Stevens as the Beast, doesn't come out until March 17, 2017, but Disney revealed a 1:30 teaser trailer today on "Good Morning America," just to give fans a glimpse of the film and tie it to the original.
Most of the trailer is a tour of the Beast's sad, empty castle, set to the haunting score of the original; toward the end, we hear the voices of Lumiere and Cogsworth,saying, "Look, a girl!" "Yes, I can see it's a girl, you fool." "What if she is the one?"
And then we see Belle at the door, and it's our new Belle -- Emma Watson, who says hello, checks out the rose, and prepares to further her grand adventure. Gah! This is going to be so good!
Watch the teaser:

Josh Gad, who plays Le Fou, recently talked to Moviefone about how it felt to portray one of these iconic characters from childhood.
"It's funny because, before I signed on, I sat down with the director, Bill Condon, and was like: "I want to pay homage to the character that came before, but I want him to be distinct in some way." And I feel like we found some interesting wrinkles that are hopefully going to be a little surprising. You're playing a three-dimensional version of a two-dimensional character, so you've gotta bring something more to it. And, having seen a cut of it, I think it works incredibly well and the film is just exceptional."
In less than a year, we'll get to see this "exceptional" film ourselves!
"Beauty and the Beast" co-stars Luke Evans as Gaston; Kevin Kline as Maurice, Belle's father; Ewan McGregor as Lumiere; Stanley Tucci as Maestro Cadenza, the harpsichord; Gugu Mbatha-Raw as Plumette, the feather duster; Audra McDonald as Madame Garderobe, the wardrobe; Ian McKellen as Cogsworth; and Emma Thompson as Mrs. Potts.
Want more stuff like this? Like us on Facebook.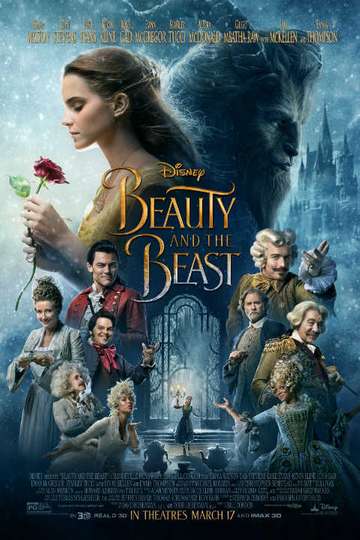 "Be our guest."
Showtimes & Tickets
A live-action adaptation of Disney's version of the classic tale of a cursed prince and a beautiful young woman who helps him break the spell. Read the Plot