Early 'Deadpool 2' Reviews Call It Better Than First Movie ... and 'Infinity War'?
Early reactions are coming out from "Deadpool 2" and "Solo: A Star Wars Story," and so far viewers seem impressed. Then again, that's just from their knee-jerk tweet reactions, not full reviews with more nuance, details, and grades/scores.
So far, though, "Deadpool 2" seems to be a winner, and it even won over some folks who weren't that into the first "Deadpool." (Sacrilege!) In true sequel fashion, though, it seems to go bigger and harder and pushes the boundary of its R-rating the whole way through. Expect violence and crudeness. But also expect a stellar post-credits scene, since many critics brought that up in their reactions.
Here's a taste of the early reactions, including from Wolverine himself:
Wait! On second thought ... I do love my @laughingmanco (subtle and shameless promo) T, so I'll leave it. See how I did that @VancityReynolds ? @deadpoolmovie#May18pic.twitter.com/6lOS9Yh3Gf

— Hugh Jackman (@RealHughJackman) May 11, 2018
So, #DEADPOOL2 is the perfect sequel. Doubles down on everything that fans love about the original, and fixes some of that film's issues. Huge, huge laughs that play the audience like a fiddle. @VancityReynolds destroys as Wade. Great action, fantastic comic nods. A killer ride! pic.twitter.com/KaM8gUT2Jf

— Sean O'Connell (@Sean_OConnell) May 10, 2018
Oh, #Deadpool2, How is it even possible that you were better the second time around? Great action, great laughs, surprisingly heartfelt, and an opening that hit me harder than Infinity War's ending.

— Stephen (Dirk) Libbey (@childe_dirk) May 10, 2018
#Deadpool2 is no doubt the most violent major release since Kill Bill Volume 1. It's also funnier than the first and has me genuinely excited for a sequel. Oh and it features a ton of Canada jokes, so of course I loved it.

— Nigel M. Smith (@nigelmfs) May 10, 2018
Just saw #Deadpool2. Safe to say it features the best post credits scene EVER. I'm still recovering.

— Nigel M. Smith (@nigelmfs) May 10, 2018
#Deadpool2 is a laugh out loud, nonstop, Deadpool comicbook brought to life! MORE (better) action, MORE laughs, MORE references, MORE grotesque violence! Everything you could want from a DEADPOOL movie! It does fall into an 'early mcu' trope with TOO much world building though! pic.twitter.com/fP7sMkrPoj

— SuperBroMovies (@SuperBroMovies) May 10, 2018
#Deadpool2 took my expectations, blew them up and regenerated as a top tier superhero movie loaded with filthy laughs, an unstoppable force of a team and more heart then it probably should have pic.twitter.com/HvVSfKSCc5

— Chris Sylvia (@sylvioso) May 10, 2018
Normally my wife falls a sleep watching movies. Not with #Deadpool2 fully engaged, non stop laughter. Best time ever had in a theater. This movie is so awesome

— Adrian (@42rossfamily) May 10, 2018
#Deadpool2 is better than the first one. Y'all are gonna love it.

— Kerry Jackson (@RFHKerry) May 10, 2018
Happy to report 'Deadpool 2' is a lot of fun and had me laughing beginning to end. Stuff after the credits is *awesome*. All the people added to the film were perfectly cast. Avoid spoilers. Always makes it a better experience. pic.twitter.com/4Q3Kr1ARPh

— Steven Weintraub (@colliderfrosty) May 10, 2018
I didn't like the first Deadpool. DEADPOOL 2 beat me into submission until I was actually enjoying myself. Also it features my now favorite post credit scene.

— Mike Ryan (@mikeryan) May 10, 2018
I liked DEADPOOL 2 more than the first one (which I wasn't a huge fan of). Slow to start but all the stuff with X-Force and Cable (and Peter!) works surprisingly well.

— Matt Singer (@mattsinger) May 10, 2018
#Deadpool2: I'll say this, it earns the hell out of that R rating. And the cameos. And the post-credit scenes.

— Kate Erbland (@katerbland) May 10, 2018
Deadpool 2 is better than Infinity War????

— alex (@alex_abads) May 10, 2018

Better than "Avengers: Infinity War"?! Them's fightin' words. Well, fans can judge for themselves soon enough. "Deadpool 2" opens in theaters May 18.
Want more stuff like this? Like us on Facebook.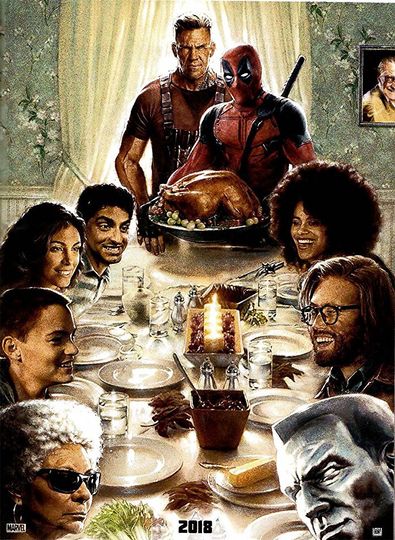 "Prepare for the Second Coming."
Wisecracking mercenary Deadpool battles the evil and powerful Cable and other bad guys to save a boy's life. Read the Plot