June 27th, 2019
by Drew Taylor
Every Robert Rodriguez Movie, Ranked
Robert Rodriguez Robert Rodriguez, the self-described "rebel without a crew," has risen in the ranks to cement himself as one of the most inventive and energetic filmmakers working in Hollywood. In celebration of his brand new feature, the hellzapoppin' sci-fi fantasy "Alita: Battle Angel" (on home video next month) we look back at his storied career, film by film.
19. 'Shorts' (2009) Rodriguez's kids movies are, generally speaking, the worst. And "Shorts" is the worst of the worst. Shockingly, this bewildering anthology film (containing five "episodes," each starring various embarrassed professional actors, including William H. Macy and James Spader), got a fairly wide release courtesy of Warner Bros., who clearly were in need of some late-summer programming. This is as shrill, annoying, and over-cranked as anything Rodriguez has done, with the filmmaker mistaking enthusiasm for craft. Stay away!
18. 'The Adventures of Sharkboy and Lavagirl' (2005) Another all-ages dud, "The Adventures of Sharkboy and Lavagirl" is another cacophonous, overstuffed mess. Two years after what was meant to be the final installment in the "Spy Kids" franchise, Rodriguez attempted to return to a very similar well, envisioning a visual effects-laden fantasy with young stars at its core. Unfortunately, it's an embarrassing hodgepodge with some truly groan-worthy visual effects (many of them handled by some of the industry leaders, like Phil Tippett and Industrial Light & Magic). It's now most commonly known as the film that introduced Taylor Lautner to the world.
17. 'Spy Kids: All the Time in the World' (2011) Almost a decade after the "Spy Kids" franchise had been (mercifully) put to bed, Rodriguez returned to the series with a sequel/soft reboot that focused on a new family of super-heroic children. Advertised as being presented in "4D," thanks to a scratch-and-sniff card (a gag Rodriguez stole from John Waters' 1981 film "Polyester"), all the dimensions in the world couldn't save this mess, which replaced earlier installments' inventiveness with crass humor (oh, the poop jokes!) and one of the most obnoxious performances ever by Jeremy Piven (which is really saying something). Yuck.
16. 'Machete' (2010) We all loved the fake trailers that were attached to Rodriguez and Quentin Tarantino's gooey horror double-feature "Grindhouse," but for some reason Rodriguez, upon completing his phony trailer for "Machete," thought that it should actually be a real movie. Unfortunately, what was a hoot for 30 seconds is, unsurprisingly, a grind for 105 minutes. (The film was codirected by Rodriguez's longtime editor Ethan Maniquis, although we know where to place the blame.) Maybe most bafflingly was Rodriguez's decision to include EVERY SINGLE SHOT from the "Machete" trailer in the actual movie. You have real actors and more time, why not shoot new stuff? Robert De Niro is pretty good though.
15. 'Spy Kids 3D: Game Over' (2003) Released just a year after "Spy Kids 2" and using rudimentary 3D technology (it was the old red-and-blue paper glasses), this was supposed to be the final chapter in the franchise. One of the kids is trapped in a videogame, which means the other kid has to go in and save her. A candy-colored eyesore from start to finish, not even a George Clooney cameo and a fully hammed-up Sylvester Stallone performance (as the evil game-master simply referred to as Toymaker) could save this movie. It took almost 10 years to make another one for good reason; you could still smell the stink.
14. 'Machete Kills' (2013) Nobody really wanted a feature-length "Machete," a movie built from a 30-second joke, so it's hard to imagine anybody caring about a sequel to that movie (itself based on a gag trailer). But here we are. Now, "Machete Kills" doesn't have a lot going for it but we'd argue it's a superior film to the first one if only because all of the footage is new, Lady Gaga makes a cameo and there is a gloriously over-the-top performance from Mel Gibson as the movie's chief villain. We're still waiting for that third movie, "Machete Kills Again," which was supposed to actually happen (it was set in space). JK please don't make it.
13. 'Spy Kids 2: The Island of Lost Dreams' (2002) The "Spy Kids" sequel might have the greatest subtitle in the history of film franchises, and beyond that it still was coasting on the considerable surprise and charm of the first film. This one involves weird, Harryhausen-esque creatures and Steve Buscemi as a loony madman, which both illustrated how elastic the central concept of the series was and how maybe Rodriguez didn't have all that great a grasp on it, even after one movie. Still, it's hard to totally hate a movie where Bill Paxton plays a character named Dinky Winks.
12. 'Four Rooms' (1995) In a lot of ways, "Four Rooms" (released the same year as his commercial breakthrough "Desperado") would lay the groundwork for the rest of his career -- his collaborative relationship with Quentin Tarantino (already established but cemented here), his love of anthology films, and his ability to creatively flourish when giving a condensed amount of time and obvious narrative limitations. He even said his section of the film, Room 309 ("The Misbehavers"), about the kids of a gangster who discover a body in the mattress of their hotel room, would ultimately inspire "Spy Kids" (because who doesn't love little kids in tuxedoes?) This is pure, uncut Rodriguez at his funniest and most streamlined.
11. 'Once Upon a Time in Mexico' (2003) The conclusion of his so-called "Mexico trilogy," "Once Upon a Time in Mexico" is hopelessly overstuffed but still pretty enjoyable. Antonio Banderas returns as the Mariachi, who this time is employed by an unscrupulous CIA agent (Johnny Depp) to kill a drug dealer ... or something. It all gets kind of fuzzy in a sea of shootouts and double-crosses. There are some genuinely fun moments, though, most notably a sequence where Banderas and Salma Hayek have to evade a cadre of killers while being chained together. There are a couple of major dings against it, though, too, including Willem Dafoe in brownface and some of the ugliest digital photography ever (thanks to Rodriguez's insistence on using prototype cameras). As a close to the trilogy it does the job.
10. 'Sin City: A Dame to Kill For' (2014) Oddly underrated and little-seen, this perpetually delayed, 3D follow up to Rodriguez and Frank Miller's groundbreaking "Sin City" deserves another critical evaluation. The long stint in between installments meant that several major characters had to be recast (Dennis Haysbert took over for the deceased Michael Clarke Duncan and Josh Brolin subbed for Clive Owen, while Jamie Chung took over for Devon Aoki, who was pregnant at the time of filming), which didn't help the unified comic book aesthetic, but new cast members like Joseph Gordon-Levitt and Eva Green (as the titular, frequently naked dame) fit into the film noir-y world perfectly. It's a shame you can't see it in 3D anymore, because they did some really fun stereoscopic gangs.
9. 'Roadracers' (1994) Rodriguez's first English language project is a direct-to-cable curio called "Roadracers," its name borrowed from a 1950s cheapie. (It was part of an anthology project called "Rebel Highway" that feels too arcane to get into now.) It's a fascinating artifact and a testament to how fully formed Rodriguez's talent was, right out of the gate (if anything, it's waned in the years that followed). David Arquette plays a standard issue greaser who runs afoul of the small town sheriff, and Selma Hayek is his impossibly adorable girlfriend. That's pretty much it. But Rodriguez indulges in some really muscular, stylized filmmaking, full of verve and energy. You could tell he knew this would be his calling card and goes all in.
8. 'El Mariachi' (1992) Everyone knows the story of how "El Mariachi" got made: a 23-year-old Rodriguez submitted himself for medical testing, collected $7,000, and made this grim-and-gritty feature about a desperado who gets involved with some very unsavory folks. It was intended for the Mexican home video market, but it piqued the interest of Columbia Pictures, who spent hundreds of thousands of dollars to clean it up, finish various stages of post-production and remix the sound. (In marketing materials, Columbia compared their discovery of Rodriguez to John Singleton and "Boyz N the Hood.") It's shaggier and less polished than anything else he would go on to make, but it would also define large swaths of his career, inspiring two sequels/remakes and his reputation as a ceaselessly inventive filmmaker.
7. 'Spy Kids' (2001) At the time it seemed like an unbelievable novelty: the director behind countless blood-splattered epics would turn his attention to a family movie. And honestly, that was part of the fun. Antonio Banderas, Rodriguez's frequent stand-in, played the patriarch of a family who is also an international secret agent, who goes missing, forcing his children to step up to the plate. It's not a perfect movie by any stretch of the imagination, particularly when it comes to the cloyingly whimsical villain (a problem that would only become more rancid in future installments), but it was, at the time, a refreshing change of pace with some outstanding technical achievements (Guillermo Navarro's cinematography and the score, with contributions from Los Lobos and Danny Elfman, amongst others, are particularly exemplary). It's as fun and fizzy as Pop Rocks and Coke.
6. 'Alita: Battle Angel' (2019) In a weird way, "Alita: Battle Angel" feels like an old-school Rodriguez movie. It's got a sky high concept (robot girl discovers who she is and kicks a lot of ass) sure, but more importantly, it has Rodriguez relinquishing control. It feels like his first movie in ages where he wasn't also the cinematographer, composer, editor and visual effects supervisor. (This is a very, very good thing.) Based on a popular manga and shepherded into existence by the great James Cameron, it's the kind of breathless popcorn entertainment that we were unsure Rodriguez was capable anymore. Its box office outlook is bleak so try to see it in the biggest, loudest, most three-dimensional screen you can while it's still in theaters.
5. 'Planet Terror' (2007) In 2007 Rodriguez teamed up with his frequent collaborator Quentin Tarantino for their riskiest gamble yet -- an old school double feature, with each filmmaker directing a horror movie that would then be sandwiched together (those phony trailers would be the proverbial mayonnaise). Rodriguez's half, "Planet Terror," would up being a surprise blast. It perfectly played to his strengths (action set pieces, brisk characterization) while beautifully removing any of the things that would normally trip him up (actual emotional arcs, extended periods of drama). It's an ultra-gooey zombie movie full of big stars (hello, Bruce Willis!) and exploding heads and it's brief running time meant that you never, ever got bored. (Skip the extended edition, though. It drags where the other cut soars.)
4. 'The Faculty (1998) Rodriguez owes a heavy debt to master filmmaker John Carpenter, as is evidenced by a character wearing a "Precinct 13" T-shirt in "From Dusk Till Dawn," so he must have been giddy to get to direct a slick, super commercial teenage remake of Carpenter's "The Thing." Utilizing a whip smart Kevin Williamson screenplay and wonderfully icky effects (the practical work being done by the great KNB), Rodriguez envisions a scenario where alien body snatchers have taken over the teachers, and it's up to a group of rebel-rousing teenagers to stop them from taking over the world! (With a hook like that, how could you not love it?) This is Rodriguez at his most streamlined and playful, unconcered with anything else but how expertly he can deliver the next scare. If you've never seen it, "The Faculty" is a delight.
3. 'Sin City' (2005) A long-held passion project of Rodriguez's (he convinced comic book visionary Frank Miller to give him the rights and, ultimate, co-direct the film after shooting a proof-of-concept), "Sin City" was the sort of next-level project that the filmmaker needed to make himself relevant again. And, honestly, in 2005, nobody had seen anything like "Sin City" -- a computer augmented, black-and-white (with dashes of color) film noir that looked like it was ripped out of the source material. ("300," which took a similarly slavish approach to Miller's comic book, was two years AFTER "Sin City.") And it's just so much fun to watch, especially given the caliber of actor that he was able to recruit (from Mickey Rourke to Bruce Willis). Parts of the movie seem dated and trite today, but it's hard not to acknowledge it as anything less than a revolutionary breakthrough and one of the director's very best films.
2. 'From Dusk Till Dawn' (1996) Quentin Tarantino and Rodriguez had been tight ever since they had been on the same film festival circuit, and after they both made a splash in Hollywood, decided to combine forces to glorious, giddy, gory results. Based off an old screenplay that Tarantino wrote for special effects master Robert Kurtzman (it was at one point earmarked as a potential "Tales from the Crypt" film), "From Dusk Till Dawn" plays like a micro version of what they would later accomplish with "Grindhouse" -- the two halves of the movie play like completely separate films (one a crime drama, the other a vampire exploitation thriller) that are slammed together. And both halves are really, really good. George Clooney and Tarantino play murderous bank robbing brothers who hijack a family's RV and head down to Mexico to hide out for the night. It's there that they realize the bar they've chosen is run by vampires and all hell breaks loose. It feels like a movie that only the combined enthusiasm of both Rodriguez and Tarantino could accomplish; unhinged but in the best way possible.
1. 'Desperado' (1995) What a movie. For his first Hollywood movie, Rodriguez chose to do a remake/sequel to his splash "El Mariachi," with Antonio Banderas taking over the guitar case full of weapons and Salma Hayek starring as his new love interest. (Their chemistry is palpable.) The result plays like the greatest made-for-Cinemax action movie of all time, full of exploding heads and blossoming explosions (all set to an inxoticating score by Los Lobos). This is Rodriguez firing on all cylinders, with an ace team of collaborators (including cinematographer Guillermo Navarro and, of course, Tarantino) and a fully committed cast of the best character actors 1995 had to offer (Steve Buscemi, Cheech Marin, and Danny Trejo among them). It's a movie of unceasing energy, carrying with it a kind of mythological dimension. Oh what fun!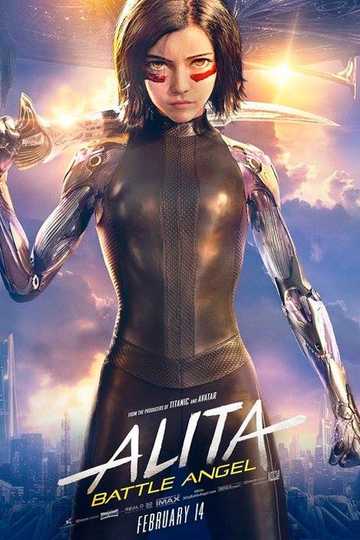 Alita: Battle Angel
When Alita awakens with no memory of who she is in a future world she does not recognize, she is taken in by Ido, a compassionate doctor who realizes that somewhere in this abandoned cyborg shell is the... Read More