First 'Glass' Photos Show Super-Star Trio in Therapy With Sarah Paulson
Don't forget you have a date with the first "Glass" trailer next Friday, July 20.
M. Night Shyamalan and the cast will be at Comic-Con to talk about the hype-worthy sequel to both "Unbreakable" (2000) with Samuel L. Jackson (Elijah Price/Mr. Glass) and Bruce Willis (David Dunn), and "Split" (2016) with James McAvoy (Kevin Wendell Crumb).
Night shared the perfect poster for "Glass" last week. Entertainment Weekly just shared the first official photos.
The photos show the trio of superheroes/supervillains in therapy with a psychiatrist played by Sarah Paulson.
We also see "Split" returnee Anya Taylor-Joy with Kevin. James McAvoy teased to EW that "We get to spend some time with some new people that live inside Kevin" in "Glass."
And we also see Mr. Glass wearing a truly amazing suit. (He even has his own "MG" pin. That is next level.)
Question: Why is David Dunn in therapy, and -- especially -- when is he chained? The others aren't chained. Suspicious.
Night told EW that Elijah's mom (Charlayne Woodard) and David's son (Spencer Treat Clark) will return and "play a big role" in the movie.
Here's the synopsis:
"From 'Unbreakable,' Bruce Willis returns as David Dunn as does Samuel L. Jackson as Elijah Price, known also by his pseudonym Mr. Glass. Joining from 'Split' are James McAvoy, reprising his role as Kevin Wendell Crumb and the multiple identities who reside within, and Anya Taylor-Joy as Casey Cooke, the only captive to survive an encounter with The Beast.

Following the conclusion of 'Split,' Glass finds Dunn pursuing Crumb's superhuman figure of The Beast in a series of escalating encounters, while the shadowy presence of Price emerges as an orchestrator who holds secrets critical to both men.

This riveting culmination of his worldwide blockbusters will be produced by Shyamalan and Jason Blum, who also produced the writer/director's previous two films for Universal. They produce again with Ashwin Rajan and Marc Bienstock, and Steven Schneider, who will executive produce."
"Glass" is scheduled for release in theaters on January 18th, 2019.
Want more stuff like this? Like us on Facebook.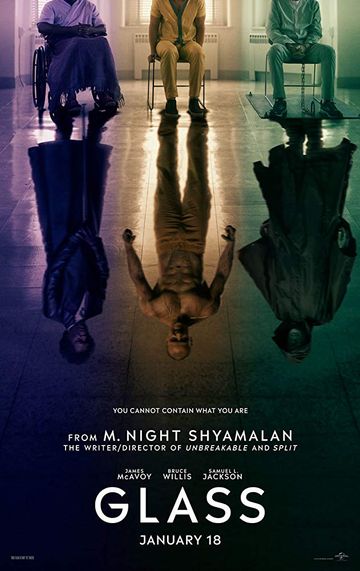 "You Cannot Contain What You Are"
In a series of escalating encounters, former security guard David Dunn uses his supernatural abilities to track Kevin Wendell Crumb, a disturbed man who has twenty-four... Read the Plot