Harrison Ford will Co-Star with Jason Segel in New Comedy Series 'Shrinking'
'Ted Lasso's Bill Lawrence and Brett Goldstein are working on the series with Segel.
We're much more used to Harrison Ford on the big screen in the likes of the 'Indiana Jones' and 'Star Wars' movies. Yet he's now preparing to work on his first TV series regular role.
Ford has agreed to star in 'Shrinking,' a new Apple TV+ comedy series that stars 'Forgetting Sarah Marshall's Jason Segel, who also co-created and co-writes the show.
The 10-episode series will see Segel as a grieving therapist who starts to break the rules and tell his clients exactly what he thinks. Ignoring his training and ethics, he finds himself making huge, tumultuous changes to people's lives… including his own.
As for Ford, he'll play Dr. Phil Rhodes, a down-to earth, sharp-as-a-tack "blue-collar shrink," blunt but with an ever-present twinkle. Phil is a pioneer in Cognitive Behavioral Therapy who has built a successful practice over the years that he shares with his two young proteges, Jimmy and Gaby. Fiercely independent, Phil has recently been diagnosed with Parkinson's, which forces him out of his comfort zone as he grapples with intrusive friends, his estranged family and his legacy.
This marks the latest show to come from the prodigious Bill Lawrence, who has been enjoying big success thanks to 'Ted Lasso', which is also produced by Apple. He has several series in production or development, but an executive producer on this one alongside 'Lasso' writer/actor Brett Goldstein (most recognizable as the perma-scowling Roy Kent from the soccer comedy).
'Shrinking' is coming together quickly and should be in production this year.
Next up in movie terms for Ford is the slightly anticipated fifth 'Indiana Jones' outing, which has raised plenty of interest (beyond the obvious given audiences' love for Indy movies) as it marks the first time Steven Spielberg isn't directing one of the films. Instead, James Mangold recently wrapped filming, with the likes of Phoebe Waller-Bridge, Mads Mikkelsen, Thomas Kretschmann, Boyd Holbrook, Antonio Banderas and Toby Jones filling out the main cast.
The storyline for this latest adventure is under strict security for now, but you just know it'll involve Dr. Jones getting into scrapes as he tries to retrieve an object. That movie is scheduled to land in theaters on June 30th next year.
As opposed to Ford, Segel has largely found his groove on the small screen, appearing in shows such as 'How I Met Your Mother', 'Dispatches from Elsewhere' (which he also created) and, most recently, 'Winning Time: The Rise of the Lakers Dynasty,' in which he plays Paul Westhead.
Film-wise, though, Segel did recently appear in Netflix title 'Windfall' opposite Jesse Plemons and Lily Collins and romantic drama 'The Sky is Everywhere' before that.
'Ted Lasso', meanwhile, recently kicked off shooting its third (and, according to the creators, final) season in the UK and should be on our screens later this year.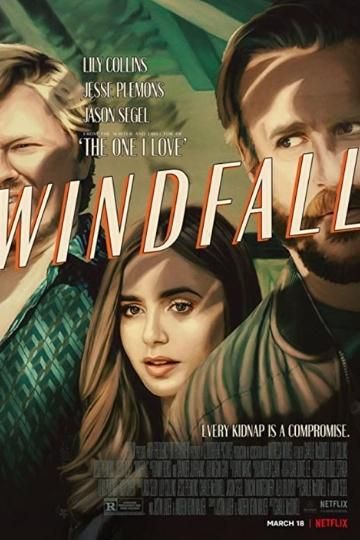 "Every kidnap is a compromise."
1 hr 32 min
Mar 18th, 2022