Holy Neptune! New 'Finding Dory' Trailer Brings Fresh Fish, Old Friends
Dory may have trouble remembering things, but Disney/Pixar clearly hasn't forgotten what fans loved about her the first time, and it's all on display in the adorable new "Finding Dory" trailer.
This second full trailer was just released on "The Ellen Show," giving us a better taste of the movie than the first teaser, which was basically a sneak peek scene. The story, set six months after "Finding Nemo," follows Dory's (Ellen DeGeneres) search for her parents, who'll be voiced by Diane Keaton and Eugene Levy. The trailer hints to some heart-tugging homesickness:
Dory: "I have a family. I miss 'em. You know what that feels like?"
Marlin: "Yes."
This really feels like a "Finding Nemo" sequel, bringing back Nemo and Marlin, teacher Mr. Ray, and even the rad sea turtles giving Marlin another sweet (terrifying!) ride. But to differentiate this story, we get a bunch of new friends, like Destiny the whale shark (voiced by Kaitlin Olson) and Bailey the snub-nosed beluga whale (Ty Burrell). But the trailer shows that Destiny isn't really a *new* friend to Dory, and we may get the answer on how Dory knows how to speak whale.

That octopus (voiced by Ed O'Neill) is already stealing everything in sight, and we can't wait to see more of him and the rest of the gang when the film is released on June 17.
Want more stuff like this? Like us on Facebook.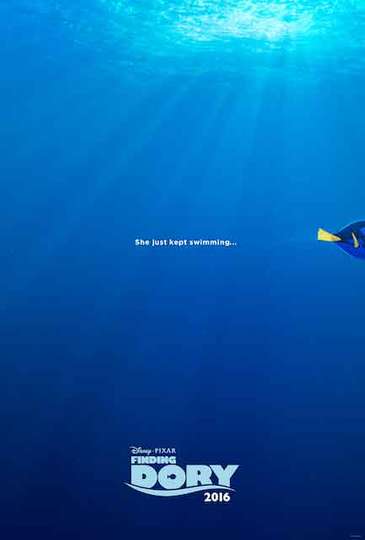 "An unforgettable journey she probably won't remember."
Showtimes & Tickets
Dory is reunited with her friends Nemo and Marlin in the search for answers about her past. What can she remember? Who are her parents? And where did she learn to... Read the Plot