​What Happened to 'Independence Day: Resurgence' at the Box Office?
We're in a weird place where a summer blockbuster can open with the huge numbers that "Independence Day: Resurgence" did and still be considered a box office flop.
The alien-invasion sequel premiered with an estimated $41.6 million; opening wide on 4,068 screens, that's an average of $10,226 per screen. Those are the kind of numbers most movies would kill for.
But remember, the first "Independence Day," a movie not based on a previously-existing property, and with no big stars, debuted with $50.3 million, and that was in 1996 dollars. Today, that would be the equivalent of a $97.5 million debut.
The sequel's distributor, Fox, had expected the new film to open around $50 million as well, but adjusting for inflation, that means the new film did only about half as well as the 20-year-old original. Predictions by outside analysts ran from $40 to $55 million; that the movie opened on the low end of those expectations, and well below Fox's own modest prediction, is not good news.
Plus, the movie cost at least $165 million to make. (Some sources say as much as $200 million; compare that to $75 million to make "ID4" two decades ago.) Given its likely promotional costs and the splitting of revenue with theater owners, "Resurgence" will have to gross about $660 million worldwide for Fox just to break even. That's going to be nearly impossible given the movie's slow domestic start.
What went wrong? Here are a few of "Resurgence's" missteps.
1. The Wait
Two decades is an awfully long time to wait between installments. It's not insurmountable; the "Mad Max" franchise waited 30 years, but "Mad Max: Fury Road" was still a hit last year. In part that was because it offered the kind of spectacle and in-camera effects that you couldn't see anywhere else.
But the kind of modern-day disaster-film blockbuster that Roland Emmerich pioneered with the first "Independence Day" became commonplace by the time he made the second one. In a multiplex dominated by "Avengers" and "Transformers" movies, it's easy to forget how novel "Independence Day" was -- if, indeed, you're old enough to remember it at all.
2. No Star Power
The original "ID4" made Will Smith into a bankable box office star and the king of July movies. His luster has dimmed in recent years, but if he'd been aboard this installment, he'd still have been the biggest box office draw in the cast. (Sorry, but Liam Hemsworth is not a big box office draw, and neither are returning "ID4" stars Bill Pullman and Jeff Goldblum.) Smith's presence could have been worth tens of millions of dollars, especially overseas, where he remains a bigger star than he is here.
3. The Reviews
They've been pretty terrible, just 33 percent fresh at Rotten Tomatoes. Not that Emmerich's destruct-o-thons are ever the critics' cup of popcorn (though they did give "ID4" a 62 percent fresh rating in 1996). Still, the movie needed to attract older, nostalgia-minded viewers, the ones who still read reviews. Of course, these summer action blockbusters are usually critic-proof, but audiences didn't think much of "Resurgence" either, judging by the tepid B grade they gave it at CinemaScore. Which means that viewer word-of-mouth seems to back up the critical complaints, that "Resurgence" doesn't really deliver.
It also didn't help that Fox knew they had a turd on their hands, which is why they did not screen the film for press -- or junket it -- in an attempt to control their losses.
4. Sequel Fatigue
A handful of exceptions aside -- notably, "Finding Dory," "Captain America: Civil War," and "The Conjuring 2" -- this hasn't been a good year for sequels at the box office. The 2016 release slate has been pockmarked with such cratering sequels as "Alice Through the Looking Glass," "Now You See Me 2," "Teenage Mutant Ninja Turtles: Out of the Shadows," "The Divergent Series: Allegiant," "The Huntsman: Winter's War," "London Has Fallen," "My Big Fat Greek Wedding 2," "Neighbors 2: Sorority Rising," and "Zoolander 2."
Many of these were plagued by some of the same problems as "Resurgence:" poor execution, long delays between installments, and the loss of major players from the franchise. That doesn't necessarily mean audiences are rejecting retreads and craving originality; in fact, "Zootopia" is the only movie among the top 10 earners so far in 2016 that's based on an original screenplay. But viewers do want sequels that deliver the goods the franchise has promised in the past, and as this year's sequels that have fallen short of that promise are proving, having a familiar title alone without the content to back it up isn't enough to ensure a hit anymore.
5. Bad Timing
"Resurgence" opened during the most crowded weekend of the summer so far. It's competing against two other new wide release movies, one a prestige drama ("Free State of Jones") aiming at the same older adults that "Resurgence" hoped would be drawn by nostalgia for "ID4," and "The Shallows," the Blake Lively-vs.-a-shark action movie that does seem to deliver the summer movie thrills, at a fraction of the scale and budget.
"Shallows" did very well, opening at No. 4 with an estimated $16.7 million, about as much as the film cost to make, while "Jones" opened one spot below with an estimated $7.8 million, an underwhelming number, though at least the Civil War drama cost just $50 million to produce.
More important, the Fox film was opening against several established hits. "Finding Dory," going after the same broad, all-ages audience as "Resurgence," remained at No. 1 in its second week, with an estimated $73.2 million. Also in its second weekend, "Central Intelligence" held its share of the action crowd and continued to appeal to men and women alike to earn an estimated $18.4 million, good for third place. And "The Conjuring 2," out now for three weeks, came in a hair behind "Jones" with an estimated $7.7 million.
Next weekend, everyone's calendar will offer its own built-in advertisement for the "Independence Day" sequel, along with a four-day weekend. And aside from next week's "The Legend of Tarzan" and the "Ghostbusters" reboot two weeks later, there's not another galactic-scale action spectacle until "Star Trek Beyond" (pictured above) a month from now.
And there's also the foreign audience. To date, "Resurgence" has taken in an estimated $101.5 million abroad, for a global total of $143.1 million. That's not bad, but even if "Resurgence" continues to earn 71 percent of its grosses outside of North America, it'll still have to take in about $468 million overseas and $192 million here to break even.
That's about as likely as the government admitting it's holding captured aliens at Area 51.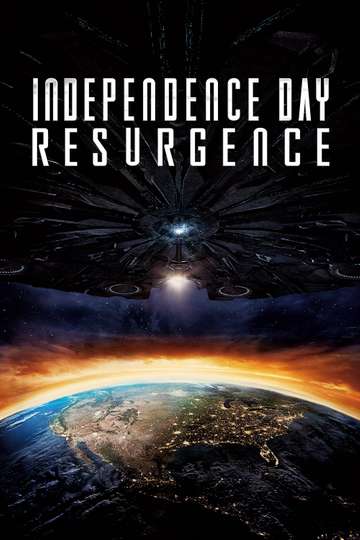 "We had twenty years to prepare. So did they."
We always knew they were coming back. Using recovered alien technology, the nations of Earth have collaborated on an immense defense program to protect the planet.... Read the Plot