Johnny Depp's Jack Sparrow Performance Almost Got Him Fired
Johnny Depp's performance as Captain Jack Sparrow in the "Pirates of the Caribbean" movies is one for the ages, an attention-grabbing portrayal that became instantly iconic when the series bowed back in 2003. But according to the star, Disney execs didn't love his acting choices -- and initially wanted to fire him.
Depp made that revelation during an appearance at AFI Fest, where he discussed his wide-ranging filmography. Playing Sparrow jumpstarted Depp's career and introduced him to a new generation of fans, and the flashy performance netted Depp critical acclaim and an Oscar nomination to boot. But things didn't start out so sunny.
"Yeah, they wanted to fire me," Depp told the AFI crowd of Disney's initial reaction to early footage of the actor in character. Then-Disney head honcho Michael Eisner was apparently not pleased, and according to Depp, said, "Goddamnit Johnny Depp's ruining the film!"
Depp continued:
I fully expected to be fired, and I got a call from the upper echelon at Disney who were courageous enough to ask me, "What the f--k are you doing?" And again, the questions came up, "Is [the performance] drunk? Is it gay?" All I could say was, 'cause they set me up with a great line, I said, "Well don't you know all my characters are gay?" [laughs] I really expected to be fired, but I wasn't for some reason. They were actually gonna put subtitles under my character, they couldn't understand Captain Jack.
Perhaps at the behest of filmmakers, Disney relented and allowed Depp's portrayal to remain, and the rest is cinematic history. And while some may say that the "Pirates" franchise (and Depp's role in it) has worn out its welcome, there's no denying that what he did was groundbreaking at that time. Here's hoping he can still make movie magic with the next installment of the series, due out sometime in 2017.
[via: The Playlist]
Photo credit: Getty Images for Disney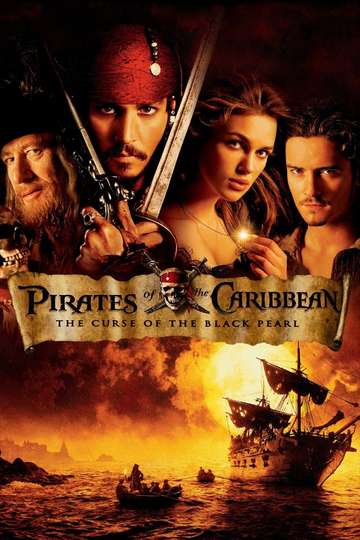 "Prepare to be blown out of the water."
2 hr 23 min
Jun 28th, 2003
Showtimes & Tickets
Jack Sparrow, a freewheeling 18th-century pirate, quarrels with a rival pirate bent on pillaging Port Royal. When the governor's daughter is kidnapped, Sparrow decides... Read the Plot