The Joker's Tattoos Are 'Suicide Squad' Easter Eggs
When the "Suicide Squad" characters were first introduced, there was some controversy over Jared Leto's heavily-tattooed version of The Joker. But according to director David Ayer, there's a very specific inspiration behind Leto's Joker look -- and those tattoos actually reveal a lot about the character and film.
In an interview with Yahoo! Movies UK, Ayer explained how he decided upon Leto's look for the flick, telling the site, "I took a lot of inspiration from drug lords on Instagram." From their flashy cars to customized guns to, yes, their copious gang tattoos, there's a little bit of those real-life nefarious characters in The Joker as well. And as for just what the ink depicts, there's a reason behind each bit of imagery, according to Ayer.
"The tattoos tell a very specific story," the director explained to Yahoo!. "And eventually people will decipher them and understand what's going on, but obviously they're contentious, any time you do something new it's contentious. There's very specific stories and easter eggs in those tattoos. And even his teeth, there's an entire story behind that which is absolutely canon. It's putting his history on his body. This Joker is a little more working class, who I believe could live in our world."
The significance of tattoos doesn't stop with The Joker, since Harley Quinn sports as few of her own, too. As actress Margot Robbie told Yahoo!, there's a character-driven reason behind the crudely-drawn ink.
"She did these herself in prison," Robbie explained to the site while showing off the tattoos. "They're stick and poke tattoos, prison-style tattoos, that you do when you don't have a tattoo gun. She did them herself out of boredom and desperation... There's I Heart Puddin', a Joker face, a love heart... that's obviously reflective of her time in prison."
Fans will get to see for themselves whether or not the ink adds to (or detracts from) the characters when "Suicide Squad" hits theaters on August 5.
[via: Yahoo! Movies UK]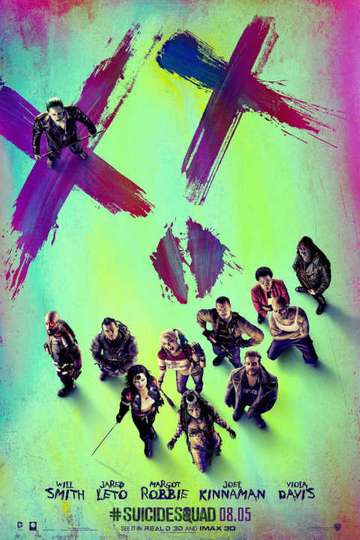 "Worst. Heroes. Ever."
From DC Comics comes the Suicide Squad, an antihero team of incarcerated supervillains who act as deniable assets for the United States government, undertaking high-risk... Read the Plot