Actor Lewis Pullman Talks Romantic Drama 'Press Play'
The 'Top Gun: Maverick' actor discusses his new romantic drama, which also stars Clara Rugaard and Danny Glover.
Opening in theaters, on demand and digital June 24th is the new romantic drama 'Press Play,' from writer/director Greg Bjorkman, based on a story by Josh Boone ('The New Mutants').
After Harrison (Lewis Pullman) dies in an accident, his girlfriend Laura (Clara Rugaard) finds a mix-tape that allows her to travel back in time. Using the tape, she tries to change Harrison's future, which doesn't go as planned.
In addition to Pullman and Rugaard, the cast also includes Lyrica Okano, Christina Chang, Matt Walsh, and Danny Glover.
Moviefone recently had the pleasure of speaking with Lewis Pullman about his work on 'Press Play,' as well as being in the biggest grossing movie of the year, 'Top Gun: Maverick.'
You can read the full interview with Lewis Pullman below or click on the video player above to watch our interviews with Pullman, Clara Rugaard, Lyrica Okano, and writer/director Greg Bjorkman.
Moviefone: To begin with, how did you get involved with this project and what was your first reaction to the time-traveling screenplay?
Lewis Pullman: I first read the screenplay and auditioned for it. Then I met up with Greg Bjorkman. My first reaction to the script was, I love these two genres, and to see them welded together is so interesting. I think it really pulls on the heartstrings in a lot of ways, but it also really taps into the human instincts that we all can pray victim too of wanting to live in the past or wanting to change the past. Or thinking that if we could just go back for a minute or for a song's length of time, we could maybe change the future. I think it's just fun to watch somebody be able to explore that.
When I found out Clara was attached, I watched 'I Am Mother' and I was blown away by her and her ability to kind of walk into these incredibly mind-altering universes and really play it out in her mind really well. So, I was like, "She did that so incredibly in 'I am mother.'" I was like, "Well, she's only going to be able to do it better in this. I'd love to be a part of that and work with her and Greg." I sat down with Greg and he had a lot of real personal attachments to this story and had injected a lot of his own experience into it. So, I thought that was a cool way in. That was interesting to me.
MF: Do you subscribe to the theory that music allows the listener a form of time travel?
LP: Absolutely. I do think so. It's almost a scent where you can put it on. I'm in Massachusetts now and I haven't been out here since October. When I was out here in October, I was listening to the same three albums over and over again. Then I out listened to them and I stopped. I got back here last week, and I was like, "should I put those albums on again?" It had been just enough time for their juice to kind of be reinvigorated. It was literally like all my memories were so palpable and colorful. I think it really is in a lot of ways a real-life time travel machine.
MF: Can you talk about Harrison's reaction when Laura claims to have traveled from the future?
LP: Those scenes were a lot of fun to shoot. That was also a huge attraction for me that a lot of these scenes are so far from anything we can really draw from in our real lives. So, how do you put those pieces together? The disbelief, and it's almost like hearing somebody try and tell you about a conspiracy theory or something. At first, you're like, "You're crazy. This is not real." You have to sit down and take a breath. Then, in this case, trying to really go through that domino effect of thoughts and putting the pieces together. Then all of a sudden having your mind completely blown and your idea of reality totally turned upside down was a really fun challenge.
To do it with Clara who's so good at that was really fun. It was like a game. It was like a fun sparring session. So, Clara was really good about keeping track of where we were at, and so was Greg. So, that was also challenging. I think a big task of mine personally was, because after a certain point in the story I kind of come in and out and there's huge gaps in between where you don't see what Harrison is doing or how he's processing this new information. So, I kind of had to map those out on my own. Where is he in terms of how he's grappling with all this information? That was pretty interesting and helped a lot.
MF: The movie jumps around to different moments in Laura and Harrison's relationship, and is at times shown from two different points of view. As an actor, did it ever get confusing for you going from scene to scene like that?
LP: I mean, it was kind of discombobulating. Because there's a lot of scenes but generally, each of these scenes we would do twice in two completely different ways. So, every day we'd walk in and do the original version of the scene, and then we'd finish that. Then we would do the time travel version of the scene. So, that was helpful to be able to track in terms of where you were at the original point, and then where you are at the end.
That's already hard enough to do with a normal story arc. Sometimes you're just like, "I cannot grasp what is going on right now. Where are we right now?" I think that's what a lot of Laura and Harrison are kind of experiencing. So, I think that lent itself to it a little bit.
MF: Can you talk about working with writer/director Greg Bjorkman and watching him execute his vision for this project?
LP: Greg and James Bachelor wrote this thing together and they did a really good job at getting the graph paper out and trying to make sure they could erase any sort of plot holes or anything like that. Time travel's such a complex thing to write, and I thought they did a great job.
Greg had a lot of really personal connection to this story. I think he was constantly drawing into his own life and his own experiences, which I thought was great because you can't really go into the time travel element with your own experiences. So, he had a very specific idea as to how he wanted it all to go. How he wanted their relationship to look and what their arc looked like. So, it was cool to watch him take something grandiose and draw it back down into this grounded personal space.
MF: Are you a Tape-Head? Do you collect tapes or vinyl, or just listen to music digitally?
LP: I don't. I mean, I learned how to make a mix-tape on this thing. But, I've got vinyl, but I'm a Spotify guy. I realized you don't really know what albums your favorite songs are on when you can just download the song, and you don't get the context of the song as a whole. So, I kind of did relate to some of Harrison's ideas on that end of things.
MF: Finally, what is it like being in one of the most successful movies of all-time with 'Top Gun: Maverick?'
LP: Absolutely mind blowing, man. I'm just trying to soak it in. I know that these things come and go and I'm just trying to enjoy it while it's here. I celebrate with the whole cast as much as possible because we worked so hard on that thing. So, it's a kind of a unicorn of an experience to be able to have all that hard work payoff in such an extreme crescendo. It's about as cool as it gets, man!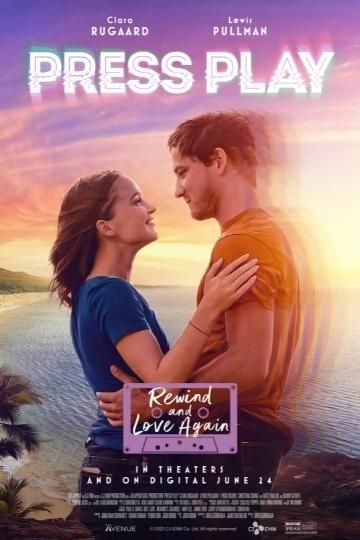 1 hr 25 min
Jun 24th, 2022