Michael B. Jordan Says He Wants 'Creed IV' and Spin-Offs
The leading man (and director of the third film) says he'd like to keep the world of the boxing champ expanding.
With 'Creed III' arriving next month, star (and, on this occasion, director) Michael B. Jordan is being asked about the future of the boxing movies that feature him as Adonis "Donnie" Creed, the son of the late Apollo (Carl Weathers in the 'Rocky' movies).
Talking with IGN about 'Creed III', Jordan didn't expand much on his ideas, but did say that he intends to stick with the 'Creed' franchise. Answering questions about a potential fourth movie, he said it was "for sure".
And, as with every popular movie from a studio these days, it appears there will be spin-offs of some fashion. "I just want to expand the 'Creed'-verse within reason, but definitely expect other things around 'Creed' for sure."
It's just the latest step for the ever-expanding spin-off from the 'Rocky' movies, though the 'Creed' films are moving away from Sylvester Stallone's veteran boxer.
Through 2015's 'Creed' (directed by Ryan Coogler) and 2018's 'Creed II' (with Steven Caple Jr. in the director's chair), Donnie has battled his demons, fought powerful opponents in the ring and tried to forge a family life with Bianca (Tessa Thompson) and their daughter, who has inherited her mother's hearing difficulties.
'Creed III' moves the story forward a few years but also back several, as the story sees Donnie reconnecting with old friend and prodigy Damian Anderson (Jonathan Majors), who went to prison, and resents that Adonis did not (as he was involved in the incident).
Out of Jail and quietly burning with vengeance, Anderson threatens Donnie – and Adonis decides to face him in the place he knows best – the ring. And without Rocky in his life for this round, this time, the fight is truly personal.
And it's even more personal for the man in front of the camera – who steps behind it for the first time. Michael B. Jordan, who has played Adonis since the first film, is also here the director.
"I think for me it was the perfect time," says Jordan.. "I finally got to this place in my career where I wanted to tell a story and not just be in front of the camera, not just execute somebody else's vision. And having a character that I've played twice before, it's been seven, eight years living with this guy. So to be able to tell a story of where I believe Adonis is at, and also at 35 years old, I had a lot to say as a young man, as a young Black man, just my life experiences and how I could actually share that, share a piece of myself with the world––through these characters and through this story. You just gotta jump in the deep end and go for it, you know?"
'Creed III' will be in theaters on March 3rd.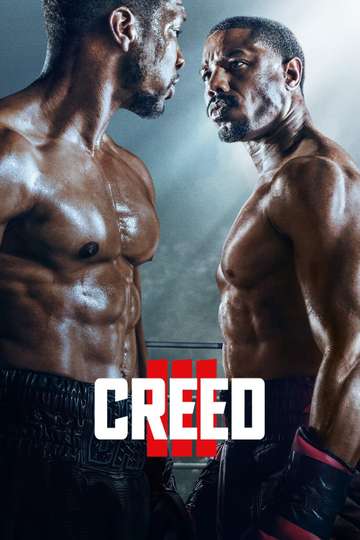 "You can't run from your past."
Showtimes & Tickets
After dominating the boxing world, Adonis Creed has been thriving in both his career and family life. When a childhood friend and former boxing prodigy, Damien Anderson,... Read the Plot