Michelle Rodriguez May Leave 'Fast' Franchise If They Don't 'Show Some Love to the Women'
The "Fast and Furious" franchise is gearing up for its ninth and tenth installments (!!!), and Michelle Rodriguez thinks it's about time the women had more to do.
"Fast" is such an alpha-male heavy franchise, the guys even lock horns in real life (see The Rock and Vin Diesel) but that doesn't mean the women are content to just be sidekicks, especially after so many years. Rodriguez has played Letty Ortiz in six "Fast" films to date, and she had to push to even get as much screen time and activity as she's had. When she pushes for Letty, aka Dom's (Vin Diesel) wife, she also pushes for the other women of the franchise, and they all benefit. So she's doing that again.
On Tuesday, to honor "The Fate of the Furious" arriving on Digital HD, Rodriguez gave a public ultimatum on her "Fast" future:
Instagram is the official "Fast" family feud forum -- The Rock took his "candy asses" shot on Instagram, and now this.
The "Fast" franchise has added more women to the cast over the years -- including Gal Gadot, Nathalie Emmanuel, Elsa Pataky, Charlize Theron, and Helen Mirren -- when back in 2001 it was just Rodriguez's Letty and Jordana Brewster's Mia. However, just adding more female bodies isn't quite what Rodriguez is suggesting.
"I've been making movies with Jordana, who plays the sister of Dom Toretto, for 16 years and I can count on one hand how many lines I've had to her," Rodriguez recently told Entertainment Weekly. "I think that's pathetic and it's lack of creativity."
Rodriguez is always blunt (which we love) and that's sometimes what it takes to make things happen. As usual, fans have mixed reactions -- some hoping The Powers That Be take her suggestion, and others feeling like she should just leave if she doesn't like the current dynamic.
"Fast 9" is scheduled for April 19, 2019. "Fast 10" is scheduled for April 2, 2021.
Want more stuff like this? Like us on Facebook.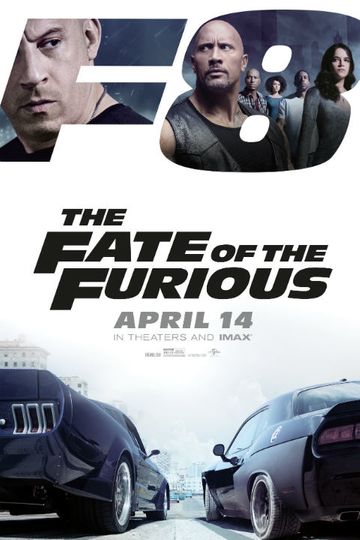 "Family no more."
2 hr 16 min
Apr 14th, 2017
When a mysterious woman seduces Dom into the world of crime and a betrayal of those closest to him, the crew face trials that will test them as never before. Read the Plot