'Mission: Impossible - Fallout' Director Chris McQuarrie Wishes You Could See the One Script He Can't Get Made
You'd think after two huge box office hits -- the last two "Mission: Impossible" movies -- writer-director Christopher McQuarrie could get anything made. Anything. Even his passion project -- the script he told me was his "favorite."
Well, you'd be sorely disappointed.
In a recent interview promoting the release of "Mission: Impossible - Fallout" on Blu-ray Dec. 4 (the disc is AMAZING - buy ALL the copies), McQuarrie revealed that there's one "mission" he wishes he could put on the big screen: His exceptional script for "The Last Mission."
"That is my absolute favorite script, out of any of the scripts I've ever worked on," McQuarrie said. And for those lucky few to have read it, it is easy to see why. "Last Mission" tells the harrowing and emotionally-taut real-life tale of the last night of WWII in the Pacific. So why can't the director of "Fallout," which grossed $791 million -- the series' highest grossing movie (not adjusting for inflation) -- get this movie made?
"You know, the lesson I have learned is -- the magic number is a billion [dollars]. If you make a billion dollars doing something, or $800 million doing something original, you may get more leverage to do something. And the truth of the matter is, I don't have more leverage now than when I did when I wrote that screenplay for 'The Last Mission.' It is the quintessential dream movie of mine and no one will make it."
Despite that harsh truth, there's some light at the end of "Last Mission's" tunnel -- at least for the director who wants to make it.
"Look, the time will come," McQuarrie said. "What I've learned is -- look at "Valkyrie." "Valkyire" and "The Last Mission" were written as sister projects at the same time. Nathan Alexander and I wrote those scripts together, and neither one of those movies should have ever seen the light of day. And we were very fortunate that Tom Cruise, you know, found "Valkyrie" and decided he wanted to do it. And someday, someone is gonna be looking for a kind of movie and -- "The Last Mission," in whatever form that is -- it's gonna fill that need."
Until that time, "Fallout" will just have to tie fans over.
"Mission: Impossible - Fallout" is available now on Digital HD and arrives on Blu-ray, 4K, and DVD Dec. 4.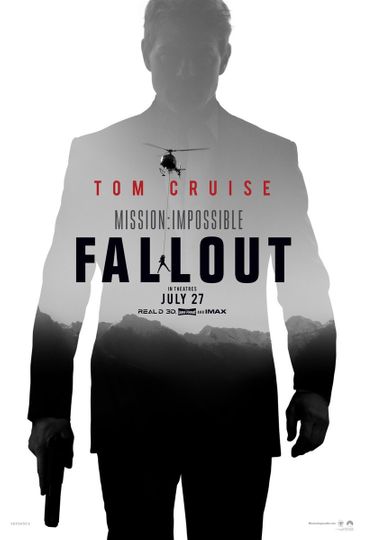 "Some missions are not a choice."
2 hr 27 min
Jul 27th, 2018
When an IMF mission ends badly, the world is faced with dire consequences. As Ethan Hunt takes it upon himself to fulfill his original briefing, the CIA begin to... Read the Plot