18 Things We Learned on the 'Mortal Engines' Set
Peter Jackson has made a career out of transporting audiences to epic places, and "Mortal Engines" is no different. In the big-screen adaptation of the fan-favorite book series by Philip Reeve -- which just dropped an action-packed official trailer -- giant moving cities ruthlessly eat small traction towns while fighting for survival.
This time, Jackson is producing with first-time feature filmmaker Christian Rivers directing. In 2017, Moviefone and a group of reporters visited the New Zealand set of the film and got the inside scoop on everything from how this adaptation isn't another "Hunger Games" and how the filmmakers changed certain aspects of the book for the big screen.
1. This isn't your usual dystopian YA flick.
"We didn't want it to be post-apocalyptic dystopia," director Rivers told us. "So, we didn't want it to be 'Mad Max.' We didn't want it to be 'Hunger Games' or 'Divergent.' That's kind of a bleak, dystopian sort of film, you know? It needed to tie to our world."
He added: "I kind of just caught on to what would happen if there was a nuclear-esque kind of war, or a new weapon that devastated our planet, and what would happen to London? And what would be left?"
2. They made a lot of changes from the book.
"We have aged up our protagonists," Rivers revealed. "They're more in the 'Star Wars' protagonist age group. They're not teenagers. They're sort of on that cusp into 'What am I going to do with my life?'"
3. A big reason they made changes was for the love story between Hester and Tom.
"The love story was one of the first things that we focused on, to see how to make it work," co-writer and Jackson's long-tie producer Philippa Boyens said. "At what opportunity do you get them from [Tom] thinking she's a mad woman -- who's trying to kill somebody -- to 'I love you, Hester Shaw?' You know, how do you do that and make it real and believable?"
4. They built 63 sets!
"It's like, 'Oh my God, they've got that many scenes. How many scenes are we writing?" Boyens joked.
5. The film's been in the making for a loooong time.
Production designer Dan Hennah told us that he "started [working] on this [movie] in 2008. It was in development and out of development. We sort of worked for about a year or so on developing ideas. And then we all walked away. And then, [we] came back for when the film was actually funded."
6. The cast did (most of) their own stunts.
Hera Hilmar, who plays Hester Shaw, told us she performed "nearly all" of her action scenes. "The stuff that I haven't done has just been mainly because of time. But, in terms of, you know, going for it and doing it, nearly all of us have been doing that."
So what did most of her stuntwork entail? "A lot of jumping, a lot of hanging, a lot of dragging. A lot of running. It's been physically demanding, but great fun. It's better than just sort of sitting around. It's great."
7. Even in a future world, you can still relate to these characters.
When Leila George, who plays Katherine, was asked how a pivotal moment moves her character forward, she answered: "It's that moment in your life where you realize that your parent is a human being, that they're not this perfect thing that doesn't do anything wrong and that you follow. 8. Fan-favorite Shrike was one of the first characters they cracked.
"Shrike was one of our very early guys that we worked on back in 2008," Hennah explained. "And out of 100 Shrike passes, there was one that everyone favored. And when we came back, they still favored. You know, we all still liked this one guy. And so, we had a really good head start on Shrike."
9. Some of the movie's best lines come from the book
"There's some beautiful lines in the book and you pull those ones out," Boyens said, who knows a thing or six about adaptations, as she helped bring the "Lord of the Rings" trilogy to the big screen.
10. There are Easter eggs galore!
Certain sets that we saw -- like an elaborate museum and library set -- contain nods to things long-gone in this world but are still around in ours (think cell phones and, uh, the Minions.)
"There are little hints here and there," Hennah tolds us. "The museum holds a lot because it's a great place to store that sort of stuff." So be sure to be on the look out for some very yellow creatures that only speak in gibberish and love the word "banana."
11. Everyone loves working with Peter Jackson
"He's a big joker," Jihae, who plays Anna Fang, revealed. "He's constantly making people laugh. It was a lot of fun."
12. Sorry, fans of the book, but you won't see Dog :(
"Mortal Engines" loyalists love the character of Katherine, especially here wolf named Dog. But, sadly, don't expert to see their version of a dire wolf on the big screen.
"Obviously, who doesn't want to have a giant white beautiful wolf with you the whole time?" George joked. "But I've heard animals are hard to work with. I've never had the pleasure. Katherine still has Dog, he's just not in the movie. He's there in spirit. I'm not letting him go."
13. Hilmar had some input on her character, Hester
Hilmar explained: "I think Hester is completely feral. She does not communicate in the same way as I would or as we would in general, you know? I kept cutting out lines because I didn't want her to speak a lot."
14. Not every city is on wheels.
While fans will get their fill of motorized cities churning up the landscape as they roll, not all of them are mobile. Some are, you know, actually stationary, normal-ish cities, according to Hennah:
"Shan Guo, which is where the Anti-Tractionists (those anti all moving cities) live, is basically somewhere in the east. But, we're not saying it's China. We're not saying it's Vietnam. We're not saying where it is. Shan Guo is a mixture of all these places," Hennah said.
He went on to reveal: "It's where a whole lot of people went at the end of the Sixty Minute War and stayed there and they lived a more of an alternative lifestyle as we know it. You know, growing their own vegetables and they weave their own fabrics and they have a culture and a belief system."
15. We get to spend a lot of time with the character of Anna Fang, who kicks ass.
Fans of Anna will not be disappointed when the movie hits theaters.
"Anna Fang creates the strongest bond with Hester," Jihae told us. "She tries to get rid of Tom. Not really kill him, but just to leave him behind, because she sees him as just an unnecessary accessory to Hester. But then she realizes that he actually could be an asset and a protector." 16. The set was super collaborative.
"It's been really, really cool the way that I've been allowed to be involved in every aspect," George said excitedly. "It's not just like, 'Okay, this is what you're wearing today.' It's like, 'Okay, let's spend three or four weeks deciding until the last minute, until [they call] 'action,' what you're going to wear. Is this something that you're comfortable with?' It makes me feel like a real actress."
17. Shrike is a character you've never seen before.
"The logic of Shrike is that he is a machine. He has a human brain and human eyes and he has human skin, but it has been pretty much mummified by now," Hennah explained.
18. Could there be a sequel?
We'll let Boyens answer that one.
"This has to work as a film. This may be the only one. Who knows? I think the story just keeps getting better and better. I think there's good possibilities for the sequel. But, having said that, this has to work first and foremost in and of itself. And that, we won't know until 2018."
"Mortal Engines" hits theaters December 14, 2018.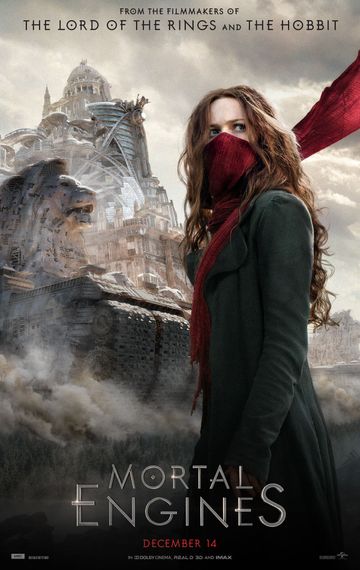 "Some scars never heal"
Many thousands of years in the future, Earth's cities roam the globe on huge wheels, devouring each other in a struggle for ever diminishing resources. On one... Read the Plot