Florence Pugh's Feeling Paranoid in Olivia Wilde's 'Don't Worry Darling'
Wilde follows up the jokey, warm 'Booksmart' with this psychological thriller, which features a stand-out performance from Pugh.
Releasing in theaters this week, Olivia Wilde's 'Don't Worry Darling' has been dogged by behind-the-scenes and tabloid drama, but the movie itself stands apart from all of that and proves that her debut, 'Booksmart', was no fluke.
And the new film is a very, very different beast from that initial offering, swapping charming, warm coming-of-age antics and slapstick humor for paranoia, gaslighting and a theme that would feel right at home in a thriller from the 1970s.
We're introduced to Alice Chambers (Florence Pugh) and husband Jack (Harry Styles) who count themselves lucky to be living in the idealized community of Victory, the experimental company town housing the men who work for the highly top secret Victory Project and their families.
The 1950's societal optimism espoused by their boss Frank (Chris Pine) – who is equal parts corporate visionary and motivational life coach – influences every aspect of daily life in the tight-knit desert utopia, which is seemingly carved from the landscape in California's Palm Springs.
While the husbands spend every day inside the Victory Project Headquarters, working on the "development of progressive materials," their wives, including Frank's elegant partner, Shelley (Gemma Chan) fill their time enjoying the beauty, luxury and debauchery of their community. Life is perfect, with every resident's needs met by the company. All they ask in return is discretion and unquestioning commitment to the Victory cause.
Alice and Jack are initially thrilled with their lives, sizzling with sexual chemistry and barely able to keep their hands off each other when they're at home, and at one point in Frank's bedroom during a party.
Even though it might seem repetitive – Jack heads off to work, Alice cleans the house and busies herself with cooking, ballet and shopping – it's so comfortable that no-one questions it. Until Alice starts to.
She's spurred by the behavior of another wife, KiKi Layne's Margaret, who has been having serious second thoughts after taking her son out to the restricted desert area outside the community, where he disappeared and is seemingly dead.
As Margaret's actions grow more out of keeping with everyone else, Alice starts to feel a tingling sense of paranoia. Is this idealized life she's living as, well, ideal? And her sense of reality starts to crumble.
Given that this is a psychological thriller, you know there will be something going on, but we won't get into that here – the basic set-up is all you really need.
Wilde weaves a compelling, mysterious and stylish story, stretching a relatively thrifty $20-$30 million budget into an effective, layered world. She drip-feeds tension into the narrative from the off with the mysterious rumbles that shake the houses from time to time, written off by the residents as a side-effect of whatever the men are working on.
She and her team have built something that looks and sounds fabulous, whether it's cinematographer Matthew Libatique's sun-bleached visions of this community with its pastel, mid-century modern houses or John Powell's score, which dials up the creepiness as the narrative moves on. Together with the sound team, it creates a real feeling of unease.
The script, from 'Booksmart's Katie Silberman, based on a story by her alongside Carey Van Dyke and Shane Van Dyke (yes, as in Dick Van Dyke – they're his grandsons) serves as a solid example of the paranoia genre, crafting this world before challenging it.
While 'Booksmart' explored female friendship and teenage frustration, 'Darling' switches genres and attitude, but still keeps the focus on the experiences of women, taking in divided gender expectations of the past and gaslighting.
Pugh is, of course, fantastic, breathing conflicted life into Alice at every moment, whether she's happily cooking up a roast, engaging in enthusiastic romance with her husband or seeing a plane crash in the desert that no one else wants to acknowledge.
Styles isn't quite on her level, but he brings a charm and eagerness to Jack that works for the character, and when he's called upon to do more than that, he handles it effectively.
Pine, meanwhile, is a smooth guru type, his voice full of a hypnotic, magnetic, confident smoothness that has everyone both ready to hang on his every word and yet remain slightly afraid of him.
The rest of the cast fill their roles well too – Chan playing the alpha wife to the hilt, while Wilde is Alice's best friend Bunny, an amusing and slightly sarcastic homemaker with two kids and a slight drinking problem (though given the 1950s period, everyone happily guzzles booze, so it's not as noticeable to them).
Despite being a key element of the story Layne doesn't get as much to do, Margaret a slightly underserved character who edges towards cliché at times. It's no fault of the actor, who brings a pained vulnerability to her role.
As the truth begins to dawn on Alice, and on us, the pace speeds up and the overall effect unravels slightly, the final act never quite as compelling as the build-up, the various details undercut in a more straightforward action-focused finale.
You might well figure out ahead of the characters what's going on, and there are clues here and there sprinkled throughout the movie that verge on the less than subtle. Wilde has plenty of ideas that she wants to unpack, but not all of them arrive completely thought through – when the big revelations start to drop, the cracks in more than just Alice's reality start to show and you'll have questions not easily answered by the script.
Yet it still doesn't diminish what has gone before and Pugh remains as committed as ever, spurring you to empathize with Alice even as she worries that she might be losing her mind. It's twisted, audacious and, at least until the end, surprising. Ignore the unnecessary noise around the movie and let it transport you.
'Don't Worry Darling' receives 3.5 out of 5 stars.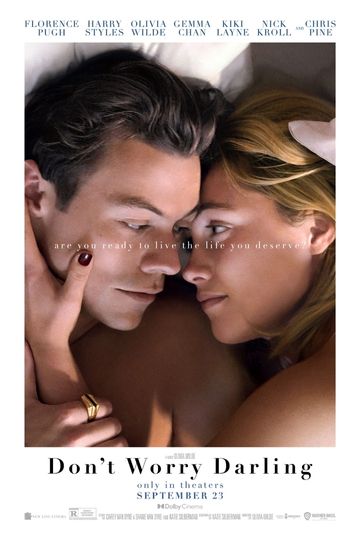 "Are you ready to live the life you deserve?"
Showtimes & Tickets
Alice and Jack are lucky to be living in the idealized community of Victory, the experimental company town housing the men who work for the top-secret Victory Project... Read the Plot