New 'Beauty and the Beast' Sneak Peek Goes Behind-the-Scenes
Oh, to be a candlestick in the room for the "Beauty and the Beast" table read! Disney's live-action movie isn't coming out until next March, but a new behind-the-scenes sneak peek is being included in the 25th anniversary rerelease of the original animated film. That comes out on Digital HD and Disney Movies Anywhere on September 6, then Blu-ray/DVD September 20.
Today you can get a sneak peek of the sneak peek, including a few seconds of that star-studded table read, with Emma Watson's Belle and Dan Stevens's Beast flirting over the book he's reading. We also hear a bit from director Bill Condon and see images from the new and original films. "I was so excited to hear that Disney was thinking about doing a live-action version of 'Beauty and the Beast,'" Condon says. "When something is so perfect, why get near it? The answer is technology has caught up to the ideas that were introduced in that movie." Good answer.
According to Entertainment Weekly, the original rerelease includes multiple versions of the 1991 film, including an extended version with the "Human Again" song, plus several featurettes and more on the new 2017 "Beauty and the Beast."
Here's a teaser, for now:
"Beauty and the Beast" opens March 17th, 2017.
Want more stuff like this? Like us on Facebook.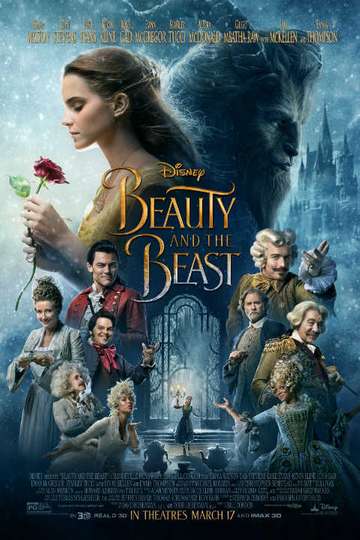 "Be our guest."
Showtimes & Tickets
A live-action adaptation of Disney's version of the classic tale of a cursed prince and a beautiful young woman who helps him break the spell. Read the Plot